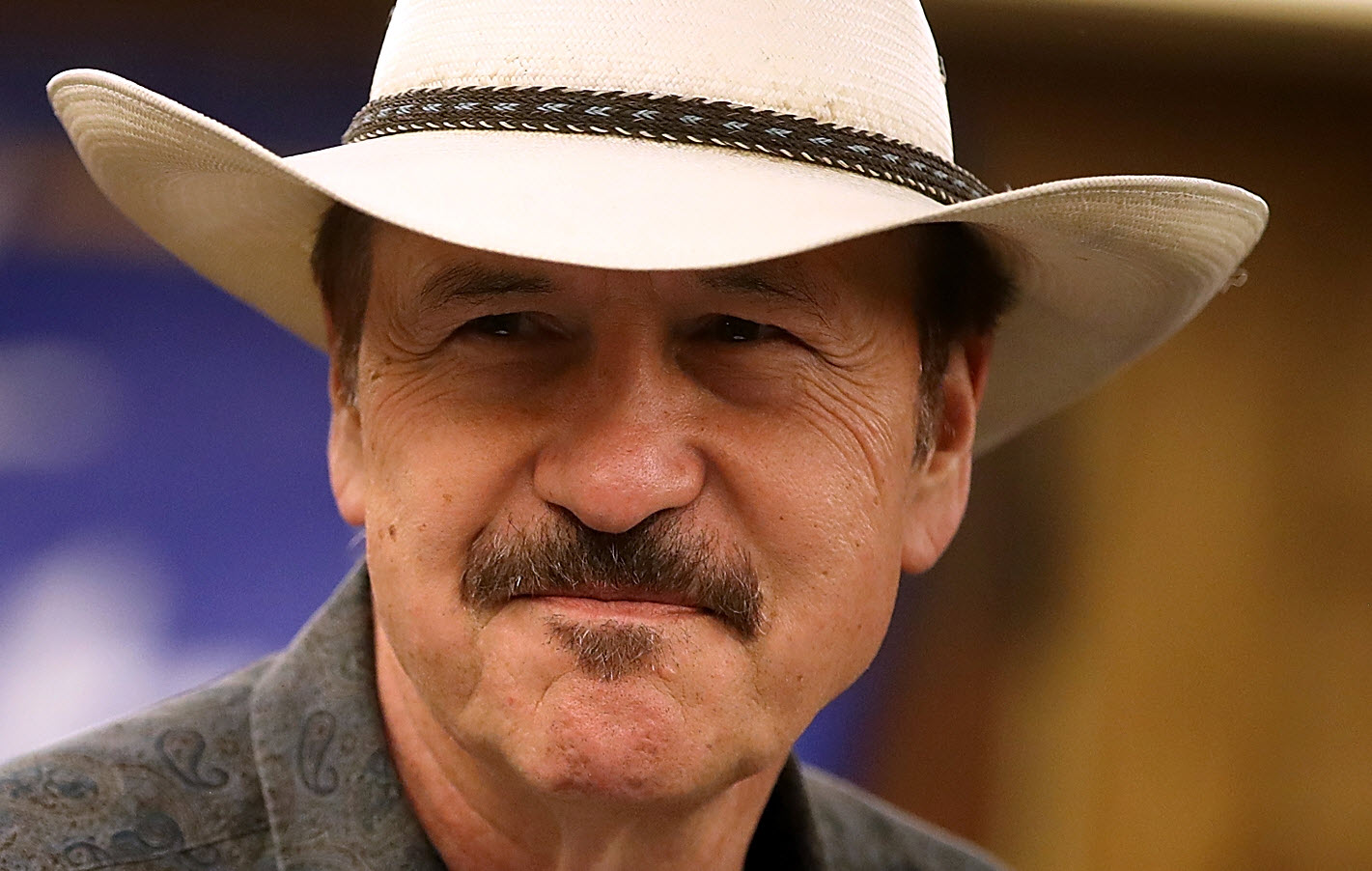 Rob Quist. Demorat. Loser. Not quite folksy enough for the folks in Montana.
Yeppers, those Demorats were certain "their guy" was going to "clean the clock" of that evil Greg Gianforte who, I heard, stabbed a British reporter with a fireman's ax and ate his intestines. With some fava beans and a nice Chianti.
What? Cowboy Hat didn't win?
From Breitbart.com:
Greg Gianforte Stuns Media, Democrats in Montana House Win

by Adam Shaw

Republican Greg Gianforte won Thursday's special election for the U.S. House in Montana, defeating Democratic challenger Rob Quist despite being charged with misdemeanor assault the day before.
Well what do you know? Just what the Demorats didn't consider. A loss to Gianforte.
Gianforte will now take over former Navy SEAL Ryan Zinke's House seat. Zinke vacated the seat when he accepted the post of Secretary of the Interior in President Donald Trump's Cabinet.

The election results — with Gianforte winning over 50% of the vote and leading by a seven-point margin — were a major blow to Democrats' anti-Trump efforts, and to the media's expectations, after Gianforte had allegedly "body-slammed" a reporter before his final campaign event on Wednesday.
Oh, did um widdle Amewican Media Maggots get um widdle feewings hurted by big bad Wepubwican? And da Demowats too? Po babies.  .  .
Democrats had also been handed the gift of a last-minute controversy when the UK Guardian reporter Ben Jacobs was allegedly assaulted by Gianforte. Jacobs said the entrepreneur had "body-slammed" him in response to questions about the Congressional Budget Office score of the GOP health care plan.
With this caveat: apparently one of the reporters is recanting about the "heinous body slam" of Gianforte. From LifeZette.com:
Montana Assault Witness Changes Story, Says No Neck Grab

by Edmund Kozak

Reporter says firsthand account misstated key aspect of Gianforte incident

A reporter who was a firsthand witness to an incident late Wednesday involving Montana GOP candidate Greg Gianforte and a reporter for the Guardian now admits she may have misstated some details of her initial story.

Guardian reporter Ben Jacobs claimed Gianforte, locked in a hotly contested special election for Congress, body-slammed him and broke his glasses at a campaign event Wednesday. Local authorities have brought misdemeanor assault charges against Gianforte.
But wait (as I am wont to say); there's more.
There is, so far, no direct video of the incident; only audio has been produced publicly. Among the small handful of eyewitnesses was Fox News reporter Alicia Acuna.
In this day and age, how can there possibly no video? I find that difficult to believe. Then the reporterette retracts her statement.
Details from Acuna's report quickly went viral online, but she said Thursday during an interview on "The Laura Ingraham Show" that she misstated the neck grab.

"One of you guys said last night that he put his hands around his neck," Ingraham said. "Which, as somebody who's done a lot of taekwondo and self-defense, to me that seemed, that might not be exactly right."

"You know, and I'm the one who said that," Acuna replied. "I saw both his hands go up, not around his neck in a strangling type of way, but more just on each side of his neck, just grabbed him and I guess it could've been on his clothes, I don't know."
Pretty much immaterial anyway.
There are few Demorat dry eyes in Montana this morning. But here's the stunner:
Democrats had hoped to turn the race into an early referendum on President Trump's performance in the White House and the GOP's health care bill, which passed the House and is now being considered in the Senate.

But despite national attention and considerable outside funding, as well as Trump's recent controversies in Washington D.C., Democrats were unable to turn the anti-Trump "resistance" into a concrete victory at the ballot box — a bad sign for Democratic chances in the 2018 midterms.
Again, not one dry eye in any Montana Demorat office.
Don't go away just yet. There truly is one more thing about Demorat Quist. From the WashingtonFreeBeacon.com:
FEC Complaint Filed Against Rob Quist for Illegal Coordination With Outside Group

by Madeleine Weist

A complaint filed with the Federal Election Commission against Montana House Democratic candidate Rob Quist says he illegally coordinated with an unregistered political committee that distributed newspaper inserts aimed at reaching undecided voters.

The complaint was triggered by a Bozeman Daily Chronicle report on the newspaper insert, which was crafted by a group of Montana writers supporting Quist. The report states that the creators of the insert consulted with the Quist campaign on where it would most effectively reach undecided voters.

The 24-page paid insert, which can be viewed at WeTakeOurStand.org, is described on the website as "a rapid response anthology of Montana writers speaking out in favor of protecting public lands to support Democratic candidate Rob Quist."
One of the issues?
"These respondents, including the Quist campaign, have utterly, willfully and knowingly disregarded the provisions of federal law enacted to protect the public from dark money, shadowy, and unaccountable organizations who disseminate campaign materials in the closing days before an election, without providing the legally required notice of the sources and amounts of the funds used to pay for such materials," the complaint says in its conclusion.

The website thanks a list of sponsors for the insert, but does not disclose details on any of their contributions. The group does not appear to be registered with the FEC.

The Quist campaign did not respond to a request for comment.
Damn. Those Demorats just can't seem not to cheat.
BZ