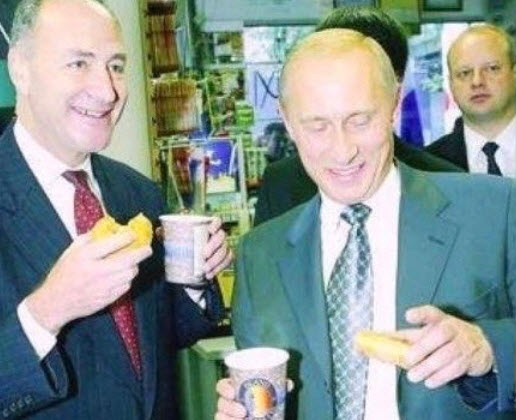 Little Chuckie Schumer loves the Russians.
Drudge Powers Trump Counter-Attack on Russia

by Gideon Resnick

On Friday afternoon, President Trump tweeted an image of Senator Chuck Schumer standing next to Russian President Vladimir Putin. It depicts the two men seemingly cordially holding coffee and donuts.
Let's be honest  Who knows what kind of communications may have occurred sub rosa between Schumer and Russia's leader himself? Even President Trump himself hasn't yet physically met with Vladimir Putin. Schumer did. Why was that? Why? Was it a clandestine meet in plain sight? What messages were passed? Can you tell me? Does anyone know?
Nancy Pelosi said she hadn't met with any Russians. Despite there being Russian Hill in San Francisco. Was Nancy Pelosi a liar? Yes, apparently she was. Here is the photo.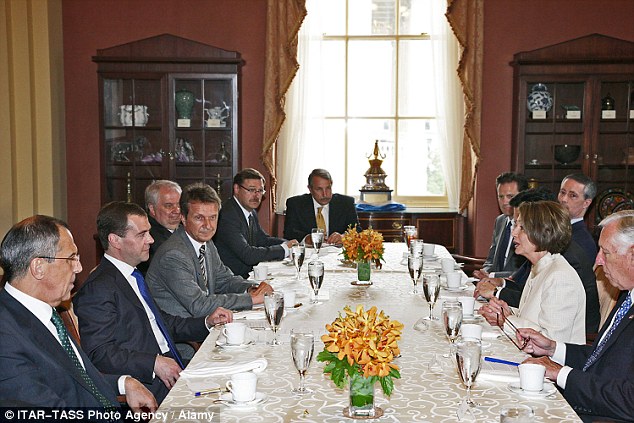 Then, from Politico.com:
Photo contradicts Pelosi's statement about not meeting Kislyak

by Kyle Cheney

The Democratic House leader sat with the Russian ambassador and other officials in 2010.

House Minority Leader Nancy Pelosi (D-Calif.) said Friday that she's never met with the current Russian ambassador, Sergey Kislyak.

"Not with this Russian ambassador, no," Pelosi told POLITICO's Jake Sherman and Anna Palmer during a Playbook interview, when asked whether she had ever met with the Russian envoy.
But wait, there's more.
But a file photo from Pelosi's 2010 meeting with Russian President Dmitriy Medvedev shows Kislyak at the table across from Pelosi — then House speaker — and Rep. Steny Hoyer (D-Md.). Medvedev had been in the country for a meeting with President Barack Obama a day earlier and stopped in on Capitol Hill to meet with congressional leaders as well.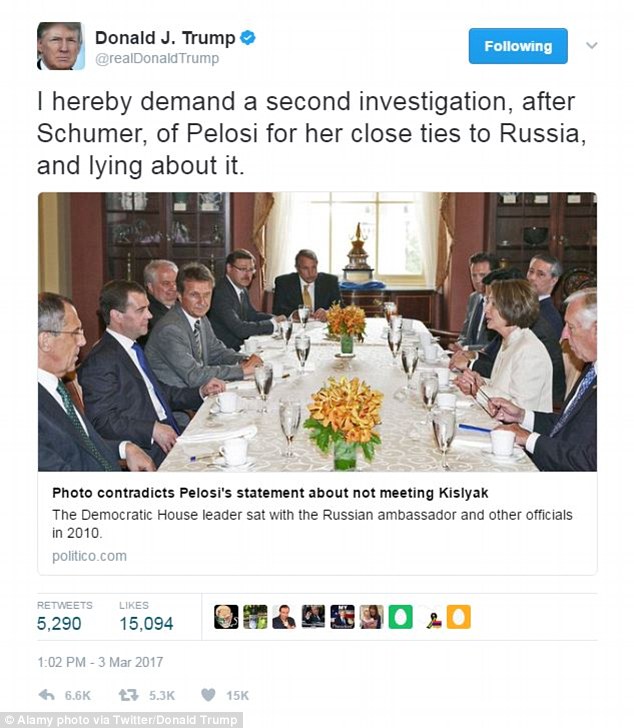 Fine. But let's look at the video where Nancy Pelosi, in all her stilted Katherine Helmond/ Lewy Body/Alzheimers glory, attempted to refute the obvious (kudos to the movie Brazil by Terry Gilliam).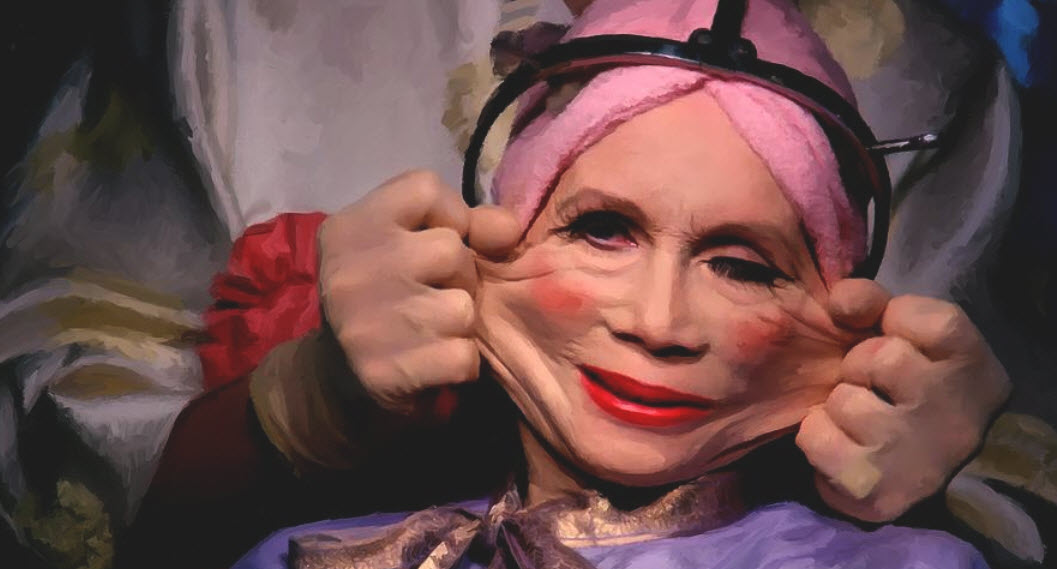 Remember, this is the same Nancy Pelosi who held a secret fundraiser for Islamists and Hamas-linked groups in 2012, from the DailyCaller.com:
Democratic leader Rep. Nancy Pelosi headlined a high-dollar fundraiser in May that was attended by U.S.-based Islamist groups and individuals linked by the U.S. government to the Hamas jihad group and to the Egypt-based Muslim Brotherhood movement.

The donors at the undisclosed May 16 event included Nihad Awad, the co-founder of the Council on American Islamic Relations, according to data provided by the nonpartisan Investigative Project on Terrorism.

The CAIR group was named an unindicted conspirator in a 2007 trial of a Hamas money-smuggling group.

A covertly-taken photograph provided by the IPT shows Pelosi standing near Awad at the fundraiser. Roughly 30 people attended the fundraiser, according to the IPT (International Project on Terrorism, whose story and link can be found here.)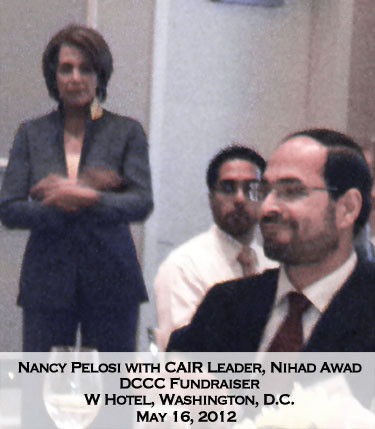 Stop. Wasn't it Barack Hussein Obama who said, in 2008, sotto voce, to then Russian President Medvedev, that he would be more conciliatory to Russia upon re-election?
The words were: "This is my last election. After my election I have more flexibility."
Then there was the proverbial "Russian Reset" by an ignorant Obama administration represented by Hillary Rodham Clinton who got the words WRONG on the physical "Russian Reset" button itself.
Nancy Pelosi loves the Russians. Little Chuckie Schumer loves the Russians.
The Demorats love the Russians.
And it wasn't just one Demorat embracing the Rooskies.
Flashback: Numerous Dems, Obama Also Met with Russian Ambassador

While Democrats feverishly sought Attorney General Jeff Sessions' resignation after he was revealed to have had encounters with Russian diplomats, photos and records show dems also met with the same Russian ambassador to little fanfare.

In fact the Russian ambassador whom Sessions is accused of meeting visited the Obama administration White House no less than 20 times, and even sat with Democrats at Trump's congressional address Tuesday.
You might find this a bit troubling to locate because of all the advertisement-ridden flotsam that currently exists between yourself and way too many so-called "conservative" websites courtesy of the "make me wait five seconds" monetizers.
But not on BZ, because I don't exist to make cash. I exist to bring you the unmitigated truth. You have not and will never see ONE advertisement on BZ.
Photos from earlier this week show Russia's US ambassador Sergey Kislyak preparing to sit among democrats at the president's first address to Congress.

Fox News reports that seven other Democrat senators also previously met with Kislyak, one of whom had claimed she had never met with any Russian ambassadors during her time on the Armed Services Committee.
Really?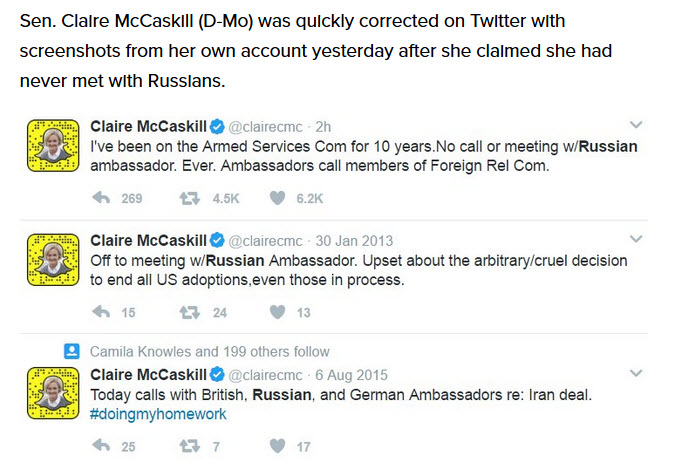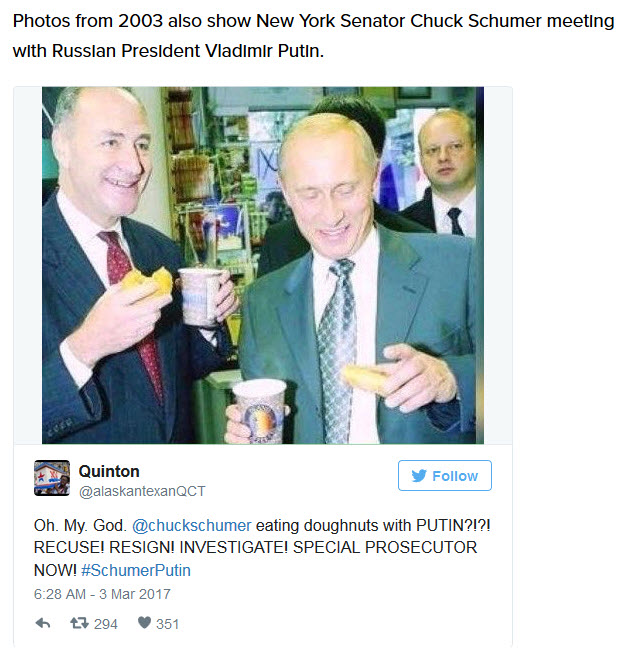 I'd suspect quite so.
Then again, media bias? I'd suspect not so much but, in retrospect, I'd be way wrong. Because in terms of media bias, I have this from NewsBusters.org:
HYPOCRISY: 7X More Coverage for Sessions Debacle than Holder Contempt

by Mike Ciandella and Rich Noyes

If you ever doubted that the media see the news through a partisan prism, consider this: in less than two days, ABC, CBS and NBC devoted nearly 7 times as much coverage to Jeff Sessions meeting with the Russian Ambassador in his role as a U.S. Senator than they did when then-Attorney General Eric Holder was held in contempt of Congress in June 2012.

On March 2, Democrats accused Sessions of misleading Congress by not disclosing that he met with the Russian ambassador to the United States twice while he was serving as Senator. Despite admitting that the statements Sessions made to Congress "would not be considered false under the law" (Jan Crawford, CBS Evening News, March 2), ABC, CBS and NBC devoted more than 1 hour and 12 minutes to this topic, just on the morning and evening shows of March 2 and the morning shows of March 3.
Imagine that.
Add it all up, and the unprecedented contempt charge against Obama's Attorney General earned only 10 minutes, 38 seconds of network airtime, or only slightly more than one-seventh of that spent in 1.5 days over Sessions' meeting with the Ambassador.
Finally, from the UKDailyMail.com, two days ago.
SIX more Democratic leaders are revealed to have met with Russian Ambassador amid campaign to discredit Trump's aides for doing the same

by Karen Ruiz

Six Democratic leaders were revealed to have been in a meeting with Russia's Ambassador with Claire McCaskill 
Democratic Senator McCaskill denied ever meeting with Russian Ambassador 
Old tweets proved the lawmaker had met with Sergey Kislyak in 2013 
Attorney General Jeff Sessions failed to disclose during his confirmation hearing that he spoke with Russia's ambassador twice last year 
McCaskill and other Democratic leaders including Nancy Pelosi and Chuck Schumer called for Sessions' resignation

As Democratic Senator Claire McCaskill's claims that she had never met with Sergey Kislyak were proven to be untrue, six more Democrats have been revealed to have met with the Russian Ambassador.

Senator Mary Landrieu of Louisiana, Maria Cantwell of Washington, Amy Klobuchar of Minnesota, Jack Reed of Rhode Island, Robert Casey of Pennsylvania and Sheldon Whitehouse of Rhode Island sat in on the meeting with Kislyak and McCaskill, Fox News reported. 

The seven Democratic leaders met with the ambassador to discuss the blockade of US adoptions in Russia in 2013.
Lies and more lies on the part of Demorats.
On the other hand — worse for each and every Leftist — Trump is now at a 53% approval rating.
Let's just say: it would be accurate to state the Demorats have met the hell out of the Russians.
BZ