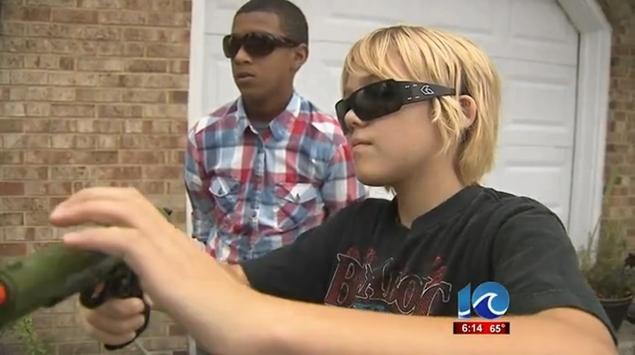 Again, more of the "pussification" of America.  I apologize, but I can think of no other more appropriate word than that.  This nation wants to turn its boys into girls, and its success into abject failure.
From FoxNews.com:
Two seventh-grade students in Virginia Beach, Va., were handed long-term suspensions Tuesday that will last until the end of the school year for playing with an airsoft gun in one of their front yards while waiting for the school bus.
WAVY-TV reports that 13-year-old Khalid Caraballo and Aidan Clark will face an additional hearing in January to determine if they will be expelled for "possession, handling and use of a firearm" because the guns were fired at two others playing in Caraballo's yard.
A neighbor saw Khalid shooting the airsoft gun in his yard and called 911, telling the dispatcher, "He is pointing the gun, and it looks like there's a target in a tree in his front yard," the station reported.
Are you serious?  A kid got suspended — at school — because of what he did NOT ON CAMPUS but in his own front yard, not during school time?  Are you serious?
Yes.  These liberal genetic mutants are very serious.
The school's so-called "zero-tolerance" policy on guns extends to private property, according to the report.
So there you go.  Government school control extends, now, not just on school grounds but on your very own private property.
Let me also add, for those of you who are convinced I am a racist: the kids involved may have been black.
What?  Not perfect little Caucasoids interrupted by logical play?  A few actual black kids oppressed by Leftist schools?
In a word: yes.
Khalid's mother, Solangel Caraballo, said it's ridiculous that her son and his friends were suspended because they were firing the airsoft gun on private property.
"My son is my private property. He does not become the school's property until he goes to the bus stop, gets on the bus, and goes to school," Caraballo told the station.
But: there you go.  NOT thinking like a Leftist.  NOT thinking that Leftists want to control every aspect of everyone's life.  How silly of you.  Perhaps now the clouds are parting on your planet, Ms Caraballo.
BZ