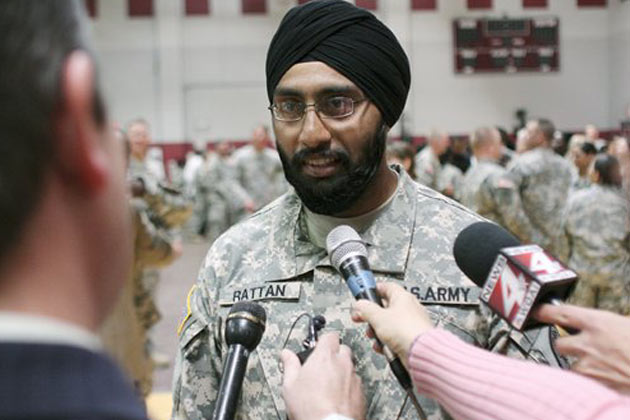 From TruthRevolt.org:
The military will make every effort to accommodate "individual expressions of sincerely held beliefs"
The Pentagon is about to become much more accommodating to the religious needs of soldiers — whether Muslim, Wiccan, Christian or Jewish. NBC News obtained an early draft of the new Department of Defense instruction that states the military will make every effort to accommodate "individual expressions of sincerely held beliefs" (conscience, moral principles, or religious beliefs) of service members. As part of these new rules the military will be adjusting the governing religious items and religion-based physical attributes that service members can maintain while in uniform — including beards, some religious tattoos, and turbans.
From the article by Jeff Dunetz (Yid With Lid):
Requests for religious accommodation can be denied when the "needs of mission accomplishment outweigh the needs of the service member," the directive will explain.

Earlier this month, a major in the U.S. Army who is a Sikh American took his case to staffers on the Hill, explaining how he and other Sikhs should be able to serve in uniform and still maintain their religious beliefs, including wearing turbans and unshorn hair, including beards.

The new directive will explain that if the articles of faith or physical attributes interfere with the proper function of protective clothing and equipment, the request could be denied.  For example, a beard or unshorn hair cannot interfere with gas masks or helmets.

Jewish service members can request permission to wear a yarmulke while in uniform. Muslim service members can request to wear a beard and carry prayer beads. Even Wiccan service members, those who practice "Magick," can seek accommodation — the directive covers all religions recognized by the U.S. military.

The policy will also spell out that service members have the right to observe no religion at all.
What does the word "uniform" mean?  Today, apparently not that much.
An excellent article about the issue is here, as well.  Thanks AOW.
BZ