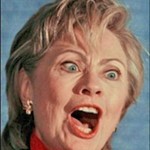 The media indicates that former Secretary of State Hillary Clinton was "heckled" (First question to mind: where was Jeckle?) at a University of Buffalo (NY) event this week.
From RealClearPolitics.com:
Former First Lady and Secretary of State Hillary Rodham Clinton spoke to a large crowd at the University at Buffalo Wednesday night, as part of the university's Distinguished Speaker Series, and was heckled.
"Benghazi, you let them die," the heckler shouted.
"We have to be willing to come together as citizens to focus on the kind of future we want, which doesn't include yelling. It includes sitting down and talking with one another," Clinton said in response to the heckler to huge applause from the audience.
Correct.  Yelling is bad form and verboten.  I completely agree.
Another reason I so love YouTube and the internet.
BZ
P.S.
Another little Irate Hillary gem:
One of the most entirely vapid quotes from the top video: "women know how to get along, how to talk to each other, how to compromise, and how to move our country forward."
Really?  Ask any honest woman what she thinks about working in an all-female environment.