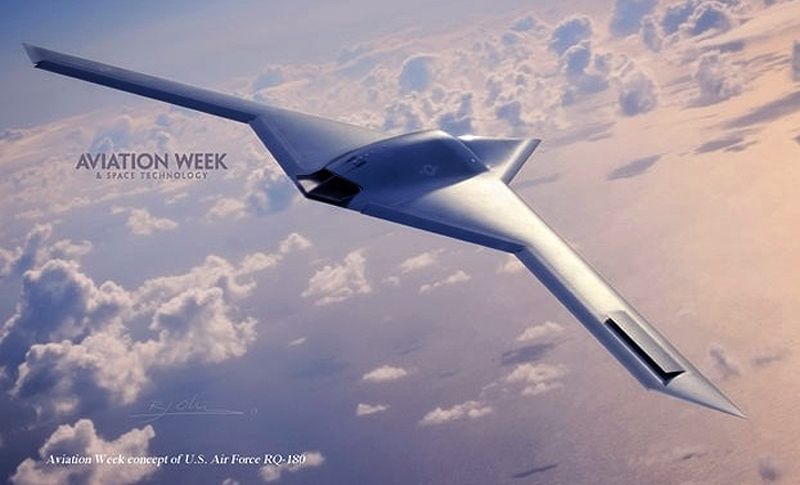 From ForeignPolicy.com:
by Zach Rosenberg
The drone that spied on bin Laden and on Iran's nukes was just the start. Meet its bigger, higher-flying, stealthier cousin, the Northrop Grumman RQ-180. It's probably been flying for a few years now, but you weren't supposed to know that; the existence of this secret project, based out of Area 51, was revealed Friday by Aviation Week.
The RQ-180 is likely flying from the secret Air Force test facility at Groom Lake, Nevada, widely known as Area 51. Its exact specifications, including such crucial details as the number of engines, is unknown, but Aviation Week suggests a wingspan of over 130 feet, based on hangar construction at Northrop's Palmdale, California facility. The number of aircraft built is also unknown; however, a flight test program, relatively quick entry into service and open budget documents suggest a small fleet are flying routinely.
The aircraft's performance is said to be similar to Northrop's white-world entry, the RQ-4 Global Hawk, which can fly for days and cover thousands of miles. Hopefully the RQ-180 performs better; Global Hawk has received mixed marks on its evaluations, and the aircraft it was meant to replace, the venerable Lockheed U-2, will continue to fly for decades to come.
I wrote this past Sunday about the emergence of the Skunk Works-designed Lockheed-Martin SR72.
Conclusion?
Groom Lake, Area 51 and Wonderland are up and not just running, but sprinting.
Good news.
BZ
P.S.
The source Aviation Week & Space Technology article is here.  And with a wingspan of a possible 130 feet?  Payloads and weapons could consist of — anything.