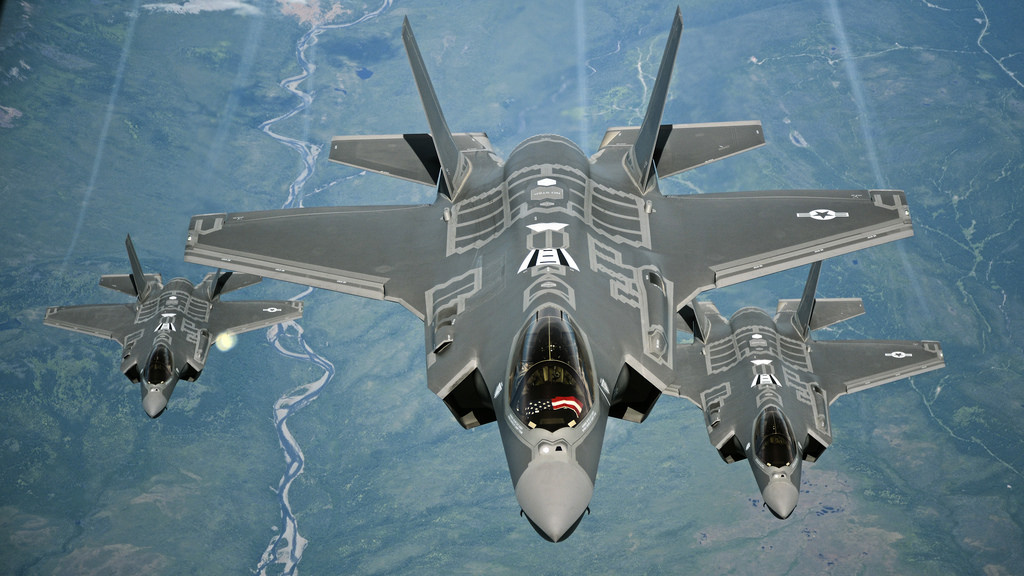 This is simultaneously good news and yet confusing.
From Janes.com:
Germany declares preference for F-35 to replace Tornado

by Gareth Jennings

The German Air Force has a shortlist of existing platforms to replace its Panavia Tornados from 2025 to 2030, but the Lockheed Martin F-35 Lightning II Joint Strike Fighter (JSF) is the service's "preferred choice", a senior service official said on 8 November.

Speaking under the Chatham House Rule, the official said that the F-35 already fulfils most of the requirements that the Luftwaffe requires to replace its Tornados in the 2025 to 2030 timeframe, and that it offers a number of other benefits besides.

"The Tornado replacement needs to be fifth-generation aircraft that can be detected as late as possible, if at all. It must be able to identify targets from a long way off and to target them as soon as possible.

"The German Ministry of Defence [MoD] is looking at several aircraft today, including the F-35 – it is commercially available already, has been ordered by many nations and is being introduced into service today, and has most of the capabilities required."
This is odd insofar as Angela Merkel absolutely despises Donald John Trump beyond despiction. Not only that, she would do most anything to ensure he succeeds in no portion of his agenda whatsoever.
That said, Germany is making indications that it favors the Lockheed-Martin F-35 as its replacement jet for the doddering Panavia Tornado.
The timelines involved of an anticipated retirement of the Tornado in about 2030 has caused the Luftwaffe to look instead at an already developed platform. 
An odd thing considering this from Medium.com in 2015:
Test Pilot Admits the F-35 Can't Dogfight

by David Axe

New stealth fighter is dead meat in an air battle

A test pilot has some very, very bad news about the F-35 Joint Strike Fighter. The pricey new stealth jet can't turn or climb fast enough to hit an enemy plane during a dogfight or to dodge the enemy's own gunfire, the pilot reported following a day of mock air battles back in January.

"The F-35 was at a distinct energy disadvantage," the unnamed pilot wrote in a scathing five-page brief that War Is Boring has obtained. The brief is unclassified but is labeled "for official use only."

The test pilot's report is the latest evidence of fundamental problems with the design of the F-35 — which, at a total program cost of more than a trillion dollars, is history's most expensive weapon.

The U.S. Air Force, Navy and Marine Corps — not to mention the air forces and navies of more than a dozen U.S. allies — are counting on the Lockheed Martin-made JSF to replace many if not most of their current fighter jets.
That was 2015. What has happened since then?
The overall experience of flying the F-35 in aerial combat is different from what I'm used to with the F-16. One obvious difference is that the F-35 shakes quite a bit at high g-loadings and at high angles of attack, while the F-16 hardly shakes at all. The professional terminology is «buffeting», which I also described in an earlier blog post (English version available).This buffeting serves as useful feedback, but it can also be a disadvantage. Because the buffeting only begins at moderate angles of attack, it provides me an intuitive feel for how much I am demanding from the aircraft; what is happening to my overall energy state? On the other hand, several pilots have had trouble reading the information which is displayed on the helmet visor, due to the buffeting. Most of the pilots here at Luke fly with the second-generation helmet. I fly with the third-generation helmet, and I have not found this to be a real issue.

What I initially found to a bit negative in visual combat was the cockpit view, which wasn't as good as in the F-16. The cockpit view from the F-16 was good – better than in any other fighter I have flown. I could turn around and look at the opposite wingtip; turn to the right, look over the «back» of the airplane and see the left wingtip. That´s not quite possible in the F-35, because the headrest blocks some of the view. Therefore, I was a bit frustrated during my first few BFM-sorties. However, It turned out that practice was all it took to improve the situation. Now I compensate by moving forward in the seat and leaning slightly sideways, before turning my head and looking backwards. In this way I can look around the sides of the seat. I also use my hands to brace against the cockpit glass and the canopy frame. With regards to cockpit view alone, I had an advantage in the F-16, but I am still able to maintain visual contact with my opponent during aggressive maneuvering in the F-35. The cockpit view is not a limitation with regards to being effective in visual combat, and it would be a misunderstanding to present this as a genuine problem with the F-35.
Then from ScientificAmerican.com:
What Went Wrong with the F-35, Lockheed Martin's Joint Strike Fighter?

by Michael P. Hughes

The F-35 was billed as a fighter jet that could do almost everything the U.S. military desired but has turned out to be one of the greatest boondoggles in recent military purchasing history

The F-35 was billed as a fighter jet that could do almost everything the U.S. military desired, serving the Air Force, Marine Corps and Navy – and even Britain's Royal Air Force and Royal Navy – all in one aircraft design. It's supposed to replace and improve upon several current – and aging – aircraft types with widely different missions. It's marketed as a cost-effective, powerful multi-role fighter airplane significantly better than anything potential adversaries could build in the next two decades. But it's turned out to be none of those things.
Why? Because there is no one airframe that can "do it all." And no one with half a brain tied behind their back could say that with honesty unless they were swayed by cash, power or influence.
Essentially, the Pentagon has declared the F-35 "too big to fail." As a retired member of the U.S. Air Force and current university professor of finance who has been involved in and studied military aviation and acquisitions, I find the F-35 to be one of the greatest boondoggles in recent military purchasing history.
I think you see where I'm going with this. You need to read the rest of the article here.
John Boyd could tell you what went wrong with the F-35. Gold plating. An attempt to make it be everything to everyone. The USAF, Boyd's arm of service, hated him. The US Marines loved him. The problem with Boyd was that he told truth to power. It didn't help his argument that he was not only a genius but a bedraggled one as well.
Here, a member of Boyd's Fighter Mafia reveals the truth.
Bottom line?
I believe the F-35 program should be immediately cancelled; the technologies and systems developed for it should be used in more up-to-date and cost-effective aircraft designs. Specifically, the F-35 should be replaced with a series of new designs targeted toward the specific mission requirements of the individual branches of the armed forces, in lieu of a single aircraft design trying to be everything to everyone.
Making one jet fit all? That's simply an impossible goal.
It's costing the US billions to figure that out.
BZ