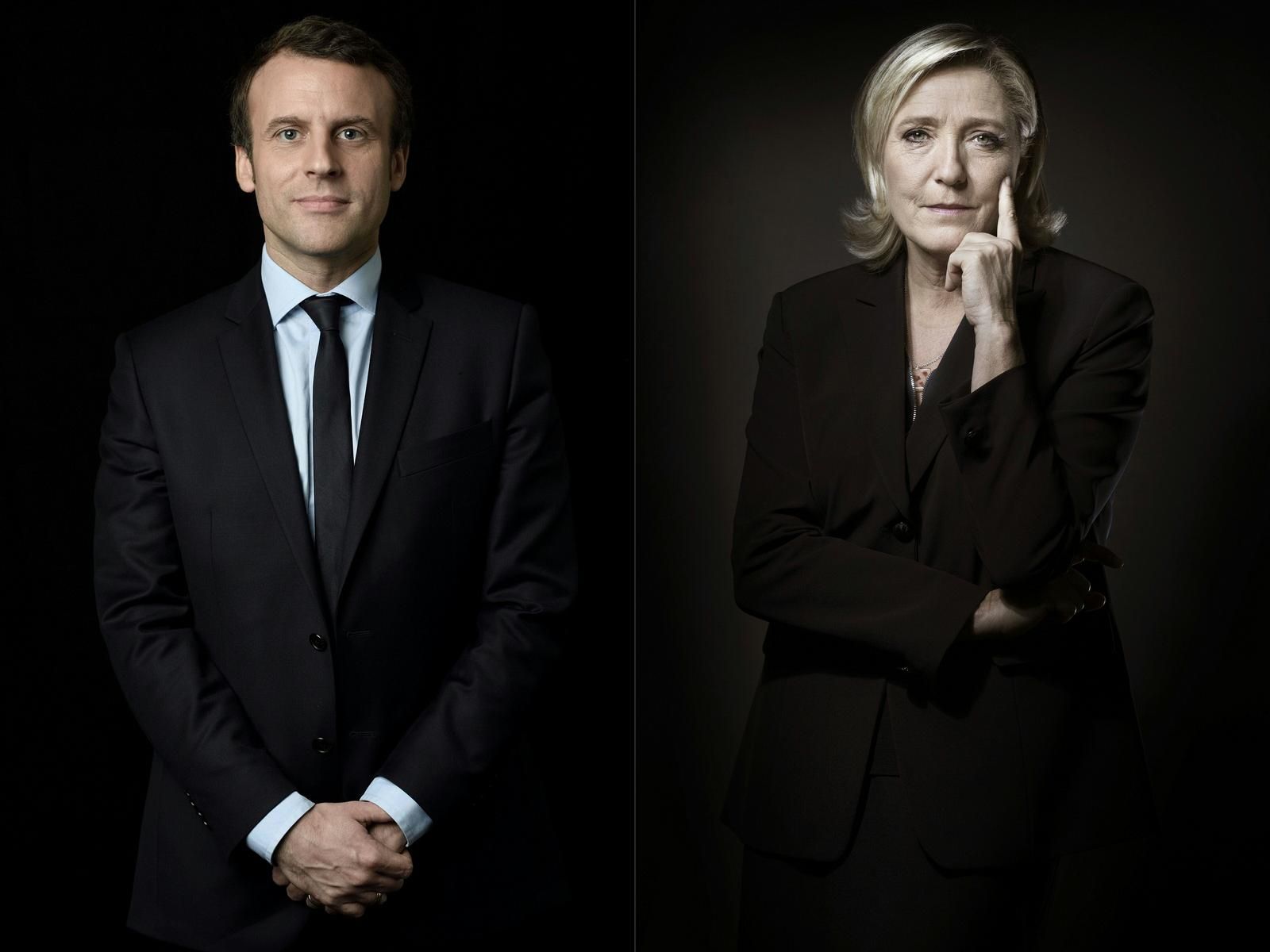 It's no secret that the French elections, which occur in a runoff-type series, will be between finalists Emmanuel Macron, a Leftist and globalist, and Marine Le Pen, to the right and a nationalist. That is to what, at its base, the election in France now distills, as I wrote here. Moreover, the EuroMedia are portraying Macron as nothing more than a centrist, a "moderate" if you will. Not hardly.
Nigel Farage, the architect of Brexit, weighs in on Macron and Le Pen.
To read most European media and much of our own, Marine Le Pen doesn't stand a chance against Macron. From the IndependentUK.com:
Emmanuel Macron leads Marine Le Pen by at least 20 points in every French election poll since end of first round

by Tom Embury-Dennis

Former socialist minister expected to win in landslide after second round of voting

Emmanuel Macron is at least 20 points ahead of Marine Le Pen in every poll on the French presidential election taken since the first round of voting.

Mr Macron, a former minister who set up his own party to run for president, came top on Sunday, with 23.8 per cent of the ballots cast.

Ms Le Pen, the former Front National (FN) leader, joined the 38-year-old in the presidential run-off after coming second with 21.5 per cent of the vote.  

But every survey suggests Mr Macron will claim a landslide victory when French voters go back to the booth on 7 May.
Clear, is it not, that Macron is going to literally steamroller Marine Le Pen? The European Media Maggots say so, therefore it becomes fact and immured in stone. Yes?
But wait, there's more. There's always more. First, from NPR.org:
France's National Front Party Draws Young Voters To The Far-Right

by Eleanor Beardsley

It's creeping toward 9 in the evening, but a group of young people is still busy at the National Front party's office in Metz, in eastern France. They're preparing for a rally for their presidential candidate, Marine Le Pen.

Twenty-one-year-old Arnaud de Rigné remembers when he first became interested in the party.

"I was just 16 and I saw that there was a big problem in France with massive immigration and also globalization with no economic borders," he says. "And there was insecurity and places in the city where police didn't even want to go. And for me this was a very big problem."

De Rigné knows some people accuse his party of racism. But he says he's not racist and hasn't seen racism among other young National Front supporters. De Rigné believes all French citizens — no matter their religion or origin — are equal. But he says France can't take any more immigrants because there aren't enough jobs for French people.

He thinks Le Pen has the strength needed to turn the country around.
Then note this, from the WashingtonExaminer.com:
Poll finds French presidential candidate Marine Le Pen won plurality of women, young voters

by Emily Jashinsky

An election-day survey of more than 9,000 voters in the first round of France's presidential contest found that National Front leader Marine Le Pen won a larger share of support from women and young voters than any other candidate.

The poll, conducted by Opinion Way, revealed Le Pen earned the support of 23.9 percent of female voters. By contrast, Emmanuel Macron, Le Pen's opponent in the next round of voting, came in second with women, earning the support of 21.3 percent.
How can this be? The EMM are insisting that Macron will wipe the floor bloody with the entrails of Marine Le Pen.
According to the survey, Le Pen outperformed the other candidates with younger voters as well. Opinion Way found the National Front leader won 25.7 percent of voters aged 18-34. Jean-Luc Melenchon and Macron won 24.6 percent and 21.6 percent of that demographic respectively.
In the first round Macron won with 23.8% of the votes to Le Pen's 21.4%. Somehow, in the minds of the European Media Maggots, that translates to an abysmal ass-whupping.
Newsweek.com thinks a Le Pen win is not impossible.
WHO WILL WIN THE FRENCH ELECTION? HOW MARINE LE PEN COULD BECOME THE NEXT TRUMP

by Jason Le Miere

Emmanuel Macron hadn't won anything beyond a shot at a runoff vote against Marine Le Pen, but his remarks to supporters and a subsequent private party Sunday night felt every bit like a victory lap. And the polls strongly suggest those celebrations, while perhaps a tad premature, will continue after France returns to the ballot box in two weeks to decide the country's next president.

But as the world has witnessed in shock over the past year, polls and statistical models do not always come to fruition. If they did, Hillary Clinton would now be president of the United States and David Cameron would still be prime minister of a Brexit-less Britain. And in France, a country that has already soundly rejected the political elite, it could be argued that it would be foolhardy to make any predictions with any great degree of certainty.
The same scientist who predicted the Trump win also predicts a Marine Le Pen win.
You didn't hear of this, did you, pray tell, from the UKGuardian.com?
Marine Le Pen SURGES in latest poll as Macron is blasted for first round celebrations

by Thomas Hunt

THE French electorate are abandoning Emmanuel Macron after a series of gaffes have helped Marine Le Pen back in contention ahead of the presidency campaign, latest polls show.

Europhile Macron, who has previously vowed to go "tough" on the UK's historic Brexit vote, has been roasted for seemingly swanning around Paris like he has already won the presidency.

An Elabe poll for BFM TV found that half of people surveyed considered that Ms Le Pen's campaign had started well, compared with just 43 per cent for Macron.

Another found some 61 per cent of French voters think that Ms Le Pen is leading a successful second-round campaign, compared to 48 per cent for Mr Macron, according to a Harris Interactive poll for RMC and Atlantico published on Wednesday.
Because the French are starting to get tired of this. From Breitbart.com:
French Mayor Fined for Mentioning Demographic Changes in Local Schools

by Chris Tomlinson

French mayor Robert Ménard has been fined by the government for hate speech after mentioning that French children were being "replaced" in schools in his town.

Mr. Ménard, who serves as the mayor of Béziers, was sentenced to a fine of 2,000 euros for the comments he made on Twitter in September of 2016, France 24 reports. The independent mayor, who is supported by the Front National, then told local television station LCI a few days after making the post: "In a class in the city centre of my town, 91 per cent of the children are Muslims. Obviously, this is a problem. There are limits to tolerance."
The shooting and killing of a policeman in Paris by a Muslim terrorist didn't help Macron much. And Thursday, this didn't help either, from FoxNews.com:
2 officers shot on French island of Reunion; bomb materials found at Islamist suspect's home

A man suspected of links to radical Islam and of glorifying terrorism shot two police officers on the French island of Reunion during an arrest Thursday — and police found bomb-making materials at his home, officials said.

Officers detained the unnamed suspect and his mother. Police also found weapons in his apartment in the town of Saint Benoit de la Reunion, according to the Interior Ministry.

The two officers, from a special national police intervention force, were hospitalized but were expected to survive. The man was wanted for "glorifying terrorism," the ministry said in a statement, without elaborating. The shooting came just a week after a police officer was killed in Paris in an attack claimed by the Islamic State terror group.
Further, if Macron wins then France and Europe will get more and more of this.
Oh wait, that was Sweden. This is France.
This is France.
And this is France.
Ah yes, the peaceful, embracing tolerance of Islam. The truth being: EMM attempting to purposely quell videos such as the above in hopes of not fueling votes for Marine Le Pen.
Just as Angela Merkel attempts to atone for WWII via her allowance of the plundering of Germany due to her guilt, so too does France attempt to atone for its colonialist ways in North Africa. GOWPs all across Europe are tearing their countries apart. The past is the past; Western culture is at stake.
Are globalists facing their own serious reduction of power and control? TheWeek.com, a magazine customarily leaning left, suggests so.
The global elite are headed for a fall. And they don't even know it.

by Damon Linker

The global elite think they're sitting pretty. How wrong they are.

Democrats keep telling themselves that Hillary Clinton "really" won the 2016 election (or would have, had it not been for interference by Vladimir Putin and James Comey). Republicans keep patting themselves on the back about how much power they now wield at all levels of government. And centrists throughout the West are breathing a sigh of relief about Emmanuel Macron's likely victory over the National Front's Marine Le Pen in the second round of the French presidential election on May 7.
As I said, let's not shoot that Le Pen horse just yet.
You can almost hear the sentiments echoing down the corridors of (political and economic) power on both sides of the Atlantic: "There's nothing to worry about. Everything's fine. No need for serious soul searching or changes of direction. Sure, populism's a nuisance. But we're keeping it at bay. We just need to stay the course, fiddle around the edges a little bit, and certainly not give an inch to the racists and xenophobes who keep making trouble. We know how the world works, and we can handle the necessary fine tuning of the meritocracy. We got this."
Of course they do. It's about money, yes, but mostly about power and control. You know nothing. They know everything.
And why wouldn't they think this way? They are themselves the greatest beneficiaries of the global meritocracy — and that very fact serves to validate its worth. They live in or near urban centers that are booming with jobs in tech, finance, media, and other fields that draw on the expertise they acquired in their educations at the greatest universities in the world. They work hard and are rewarded with high salaries, frequent travel, nice cars, and cutting-edge gadgets. It's fun, anxious, thrilling — an intoxicating mix of brutal asceticism and ecstatic hedonism.

The problem is that growing numbers of people — here in America, in the U.K., in France, and beyond — don't see it like this at all. Or rather, they only see it from the outside, a position from which it looks very different. What they see is a system that is fundamentally unjust, rigged, and shot through with corruption and self-dealing.

They see former Democratic President Barack Obama sharing a $65 million book advance with his wife, earning $400,000 for a single speech scheduled to be delivered in the fall at investment bank Cantor Fitzgerald, and gallivanting around the globe with David Geffen, Bruce Springsteen, Tom Hanks, Oprah Winfrey, and Bono.
Railing against banks, against "you've made enough money" and "you didn't build that," Obama embodies the word hypocrite.
To those on the center-left who are disgusted by the plutocratic antics of the Republican Party but dismiss the significance of Obama cashing in on his time in the White House by enriching himself and hobnobbing with the most famous people on the planet, I'd only note that "optics" (also known as "appearances") matter in politics — perhaps more than anything else.

And this is how things appear at this historical moment: The world is run by an international elite that lives in a rarified world of seemingly boundless power and luxury. Though the members of this elite consider their own power and luxury to be completely legitimate, it is not. It is the product of a system that's rigged to benefit them while everybody else languishes in declining small cities and provincial towns, eking out a dreary existence, toiling away their lives in menial service-sector jobs or scraping by on disability checks while seeking out a modicum of fleeting joy in the dumbstruck haze of a painkiller high.

Unless something fundamental changes, the gap separating these worlds will only increase, economically, culturally, and psychologically. Republicans show every sign of continuing to pursue policies that actively make the economic problems worse. Centrist Democrats, meanwhile, appear to be both unwilling to propose a sweeping critique of the outlook and policies that got us to this point in the first place and inclined to dismiss the populist anger building all around us as an expression of atavistic prejudice.

This cannot last. At this rate, make no mistake: The global elite will fall.
Yielding one of the major — if not the major reason — the EMM and globalists are fighting so hard against Marine Le Pen.
If @MLP_officiel wins the French election it will mean the end of the European Union. pic.twitter.com/bvKGkhxuEz

— Nigel Farage (@Nigel_Farage) April 21, 2017
It's a set of political dominoes. Brexit occurred. Frexit could occur. The dominoes could topple. Globalist elites could lose power and control. That can't happen.
Are you beginning to think you've seen this scenario played out somewhat recently on another continent, perchance?
Folks, the election concerns the very heart and soul of France.
BZ