The Swedish government has refused to acknowledge the evil that lies under its noses presently, in the form of radical Islam. They minimize its impact, distract inquiries, dodge, block, obfuscate and outright deny that Islam has any sort of deleterious effect whatsoever on the nation.
That's their story and they're sticking to it. No matter who gets hurt.
Or killed.
From the UKMirror.com: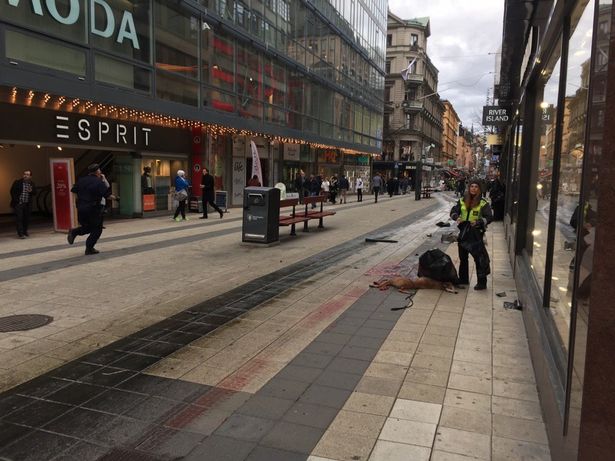 Bloody tire tracks from the truck utilized in the Stockholm terror attack.
Stockholm police make terror arrest: Injured man 'confesses that he drove hijacked lorry into shoppers' killing four

by Anthony Bond, Rachel Bishop and Patrick Lion

Swedish police have arrested a man in north Stockholm who has confessed to carrying out a deadly truck attack in the centre of the city, local media reports.

The man has some light injuries and said he was responsible for the attack, Reuters reported quoting local news outlet Aftonbladet.

Senior police officer Mats Lofving said: "We don't know whether this incident is isolated or whether we can expect more.

"We have police positioned at several strategic places with a particular risk threat."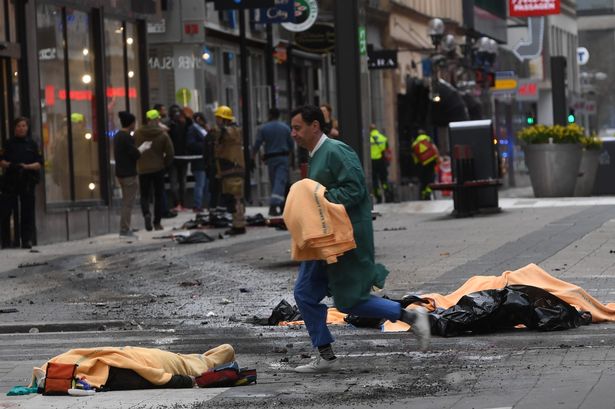 Dead Swedish citizens lying in Swedish streets due to a naive Swedish government.
Stockholm attack: 'Homemade bomb' found in lorry used to kill at least four people in Sweden

by Lizzie Dearden

A homemade bomb has reportedly been found in the lorry used to kill at least four people in Stockholm.

Police sources told public broadcaster SVT the device was found in a bag, and had not been detonated, adding that the attacker had "burned himself".

Forensics officers and bomb disposal squads worked through the night at the site of the massacre in Drottningatan, a busy shopping area of the Swedish capital.

The lorry was left partially embedded in the Ahlens department store after being ploughed into pedestrians on Friday afternoon, killing four people and wounding 15 others.

There was no immediate claim of responsibility for the attack, although both Isis and al-Qaeda have recently released propaganda calling on followers to carry out vehicle rammings and containing bomb-making instructions.

Lorries were used by Isis supporters in the attacks in Berlin and Nice last year, while cars were used in Westminster and at Ohio State University.

Isis propaganda has continued attempting to incite terror attacks in Europe, the US, Australia and other countries supporting military operations against its fighters. 

An issue of its Rumiyah magazine issued in November advised jihadis to launch vehicle attacks in an article citing the Nice lorry attack that killed 86 people as a "superb demonstration".

"Having a secondary weapon, such as a gun or a knife, is also a great way to combine a vehicle attack with other forms," it read.
I think Sweden has a problem.
Remember when President Trump said Sweden had a problem with Islam? It was denied, of course, by the Swedish government and by Leftists, Demorats and GOWPs** the world over.. Two days later there were outright riots conducted by Muslims in Stockholm, Sweden's capitol. Rather inconvenient for a narrative, eh wot? Now, people and news outlets in the EU are asking: was Trump correct all along?
One of my favorite references, Tucker Carlson, speaks to Nigel Farage about the incident in Sweden and the wake-up call that must accompany the act.
No matter how you deny, no matter how you try, Swedish government, your ignorant and naive views are currently coming back to bite your citizens in their arse. And it's killing them. Your politically correct views are not only corrosive and corruptive, they are deadly.
When will you start to care?
BZ
**GOWP = Guilty Overeducated White Person.
IMPORTANT UPDATE:
(From the UKDailyMail.com.)
Sweden will 'never go back' to the days of mass immigration after failed asylum seeker launched Friday's truck attack in Stockholm, says the country's shell-shocked PM

by Arthur Martin & Mario Ledwith
Prime Minister Stefan Löfven pledged to change his country's liberal attitude

It comes after Rakhmat Akilov, from Uzbekistan, killed four in a terror attack

He drove a 30-ton truck down into a department store in Stockholm on Friday

There are more than 3,000 migrants living unlawfully in Stockholm alone 
The Prime Minister of Sweden has vowed his country will 'never go back' to recent levels of mass immigration after it emerged the terrorist who killed four people in a truck attack was a failed asylum seeker.

Stefan Löfven pledged to change his country's liberal attitude, insisting the massive influx allowed during the 2015 migrant crisis would never happen again.

Rakhmat Akilov, from Uzbekistan, hijacked the lorry and deliberately drove into pedestrians on central Stockholm's main shopping street on Friday afternoon.

It was a copycat of the attack carried out in London last month, when Khalid Masood killed four pedestrians and injured dozens more with a Hyundai 4×4. Swedish police said there were clear similarities.

Akilov is thought to have carried out reconnaissance along his route days earlier.

Four were killed and 15 injured when he drove a 30-ton truck down a pedestrianised area and smashed into a department store. Chris Bevington, a 41-year-old father-of-two from Britain, was killed close to his office.

But it emerged yesterday Swedish authorities had given Akilov four weeks to leave Sweden after his final asylum appeal failed in December.

He was being sought by police and immigration officials for deportation – but evaded them simply by giving a false address.

'Sweden will never go back to the [mass migration] we had in autumn 2015, never,' Mr Löfven said yesterday.

'Everyone who has been denied a permit should return home.

'This makes me feel enormously frustrated. If you have been denied a visa you are supposed to leave the country.'

Akilov, 39, had expressed support for Islamic State and world-wide extremist group Hizb ut-Tahrir, whose UK members included jailed hate preacher Anjem Choudary.

Akilov reportedly told police that he carried out the attack on the orders of Islamic State.
Those people did not have to die.
Are the Swedes actually beginning to understand the significance of the problem they have not only allowed to occur but gone out of their way to promote?