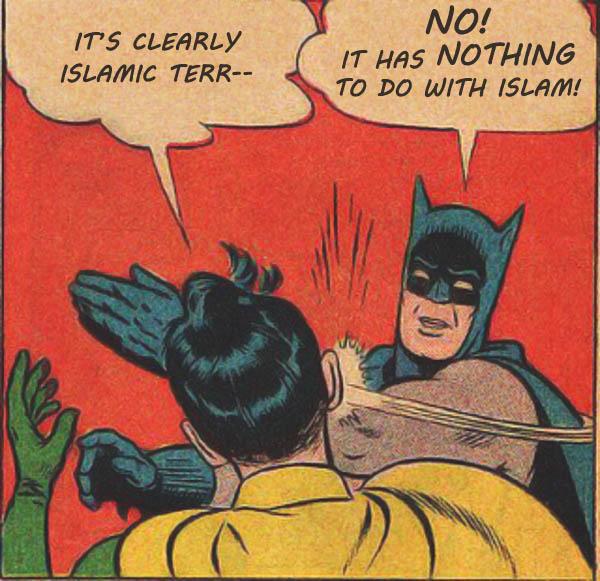 We knew it was just a matter of time before becoming official. Now it's official.
From CounterJihadReport.com:
FREE SPEECH CRACKDOWN: EU orders British press NOT to reveal when terrorists are Muslims

by Kate Mansfield

MEDDLING Brussels has said the British press should not report when terrorists are Muslims in a slew of demands to the Government to crack down on the media.

Express, by Kate Mansfield, Oct. 5, 2016:

A report from the European Commission against Racism and Intolerance (ECRI) found there was an increase in hate speech and racist violence in the UK from 2009 to March 2016.

Blaming the press, ECRI Chair Christian Ahlund, said: "It is no coincidence that racist violence is on the rise in the UK at the same time as we see worrying examples of intolerance and hate speech in the newspapers, online and even among politicians."
"Hate speech," you see, equates to not advocating on behalf of Islam. The UK now, like many Western countries, has migrated with regard to Islam in this fashion:
From Tolerance,
To Acceptance,
To Advocacy.
In other words, if you are not an active advocate, then you must be an _______-ist or _______-phobe. Fill in the blank.
In the 83-page report, the Commission said: "ECRI considers that, in light of the fact that Muslims are increasingly under the spotlight as a result of recent ISIS-related terrorist acts around the world, fuelling prejudice against Muslims shows a reckless disregard, not only for the dignity of the great majority of Muslims in the United Kingdom, but also for their safety.

"In this context, it draws attention to a recent study by Teeside University suggesting that where the media stress the Muslim background of perpetrators of terrorist acts, and devote significant coverage to it, the violent backlash against Muslims is likely to be greater than in cases where the perpetrators' motivation is downplayed or rejected in favour of alternative explanations."
Right. The nature, backgrounds and persons responsible for the various attacks — if they involve Islam in any fashion — must be "downplayed or rejected" in favor of "ALTERNATE EXPLANATIONS."
Such as, perhaps, sunspots, tidal pull, bad flatus, global warming, parking tickets? You get the drift. Just make up shite as you go along. Let's actively lie, as a government, to the electorate because we cower in front of Islam. We have no spine, no courage, no truth.
Despite the creation of the Independent Press Standards Organisation (IPSO) in 2014 as an independent regulator for newspapers and magazines, the "ECRI strongly recommends that the authorities find a way to establish an independent press regulator according to the recommendations set out in the Leveson Report. It recommends more rigorous training for journalists to ensure better compliance with ethical standards."
And there you go. A press "regulator" who will "independently" determine just what it is that you, in the UK (and soon to occur in the US), will see and know. What will be the consequences should various articles not "conform" to the Brussels and ECRI ideals? Send the authors back for "regrooving" like a bad truck tire? Indoctrination classes and camps? Civil penalties? Actual criminal penalties?
"At the same time, the commission noted considerable intolerant political discourse in the UK, particularly focusing on immigration. It said that hate speech continues to be a serious problem in tabloid newspapers, and that online hate speech targeting Muslims in particular has soared since 2013."
I wonder if said speech has increased commensurate with Muslim attacks on the UK, France, Belgium and other Western EU countries? My guess? Yes. Speech is just that. Speech. The UK does not possess our First Amendment.
So, to #NeverTrumpers and all others: if you want this in your country just stay home on election day. Refuse to fill out your absentee ballot. Vote down-ticket only. You'll get precisely what you want, which is Hillary Rodham Clinton.
You'll also acquire a reflective reduction of your rights such as freedom of speech, your right to self-defense, your right to not be micro-managed by the United States of America, your right to know what is occurring under your noses. Eric Arthur Blair would be patting himself on the shoulder right about now due to his prescience.
Oh boy, a continuation of more repression, corruption, lies and governmental tyranny under Hillary Rodham Clinton in the fine tradition of Barack Hussein Obama.
I can't wait.
BZ