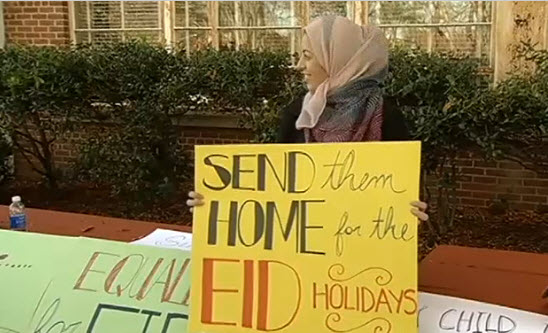 Because, after all, we certainly can't be perceived to offend the persons who, in the name of Islam, killed 3,000 Americans and turned them into burning jelly by running aircraft into two large buildings on September 11th of 2001 — can we?
From EAGNews.org:
Suburban DC school district takes Christmas off calender after Muslims complain
by Kyle Olson
ROCKVILLE, Md. – Christmas is now just December 25th in the Montgomery County school district.
The suburban DC district stripped Christmas and Jewish holy holidays from its official calendar after Muslim parents complained.
But that's not good enough as they say the move does "nothing to gain parity and a day off for the Muslim holiday of Eid," according to WTOP.
"Equality is really what we're looking for," Saqib Ali, co-chair of Equality for Eid, says. "Simply saying we're not going to call this Christmas, and we're not going to call this Yom Kippur, and still closing the schools, that's not equality."
Equality is what they — Muslims — are looking for.  Just a little equality.  What's wrong with that?  Take it away, GOWPs:
But school board member Michael Durso says unless the Muslim's complaints aren't addressed, "it comes off as insensitive, and I just think we cannot afford to be in that light."
Except: removing Christmas isn't enough.  The Muslims want more.  They want Eid recognized.  And Christmas removed.
The Washington Post reports the board 7-1 to stop recognizing the Christian and Jewish holidays.
"This seems the most equitable option," said board member Rebecca Smondrowski, who proposed the idea, according to the paper.
Coming soon to a school district near you.
Buh-bye Christmas.  I knew ya when.  .  .
BZ