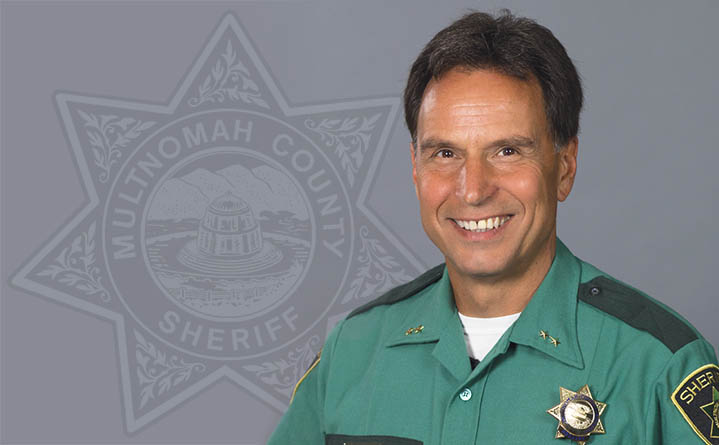 Multnomah County (OR) Sheriff Mike Reese.
First, for those unfamiliar with the situation and why I'm writing this post in terms of an open letter to a fellow Sheepdog, I provide the following background from a number of news sources.
First, from KGW.com, the local NBC affiliate in Portland, Oregon.
ICE not alerted when sex assault suspect released from jail in 2016, official says

PORTLAND, Ore. — A man accused of breaking into a 65-year-old woman's home, sexually assaulting her and stealing her car was arrested after allegedly assaulting another woman and running from police.

Sergio Jose Martinez, 31, was caught July 24 after officers chased him through a neighborhood.
Of course this is not the most egregious part of the story. Read on.
According to court documents filed in March 2017, Martinez has a history of illegal entry into the United States. He has been a transient in the Portland area for more than a year and has been deported 20 times.
That is not a typo. Martinez has been deported twenty times.
Martinez has at least five probation violations for re-entering the United States. His most recent removal was in November 2016, according to the March court documents.

Immigration and Customs Enforcement (ICE) lodged an immigration detainer against Martinez, asking authorities to notify them before releasing Martinez to allow ICE to take him into custody. The Department of Homeland Security said a detainer was requested for Martinez in December 2016, but he was released into the community and authorities did not notify ICE.
Released by whom? The Multnomah Sheriff's Office, whose sheriff is in charge of the jails in that county, one of 36 in Oregon. Portland is within Multnomah County and is in fact not only the largest city in Oregon but the county seat as well. The next paragraph is vastly disappointing.
Earlier this year, Multnomah County leaders and Sheriff Mike Reese wrote a letter to the community saying, "The Sheriff's Office does not hold people in county jails on ICE detainers or conduct any immigration enforcement actions."
This story went global too, as illustrated by the UK's DailyMail.com.
Illegal Mexican immigrant, 31, who was deported TWENTY times 'rapes woman, 65, at knife-point' just months after Portland released him from jail under 'sanctuary' policy

by Keith Griffith

Sergio Jose Martinez, 31, charged in assault on two women in Portland Monday
Martinez has lengthy history of arrests, illegal entry and deportations to Mexico
Admitted meth and heroin user told jail staff that he drinks up to 10 beers a day
Portland jail officials released him in December in defiance of federal request
State of Oregon has forbidden local law enforcement to cooperate with ICE 
Now Martinez is accused in sickening sex assault on a 65-year-old stranger

An illegal immigrant with a long history of deportations to Mexico, and who was released by local jail officials in defiance of a federal immigration hold, is now accused of raping one woman and assaulting another in a sickening crime spree.

Sergio Jose Martinez, 31, is charged with 13 counts – including burglary, kidnapping, sodomy and sex abuse – in the knife-point attacks on two women in Portland on Monday.
But wait, there's more.
Six months ago, on December 7, jail officials in Portland had Martinez in custody when they received a request from the Immigration and Customs Enforcement agency, asking the jail to notify ICE before his release.
What happened?
Yet the local officials released him the next day in defiance of the federal immigration detainer, an agency spokeswoman told the Oregonian. 

Oregon has a state law forbidding local law enforcement from using any resources to enforce federal immigration law.
Stop. Correct. Oregon has a law from 1987 entitled the Revised Statutes 181A.820.
The criminal spree on Monday began around 7pm, when a suspect broke through an open window into a 65-year-old woman's home, on NE Halsey street in the Sullivan's Gulch neighborhood.

The suspect, who police say was Martinez, used scarves and socks from her closet to bind and gag the woman before sexually assaulting her, according to court documents reported by Fox12. 

Martinez slammed the elderly woman's head into the wooden floor, punched her, and stole her phone, credit cars, and car, speeding away in it, according to police.

The woman was able to get to a neighbor's home and call 911.
The crime spree continued unabated. There was yet another female lawful Oregonian victim to come.
Just hours later, police say Martinez had made his way to a parking garage, where he crouched in a dark corner until he spotted a woman.

He approached the woman saying he wanted to 'talk', but then produced a knife and forced the woman to walk towards her car, according to police.
Her plight, luckily, was not quite so dire as the first victim of Martinez, the 20-time and ignored potential deportee.
He is now charged with two counts of unauthorized use of a motor vehicle, two counts of second-degree assault, one count of kidnapping, two counts of burglary, two counts of robbery, three counts of first-degree sexual abuse, and one count of first-degree sodomy.

Bail has been set at $2.36million in the case.
Please also see the Breitbart.com article here.
And now comes my letter.
Dear Sheriff Reese:
I, like many others, find the recent events involving the processing of Sergio Jose Martinez through your jail both confounding and shocking, simultaneously.
I'd have thought, would have hoped, that you'd been better than that. Instead, I find you in lockstep with some seriously twisted elements in our society. Elements political in nature and, truthfully, the most political in nature.
Those elements who simply wish to do away with the terms "illegal" and "alien" and for that matter, "citizen." Because what is a citizen if not "lawful" in the eyes of the state itself? Are there true citizens? Or are there merely "occupants"?
You're a "new" Sheriff and not an entrenched official. That provides you some leeway.
You seem to, however, have aligned yourself with the wrong elements when you created a recent investigation, from KOIN.com:
Sheriff Reese investigates deputies helping ICE

by Jennifer Dowling

PORTLAND, Ore. (KOIN) — Multnomah County Sheriff Mike Reese said Thursday his office is still investigating a number of emails showing that his deputies were involved in assisting Immigration and Customs Enforcement agents in their efforts to deport illegal immigrants.
In a normal world, this would be a normal act. That is to say, an act committed by those wishing to see that justice is served. These days, an abnormal act.
This is you, sir, drawing a line. A line that didn't reflect your entire good will but instead reflected your political interests and those of the persons to whom you answer or to those to whom you believe you answer.
Separate and disparate.
You have an incredible opportunity here. You have the opportunity to set a precedent not unlike that of another sheriff, in Texas, via Sally Hernandez in Travis County.
She showed remarkable heroism. I must admit.
For the wrong side. You can weigh in afresh and strong.
I challenge you sir to, at minimum, pen a letter to the victims — plural, both women — of the illegal alien your department released directly back into the community, apologizing for your actions and ensuring them your lockstep obedience of injurious and corrosive Oregon laws will end and cooperation will occur between your department and ICE in terms of timely notification for relevant holds and detainers.
I challenge you, sir, to further step up to the public podium and take the necessary political stand against so-called sanctuary cities and states because you are full well cognizant of the deleterious and life-altering consequences of allowing serial illegal alien criminals to continue abusing Oregon laws originally designed to protect the lawful citizens of your state.
Repudiate your most terrible of laws. Take a stand. Sally Hernandez did. You can do no less. Take a stand. Or simply stand by and watch your citizens be scourged by more aliens completely uninvested in your area.
Signed,
BZ
This, Sheriff Reese, has been my open letter to you.
One final question to you, Sheriff Reese.
What are you?
Are you a Sheep?
Or are you well and truly a Sheepdog?
The only one who can make that decision is you.
BZ
P.S.
For those unfamiliar with the relationship between sheep, wolves and Sheepdogs please see my post here about Lt Col Dave Grossman's article entitled "On Sheep, Wolves and Sheepdogs."