In order to understand the post, let's first watch a video:
That said and done, this same reporter then objects to The Jews daring to utilize her report in order to confirm the truth: Hamas fires weapons behind the skirts of women and children and hides in hospitals.
From the JerusalemPost.com:
WATCH: Finnish reporter admits Gaza rockets launched from hospital
by JPPost.com staff
A Finnish journalist for the daily newspaper Helsingin Sanomat said in a report that was uploaded to YouTube on Friday that Hamas terrorists launched a rocket attack at Israel from a hospital.
She recalled a really loud sound, following the attack, and added that "it's true that rockets are launched here from the Gazan side into Israel."
But here's the rub.  This chick objected to others using her Truth to display the Actual of Hamas.
The Helsinki-based journalist took to Twitter to respond to the maelstrom of attention her TV report generated, both in Israel and in the foreign press.
She tweeted that she refused to be used as a propaganda weapon, and elaborated on Facebook.
The TV reporter blamed news outlets for taking her report out of context and for using it to "target civilians in Gaza."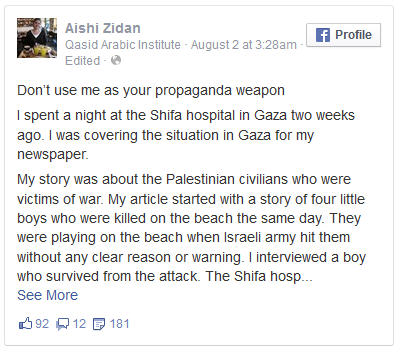 "Out of context."  That Hamas fired a rocket from a hospital?
Are you that "in the tank" for Hamas, madame?
Apparently so.
BZ