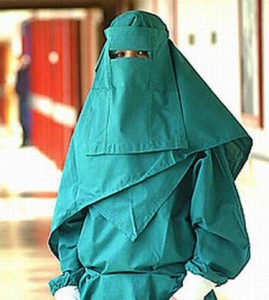 Muslim nurse in the UK.
From the European Union Times.net:
UK allows Muslim nurses to not wash to protect their "modesty"
The UK Department of Health recently announced that it would loosen hygiene rules for Muslim and Sikh doctors and nurses. From now on, Muslim female staff will not need to wash their hands before procedures as it compromises their modesty. Instead, they will have the admittedly less sanitary option of wearing disposable plastic over-sleeves.
Acknowledging the danger of microbes and death, a Department of Health spokesman said, "The guidance is intended to . . . balance infection control measures with cultural beliefs." But, believe it or not, from a culturist perspective, the death of some patients is not the main cause for concern that this policy elicits.
The most dangerous problem is that this policy encodes multiculturalism not culturism. Whereas culturism acknowledges that England has a majority culture to protect and promote, this multiculturalist policy implicitly says that England has no core culture. It says that the nation can be whatever pressure groups decide it is. It, therefore, officially ends the dominance of English culture in England.
Let's review: in England, you, the patient, are merely the not-so-involved "intermediary" between a culture that values their traditional belief systems — and sepsis, infection and death.
Aided and abetted by the finest UK medical professionals who quake in fear of "offending."
Not a bad place to be, considering you, the patient, may potentially be sacrificed on the bloody altar of Politically Correct Appeasement.
But at least, if as a patient you acquire a raging infection from a Muslim not having properly disinfected, you can take comfort in the fact that you've offended no one in the vicinity.
A reminder from Ozzie Saffa for those unfamiliar with the whole Muslim Thingie:
(and keep in mind that they use their hands and water to wash after going to the toilet – no kaffir toilet paper for them)
Wow; I feel so much better already.
And you?
I mean, you won't mind sacrificing some known critical medical safety precepts as long as you know you're making Muslims "feel" better, will you?
Ah, you Brits, you're just kidding, right?  — right?
BZ
P.S.
H/t to Ozzie Saffa via Hugh.