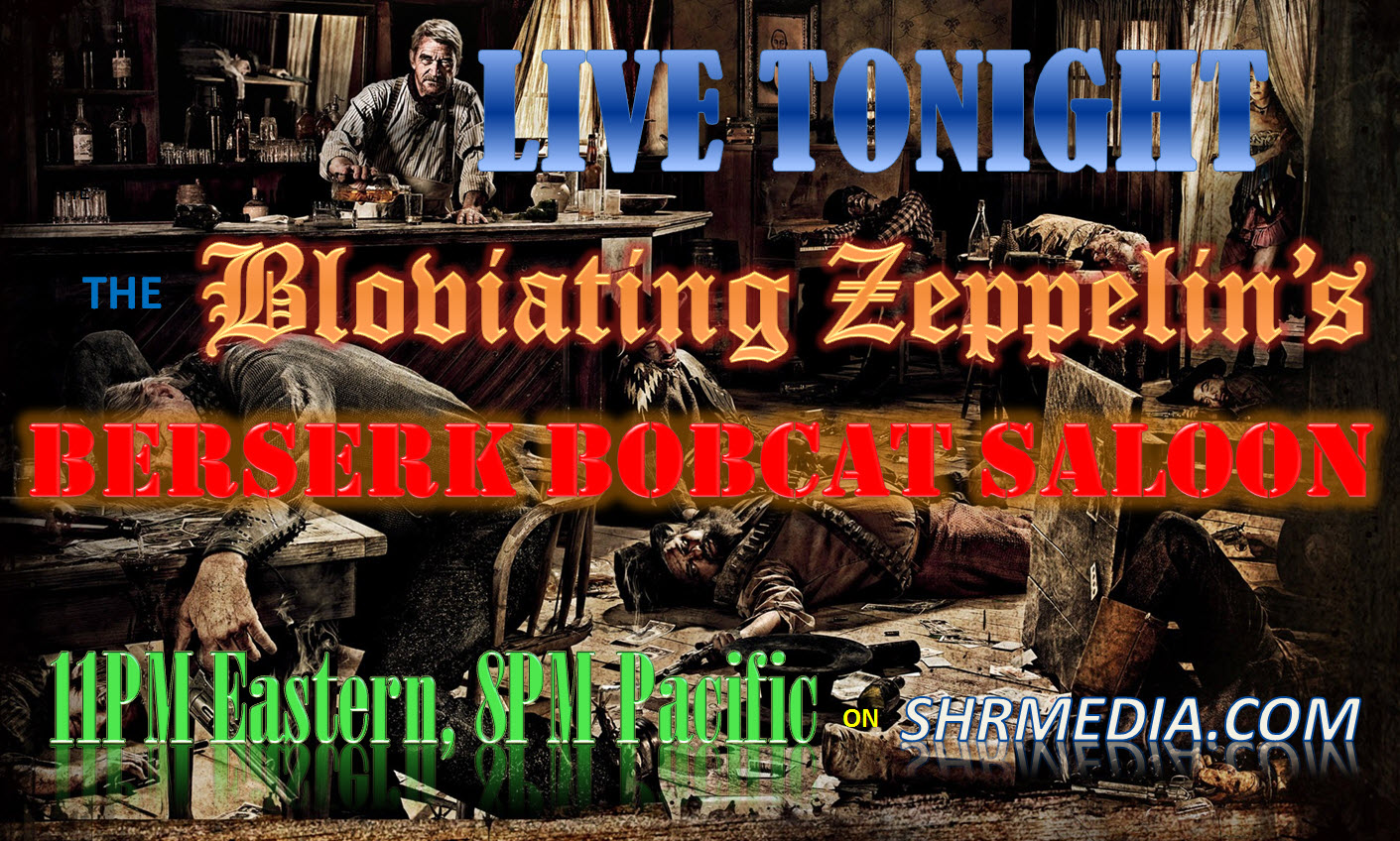 My thanks to the SHR Media Network for allowing me to broadcast in their studio and over their air twice weekly, Tuesdays and Thursdays, as well as appear on the Sack Heads Radio Show™ each Wednesday evening.
This was BZ's second night running the new SHR laptop with Windows 10, and the machine hosed me. I had previously set up the show on Spreaker, filling out the requisite information and, with 7 minutes before broadcast, it told me I had updates ready and forced me into a restart. It took 6 minutes to restart and I was able to open Spreaker and complete filling out the show material with about 10 seconds before the show had to begin at 8 PM Pacific. Furthermore, I lost all my audio cuts with the restart and played the Patton speech so that I could have enough time to reacquire those cuts from the internet as it was playing. Close.
If I sounded a bit rushed and flustered at the beginning of the Saloon, now you know why. Not happy, but made it work.
Tonight in the Saloon we discussed:
General George Smith Patton addresses the troops;
Damn, it's hot in the studio again; the official SHR lava lamp is still lighted;
President Trump fires FBI Director James Comey; I give background;
The chatroom fills out; Conservative LA visits the chatroom briefly; thanks for that;
Texas Governor Greg Abbott signs the sanctuary city bill, Leftists go insane;
Emmanuel Macron beats Marine Le Pen; France has a new president;
France decides it wants the status quo and continues to embrace multi-kulti;
Germany's Angela Merkel larfs maniacally as she is now the official French President By Proxy;
Listen to "BZ's Berserk Bobcat Saloon, Tuesday, May 9th, 2017" on Spreaker.
Please join me, the Bloviating Zeppelin (on Twitter @BZep and on Gab.ai @BZep), every Tuesday and Thursday night on the SHR Media Network from 11 PM to 1 AM Eastern and 8 PM to 10 PM Pacific, at the Berserk Bobcat Saloon — where the speech is free but the drinks are not.
As ever, thank you so kindly for listening, commenting, and interacting in the chat room or listening via podcast. My apologies for not monitoring the chatroom because the second screen wasn't working yet; it will next week.

Want to listen to all the Berserk Bobcat Saloon archives in podcast? Go here.
BZ