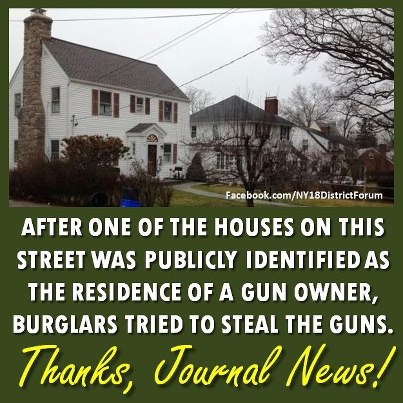 From NewYork.NewsDay.com:
Two handguns and two pistol permits were stolen from the New City home of a man whose name and address are listed on the website of a local newspaper as possessing gun permits, police said.
The thieves ransacked the house Wednesday night, breaking into two safes on the home's third floor and stealing a third safe. The guns were in the stolen safe, police said.
The Journal News has come under fire from elected officials and police groups for posting the interactive map Dec. 23 that showed the names and addresses of all legal gun permit holders in Westchester and Rockland counties.
The newspaper has not responded to numerous calls for comment.
The head of the White Plains Police Benevolent Association, Robert Riley, has been one of the fiercest critics of the Journal News map, saying it puts the lives of police and ordinary citizens in potential danger.
"The Journal News printed a virtual treasure map for criminals," Riley said Monday. "It lets the bad guys know who is vulnerable, due to not having a gun permit, and where to go if they wanted a gun."
Thanks, American Media Maggots.  People are being harmed behind your Leftist "make a point" anti-firearms actions.
Frankly, these sound like quite excellent grounds for various lawsuits against the Journal News itself.
BZ