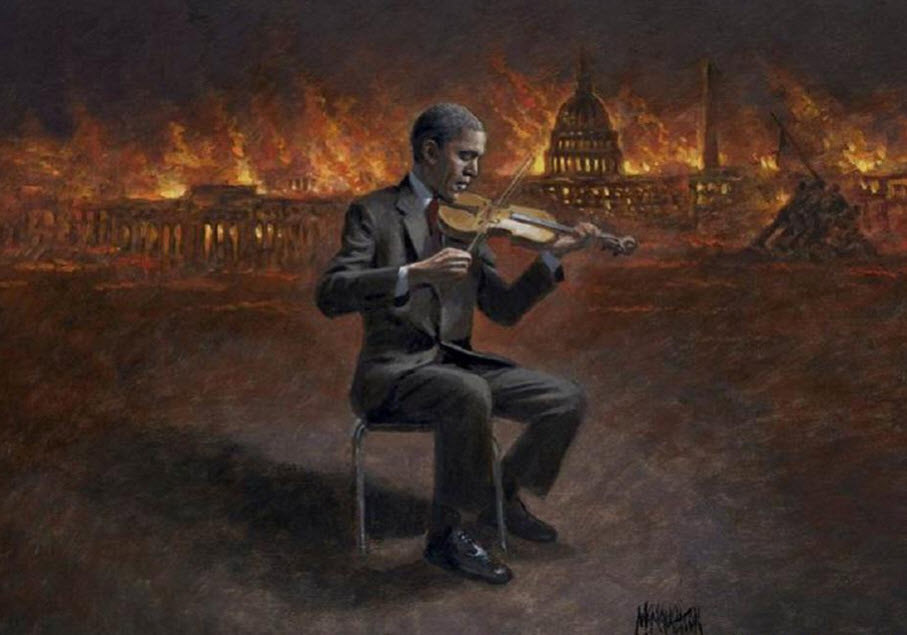 Obama fiddles while the US and the world burns. He is "concerned" and "monitoring."
Our wondrous president today declared that ISIS IS CONTAINED.  From Breitbart.com:
Obama: ISIS Is Not Getting 'Stronger,' We Have 'Contained' Them

by Jeff Poor

Friday on ABC's "Good Morning America," President Barack Obama seemingly downplayed the threat of ISIS in an interview with ABC's George Stephanopoulos that aired on Friday's broadcast of "Good Morning America."

Stephanopoulos asked Obama if ISIS was gaining in strength, to which Obama denied they were.

"I don't think they're gaining strength," Obama responded. "What is true is that from the start, our goal has been first to contain and we have contained them. They have not gained ground in Iraq, and in Syria they'll come in, they'll leave, but you don't see this systemic march by ISIL across the terrain."
"The global war on terror is over."
~ Barack Hussein Obama, 23 May, 2013
OUR PRESIDENT IS AN INCREDIBLE DOLT.
Isn't timing wonderful?  Just as our CIC (Coward In Chief) makes this statement, all hell explodes in Paris at the hands of ISIS and Islam.  Six or seven attacks occurred in Paris, France, on Friday.
And yes, our sterling, stalwart and courageous president refuses to name Evil.  As Obama said, these are nothing more than garden-variety "extremists."
Islamic evil.  Let me please repeat that: ISLAMIC EVIL.
Pipes: "Those who make all Islam their enemy not only succumb to a simplistic and essentialist illusion but they lack any mechanism to defeat it. We who focus on Islamism see World War II and the Cold War as models for subduing the third totalitarianism. We understand that radical Islam is the problem and moderate Islam is the solution. We work with anti-Islamist Muslims to vanquish a common scourge
No group has yet made claim to the attacks, but they will.  Only a fool or our president would leave those attacks unattributed.  Fool and Obama, one and the same.  Parisians were throwing bedsheets out of their windows in order to cover the dead in the streets.
We are seeing the beginnings of an entire paradigm shift, a cultural change, in Europe, that will result in what was once known as European culture kicked to the curb.
A Jihadi Urban Army is emerging in France and in Europe.  ISIS elements are already present in the US, having simply gotten their ankles most.
Is this the Religion of Peace™ versus the Religion of Evil™ ?
What video will it be this time, Mr Obama, responsible for these attacks?  Were they disaffected Muslim workers ill-paid in various Paris businesses?  Were they "poor," "disenfranchised," struggling to put food in the mouths of their children?
Or were they simply barbaric thugs destined to kill as many Westerners as possible?
A "hostage situation"?  It was never a hostage situation.  It was a situation destined for death.
More than 140 dead in series of terror attacks: 100 are killed after hostages are taken at theatre. Kalashnikov-wielding gunman opens fire in restaurant. Two SUICIDE bombs detonate near the Stade de France. Gunfire at shopping centre
Parisians were throwing sheets out of their windows so that the dead could be covered.
There were six attack sites.  Suicide bombers blew themselves up.  Gunmen took hostages in a venue.  Gunmen blew themselves up and perhaps first responders.
Survivors climbed out of the concert hall on ladders.  100 people dead there alone.  A mandatory curfew in effect for the first time since WWII.
The attackers shouted "Allahu Akhbar."
Attackers detonated vests as police moved in.
200 wounded, 80 seriously in Paris.
Ah Islam, the religion of tolerance and peace.
BZ