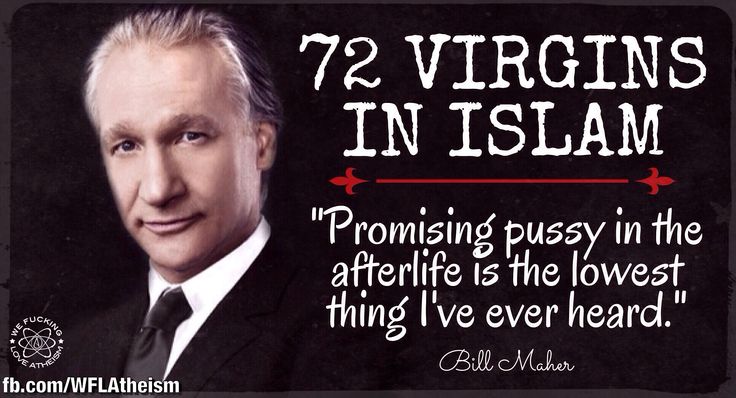 Bill Maher, despite his Lefty way, is correct about one thing: Islam.
He believes that Islam is a threat to the civilized world.
From Breitbart.com:
Maher: The More You Know About Islam, The More Afraid Of It You Are, Intolerant Christians 'Really Aren't a Problem'

by Ian Hanchett

HBO host Bill Maher argued that it isn't true that people wouldn't be as afraid of Islam if they knew more about it, "Actually, it's the reverse" and that he wished liberals would "have the same enthusiasm for intolerance elsewhere in the world as they do for Christians here at home, who really aren't a problem, because they don't get really get their way" on Friday's "Real Time."

Maher, after referencing the covering up of nude statues in Italy during a visit by Iran's president said, "I think people are mixing up two things, tolerance and capitulation." He added, "It's one thing to be tolerant of another culture, but this is our culture. You know, Christianity did have a problem with t*tties like in 1300, but we got over it. So, we shouldn't change our culture to a more backward culture, should we?"
"I think people are mixing up two things: tolerance and capitulation."

Maher added, "I think liberals have to stop insisting that the world is the way they want to it be instead of the way it is."
Holy Mother of God, Maher just had an epiphany.  He used words directly from the notebook of Captain Obvious.  Words I've been writing, literally, for years about Leftists.
Bad out of my mouth, somehow acceptable out of his.
He (Maher) then pointed to folk singer James Twyman's efforts to do a concert in ISIS-controlled territory to hopefully stop ISIS' violence. Maher then argued, "[Y]ou cannot just insist that the reality that you think about in your head is the reality that exists in the world. After the San Bernardino attacks, we were off the next week, but I heard all over TV, this — everybody was saying, 'If only Americans knew more about Islam, they wouldn't be so afraid.' Actually, it's the reverse."
It IS the reverse.  If Americans knew more about Islam — actually read the Koran, the Hadith, the surahs, — Americans would realize what Islam says is what Islam means.
My quote: "Islam is as Islam does."
Maher finishes:
"I just hope that the civics guidebook in Sweden is more persuasive than the Koran, but I doubt it is."
There is actually a difference between Leftists, as wacky as they are.
At least Bill Maher doesn't advocate the silencing of those to don't believe in his philosophies, unlike many professors in various "advanced" US educational institutions.
Such as Melissa Click, a professor who "wanted some muscle" to her location so she could keep a student photographer from documenting a college protest.  Click has since had third degree assault charges filed against her and been suspended from the University of Missouri.
I very seldom watch him, but I support Maher's right to say what he wishes.  I draw the line at the bulk of collegiate Leftists and students who want to entirely stave off any discussion in the slightest conflict with their beliefs. They can't countenance dissent.  Their upbringing, coddling and fragile little egos keep getting in the way.  They are frothing over with unwarranted and inflated self esteem.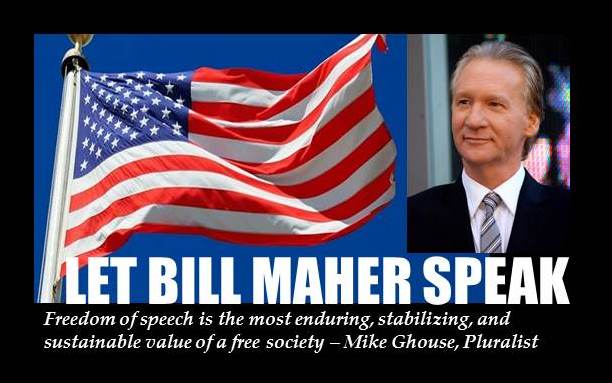 At least Maher believes in free speech.
BZ