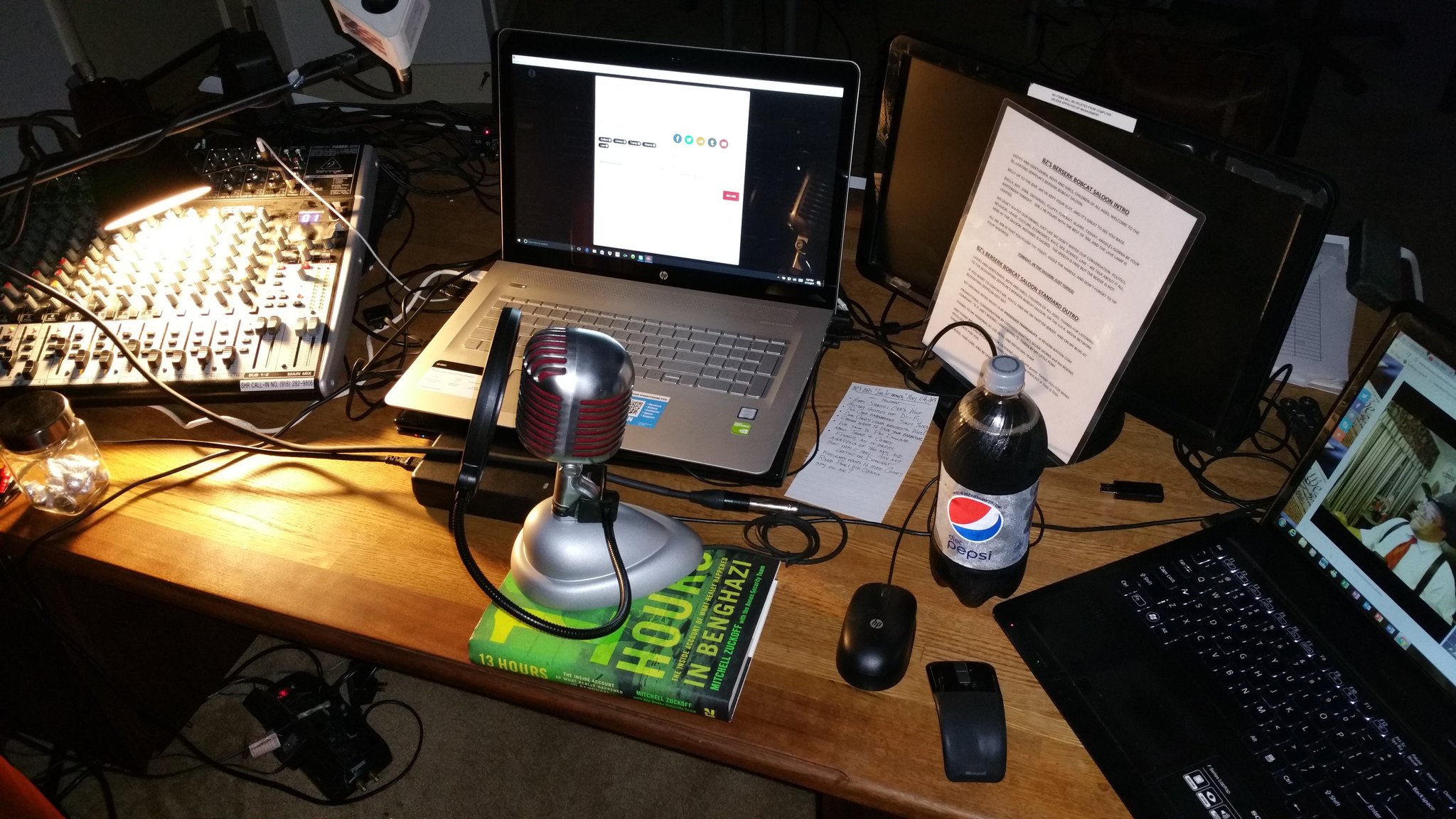 My thanks to the SHR Media Network for allowing me to broadcast in their studio and over their air twice weekly, Tuesdays and Thursdays, as well as appear on the Sack Heads Radio Show™ each Wednesday evening.
This was BZ's third night running the new SHR laptop, bristling as it does with a full 16 gigs of buttery RAM goodness and a nice sound card. Once again, like Tuesday, BZ discovered that Windows 10 wanted to update right in the middle of the show. Uh, no. Learned that lesson.
Tonight in the Saloon we discussed:
"I know a dead parrot when I see one, and I'm looking at one right now";
Happy Stories: CNN's Wolf Blitzer shuts down Diane Feinstein when he doesn't get the answer he wants from her;
Senator Ted Cruz chats with former temp AG Sally Yates, fired by Trump;
8 USC 1182: it exists, get over it;
Thousands flee Cook County because of Chicago violence;
I was vastly wrong: NYPD has 34,000 officers, not 24,000;
Pat Dollard was busy; we're hoping for another appearance shortly;
Obama says: you need to eat a bug;
What is "anthropogenic"?
Scientists: you need to eat insects to stop "global warming";
Memorial Day represents nothing but US oppression around the globe;
Obama's rampant hypocrisy: $400,000 speeches & $3.26 million dollar cash grab;
Obama's private jet and 14-vehicle convoy to Milan's Globalist Food Control meet;
I tell you about the Religious Left: it takes faith to believe in global warming;
Al Gore only wants $15 trillion dollars from every nation and tax payer;
Elizabeth "Fauxcahontas" Warren thinks Obama might be just a bit hypocritical;
Bernie Sanders thinks Obama might be just a bit hypocritical;
Bill Maher thinks Obama might be just a bit hypocritical;
The sky began falling this past Tuesday;
An in-depth analysis of the firing of James Comey by President Donald Trump.
Listen to "BZ's Berserk Bobcat Saloon, "The Aftermath," Thursday, May 11th, 2017″ on Spreaker.
Please join me, the Bloviating Zeppelin (on Twitter @BZep and on Gab.ai @BZep), every Tuesday and Thursday night on the SHR Media Network from 11 PM to 1 AM Eastern and 8 PM to 10 PM Pacific, at the Berserk Bobcat Saloon — where the speech is free but the drinks are not.
As ever, thank you so kindly for listening, commenting, and interacting in the chat room or listening via podcast. With luck all screens will be functioning next week. Shaun said so. Heh. Perhaps, if I speak soothing words, I'll have the live feed on YouTube up and running. No promises yet. Besides, after last Wednesday on Sack Heads, why would you want to look at my ugly mug?

Want to listen to all the Berserk Bobcat Saloon archives in podcast? Go here.
BZ