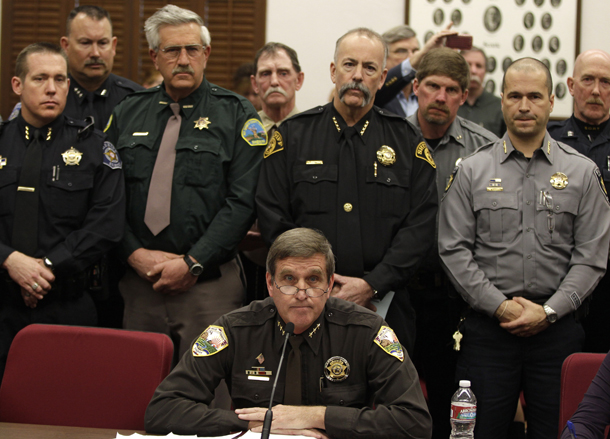 From the NYTimes.com:
GREELEY, Colo. — When Sheriff John Cooke of Weld County explains in speeches why he is not enforcing the state's new gun laws, he holds up two 30-round magazines. One, he says, he had before July 1, when the law banning the possession, sale or transfer of the large-capacity magazines went into effect. The other, he "maybe" obtained afterward.
He shuffles the magazines, which look identical, and then challenges the audience to tell the difference.
"How is a deputy or an officer supposed to know which is which?" he asks.
Colorado's package of gun laws, enacted this year after mass shootings in Aurora, Colo., and Newtown, Conn., has been hailed as a victory by advocates of gun control. But if Sheriff Cooke and a majority of the other county sheriffs in Colorado offer any indication, the new laws — which mandate background checks for private gun transfers and outlaw magazines over 15 rounds — may prove nearly irrelevant across much of the state's rural regions.
Some sheriffs, like Sheriff Cooke, are refusing to enforce the laws, saying that they are too vague and violate Second Amendment rights. Many more say that enforcement will be "a very low priority," as several sheriffs put it. All but seven of the 62 elected sheriffs in Colorado signed on in May to a federal lawsuit challenging the constitutionality of the statutes.
Another reason, ladies and gentlemen, that I work for a department where my head officer is elected and not appointed.  Where there are politics, of course, but more independence than with a police department answerable more directly to a political mayor or a city manager.
Further, from CSPOA:
The following sheriffs, state sheriff's associations, and police chiefs have vowed to uphold and defend the Constitution against Obama's unconstitutional gun control measures.  We applaud these public servants for their courage and conviction.

479 Sheriffs in all.  See the list.
I am an Oath Keeper.
Sheriffs and not Chiefs of Police are more answerable to the people they serve.
Pushback?  Let it commence.
BZ