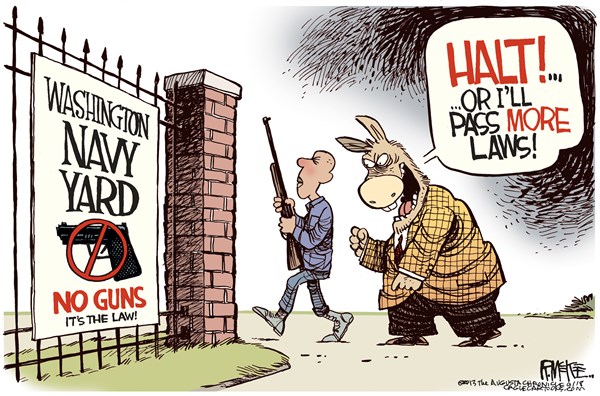 From SHTFPlan.com:
by Mac Slavo
It's no secret that the United Nations, with assistance from members of the Executive and Legislative branches in the United States, has been actively working to reduce Americans' accessibility to firearms. In 2012 President Obama, along with then Secretary of State Hillary Clinton, spearheaded a backdoor move that would have imposed gun control on the United States through foreign means by signing a global disarmament initiative known as the Small Arms Treaty. Though that attempt failed, mass shooting incidents at Sandy Hook and elsewhere have kept the pressure on gun owners with the President having made repeated suggestions that he would mandate gun restrictions through Executive Order should state and federal legislatures fail to act.
With that in mind, you can now apply for the position of DISARMAMENT, DEMOBILIZATION AND REINTEGRATION OFFICER on the United Nations website, as documented here.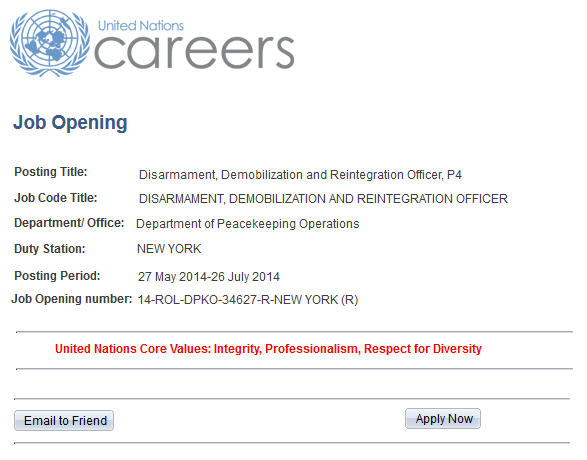 I am not kidding.  Please click the link.  Now check the job requirements:

According to the United Nations information page on 'DDR' operations, the New York post will involve various aspects related to the process by which a governing organization would confiscate firearms, all of which target what the U.N. calls "small arms."
Therefore, now, you too can help America to disarm itself for the greater good of the United Nations.
Only Leftists may apply.
By the way, a current debate topic in Leftist Land is: "Should the Second Amendment be repealed?"  One salient comment:
Think of Sandy Hook Elementary. Think of the Boston Marathon Bombing. The explosion of the Twin Towers? People who stand FOR this amendment… Are you saying these don't matter? Because of this amendment, people are killed every day of the week! My opinion is that any rank above a state cop is allowed to bear weapons such as guns. Local police should have their regular bats and tasers. Any citizen of the U.S. Who has a weapon by ANY reason should immediately be subject to deportation!
"Regular police" and deputy sheriffs should only be armed with "bats and tasers."  Perhaps they could also wield sarcasm, frowning glances and sinister miens.  Harsh language could be utilized but only to the degree that it doesn't denigrate the emotive processes of criminals.
Deport those heinous gun owners and Second Amendment adherers.
Vanity Fair has already advocated for the elimination of our Second Amendment.
Another interesting comment:
I look to our closest allies for the right way to do it. Look at England and Australia. Both countries have banned guns, and the amount of gun violence and suicides from guns have gone down. Look at Israel, where they have strict gun laws. The Israeli soldiers are not allowed to take their arms home and the amount of military suicides from guns has gone down. We should make gun laws stricter. Any criminals using guns get the max. A law like this would take care of the "only criminals will have guns" argument. Make guns highly illegal with severe punishments. This country, much like countries in the Middle East, is too in love with guns. They are not a toy. They are really not even a tool. They are a killing device.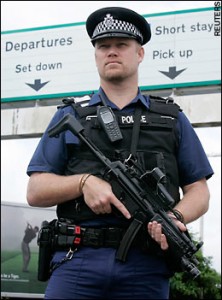 First, England and Australia are armed nations.  Their governmental authorities are armed.  Armed UK authorities are endemic in London.  Their citizens are purposely not armed.
You do not yet see armed officers in US airports carrying fully automatic weapons, as the UK gent is here, to the left.  Plus, he needs to get a closer shave.  He would not pass the muster of my team.
And what about Switzerland?
The Swiss are an issue.
From, of all places, Time.com:
The Swiss Difference: A Gun Culture That Works
The country had one mass shooting in 2001, but a resulting anti-gun referendum failed to pass. The Swiss will not give up the gun. Can their system work in the U.S.?
Even as the gun-control debate rises again in the U.S. in the aftermath of the horrific school shooting in Newtown, Conn., the gun-loving Swiss are not about to lay down their arms. Guns are ubiquitous in this neutral nation, with sharpshooting considered a fun and wholesome recreational activity for people of all ages.
Even though Switzerland has not been involved in an armed conflict since a standoff between Catholics and Protestants in 1847, the Swiss are very serious not only about their right to own weapons but also to carry them around in public. Because of this general acceptance and even pride in gun ownership, nobody bats an eye at the sight of a civilian riding a bus, bike or motorcycle to the shooting range, with a rifle slung across the shoulder.
Switzerland?  A Gun Culture?  Who would have thought?
Plus, as the person above would have us enact, "Any criminals using guns get the max."
Do criminals now get the proverbial "max"?  No, they do not.  That would be racist to attach a "max" penalty to gun possession/use charges upon conviction.
BZ
P.S.