Courtesy of Fox23 News traffic reporter:
EPIC! Local traffic reporter trolls @HillaryClinton supporters that said they were moving to #Canada #mondaymotivation #TrumpPresident pic.twitter.com/vLoUunRFNV

— Evil Hillary (@EvilHillaryPics) November 14, 2016
The only problem is, Canada's rules for immigrants are — ahem — just a tad bit more stringent than ours in the US where, essentially, all you need is a pulse. And a higher melanin count.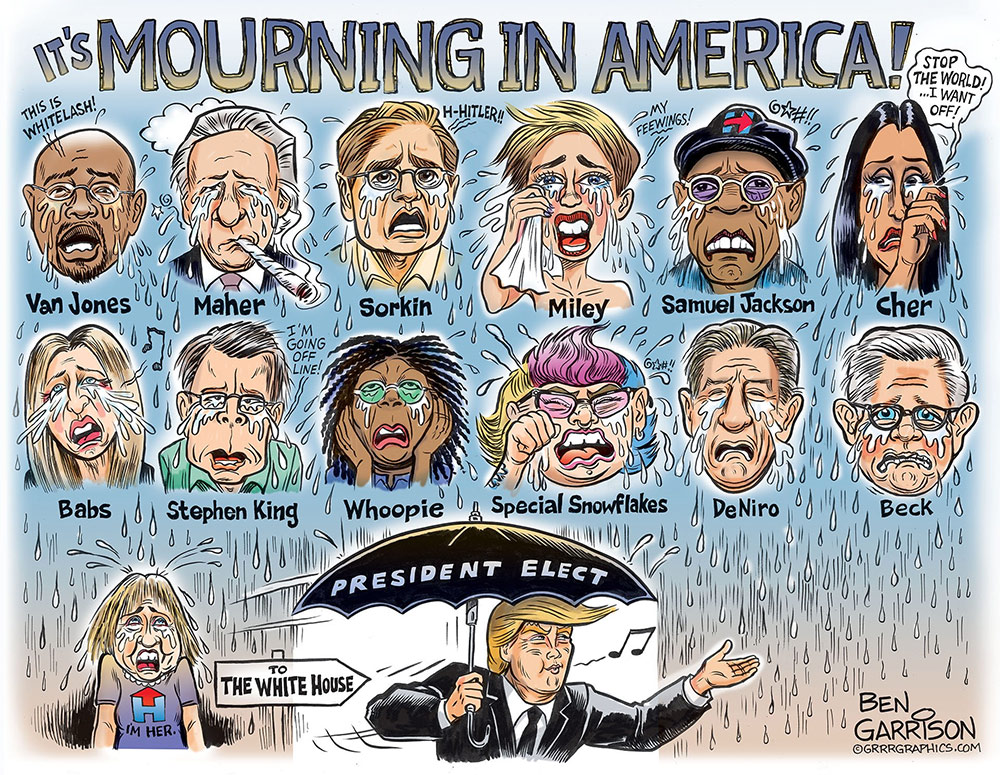 Good news for Fornicalians; the drought is now over courtesy of Leftist tears.
From Immigration.ca:
The new requirements for Canadian Citizenship are now in force. The changes to the Canadian Citizenship Act, the most comprehensive in more than 35 years, make it much harder and more costly to become a Citizen of Canada.
One of the most important changes is the requirement that an individual must now physically reside in Canada for 4 years over a 6-year qualifying period.
The fees for obtaining Canadian Citizenship have been increased to $630 per adult application and $200 for a minor.
A summary of the main changes include the following:
Applicants must be permanent residents of Canada for at least 1,460 days (four years) during the six years before the date of their application.

Applicants must be physically present in Canada for at least 183 days in each of 4-years within the 6-year qualifying period.

Applicants are required to provide extensive proof of actual residence in Canada.

Applicants between the ages of 14 and 64 must meet basic knowledge and language requirements.

Adult applicants must declare their intent to reside in Canada once they become citizens.

To help improve program integrity, there are now stronger penalties for fraud and misrepresentation (to a maximum fine of $100,000 and/or up to five years in prison).

Only lawyers or notaries (including paralegals and students at law) or members of the Immigration Consultants of Canada Regulatory Council (ICCRC), can be paid to provide citizenship applicants with representation or advice.

The new law no longer considers time spent in Canada as a non-permanent resident (non-PR) for most applicants.

Expansion of criminal prohibitions to bar applicants for crimes committed abroad.

Gives the Minister of Citizenship and Immigration Canada the authority to refuse an application if applicant commits fraud.

Gives Minister of Citizenship and Immigration Canada authority to decide on most revocation cases.

Complex revocation cases such as war crimes, crimes against humanity, security, other human or international rights violations, and organized criminality will be decided by the Federal Court.

Establishes authority to define what constitutes a complete application and what evidence applicants must provide.

Changes citizenship to a single-step process for most applications.  CIC aims to reduce duplication and improve processing times.

Requires adult applicants to file Canadian income taxes, if required under the Income Tax Act, to be eligible for citizenship.

Authority to revoke Canadian citizenship from dual citizens who served as members of an armed force of a country or an organized armed group engaged in armed conflict with Canada.

Authority to revoke Canadian citizenship from dual citizens who are convicted of terrorism, high treason, treason, or spying offences, depending on the sentence received.

Authority to deny Canadian citizenship to permanent residents who served as members of an armed force of a country or an organized armed group engaged in armed conflict with Canada or who are convicted of terrorism, high treason or spying offenses.

Applicants can be refused for misrepresenting or withholding material facts on applications and are subsequently barred from being granted citizenship for five years.

Citizenship will be automatically extended to additional "Lost Canadians" effective June 11th 2015, who were born before 1947, and did not become citizens on January 1, 1947 when the first Canadian Citizenship Act came into effect. This will also apply to their children born in the first generation outside Canada.

Creates a fast-track mechanism for citizenship for individuals serving or on exchange with the Canadian Armed Forces to honour their service to Canada.
Want to become a Canadian citizen? Take the free online test here to see if you qualify. Maybe you do; maybe you don't.
Final thought for those fleeing to Canada: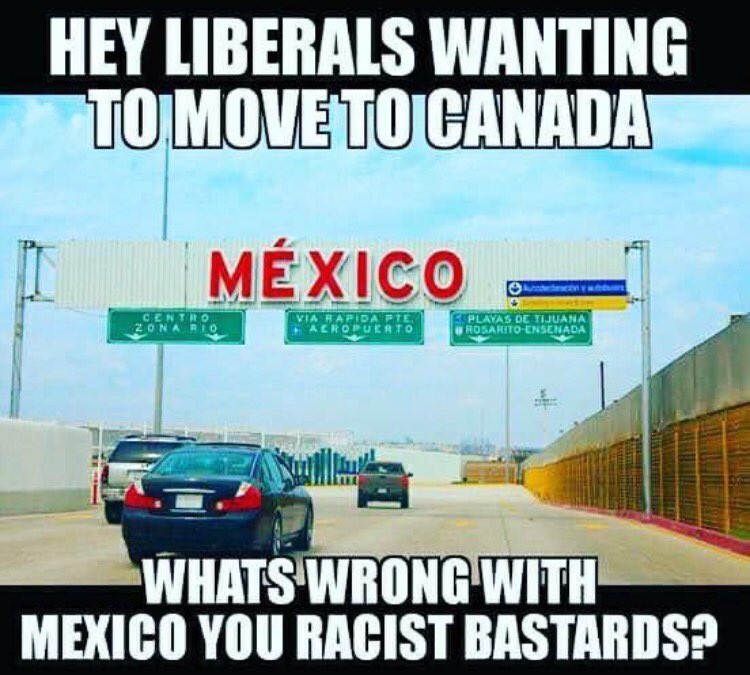 Do I detect just a bit of racist elitism within your breasts, Leftists?
Sure do. Just recognize that Carlos Slim Helú already has the Perrier, caviar and 1996 Boerl & Kroff Brut (Drappier) Magnum market all sown up in Mexico.
BZ
P.S.
Not rubbing it in or anything, but:
Ready to blow Dems minds (esp those who said white males elected @realDonaldTrump) pic.twitter.com/W797XiqioO

— Eric Bolling (@ericbolling) November 14, 2016