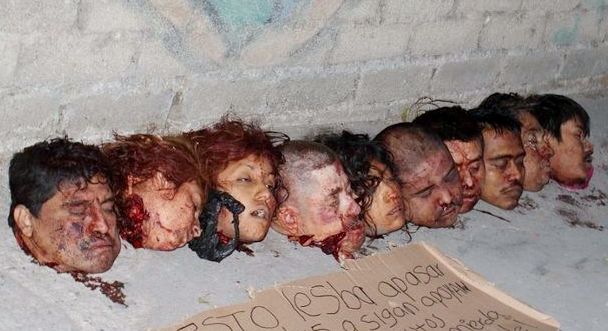 Some of El Chapo's terrible handiwork in Mexico. F&F firearms were used to kill El Chapo's enemies and innocents alike.
And not just "any" firearm; oh no.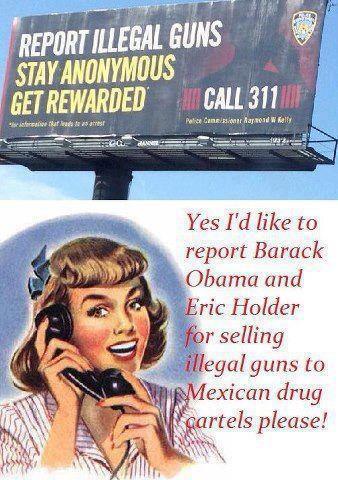 You remember Holder's "Fast & Furious" debacle, right?  The one where US Attorney General Eric Holder's BATFE thought it would be a splendid idea to allow weapons to cross into Mexico under its "supervision" as Operation Gunrunner, then later as Operation Fast and Furious.  More than 2,000 guns were sold to suspected criminals thought to be linked to the Sinaloa drug cartel and other Mexican criminal organizations in the two years of the operation under the Obama presidency.  Shock of shocks, there were criminals involved.  So in essence the BATFE knowingly allowed US weapons to be "walked" into Mexico.  BATFE agents lost track of 1,400 of the 2,000 guns sold.
On Dec. 14, 2010, US Border Patrol agent Brian Terry was killed during a gunfight. It was discovered that weapons in the shootout stemmed from the Fast and Furious operation.  A BATFE scheme, therefore, was directly responsible for the death of an American law enforcement officer.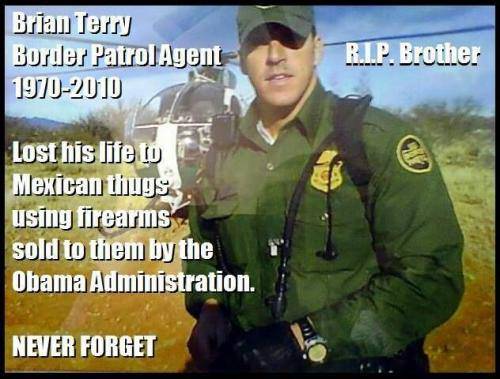 Let us also not forget that documents about F&F were handed over to Representative Darrell Issa's House Oversight Committee in November of 2014 (four years after the murder of Agent Terry) only after the White House tried to use executive privilege in an attempt to halt emails related to the case, and contempt of Congress charges against Attorney General Eric Holder in 2012,  On June 28th of 2012, AG Holder was in fact held in contempt of Congress — the first time ever for a US presidential cabinet member.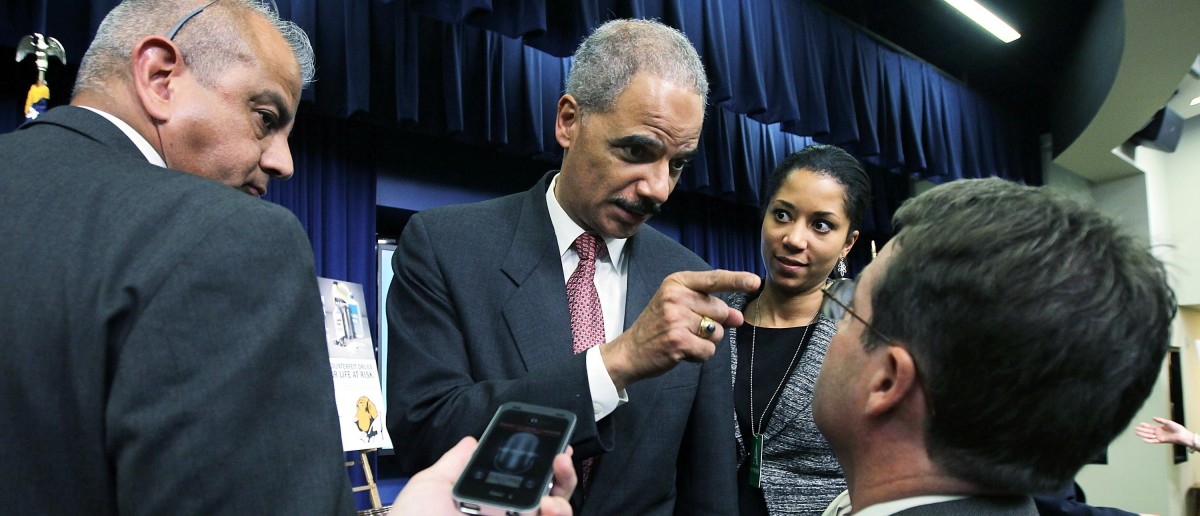 Here's something else people conveniently forget: Emails released to Judicial Watch, a group that filed suit to obtain legal documents from the Justice Department, showed Holder's direct involvement with officials throughout the Justice Department and the ATF in how to handle congressional inquiries and ways to format talking points about Fast and Furious.
In other words, how to obfuscate and minimize.
Yesterday, from FoxNews.com:
'Fast & Furious' rifle capable of taking down helicopter found in 'El Chapo' cache

by William La Jeunesse

A.50-caliber rifle found at Joaquin "El Chapo" Guzman's hideout in Mexico was funneled through the gun-smuggling investigation known as Fast and Furious, sources confirmed Tuesday to Fox News.

When agents from the Bureau of Alcohol, Tobacco, Firearms and Explosives checked serial numbers of the eight weapons found in his possession, they found one of the two .50-caliber weapons traced back to the ATF program, sources said.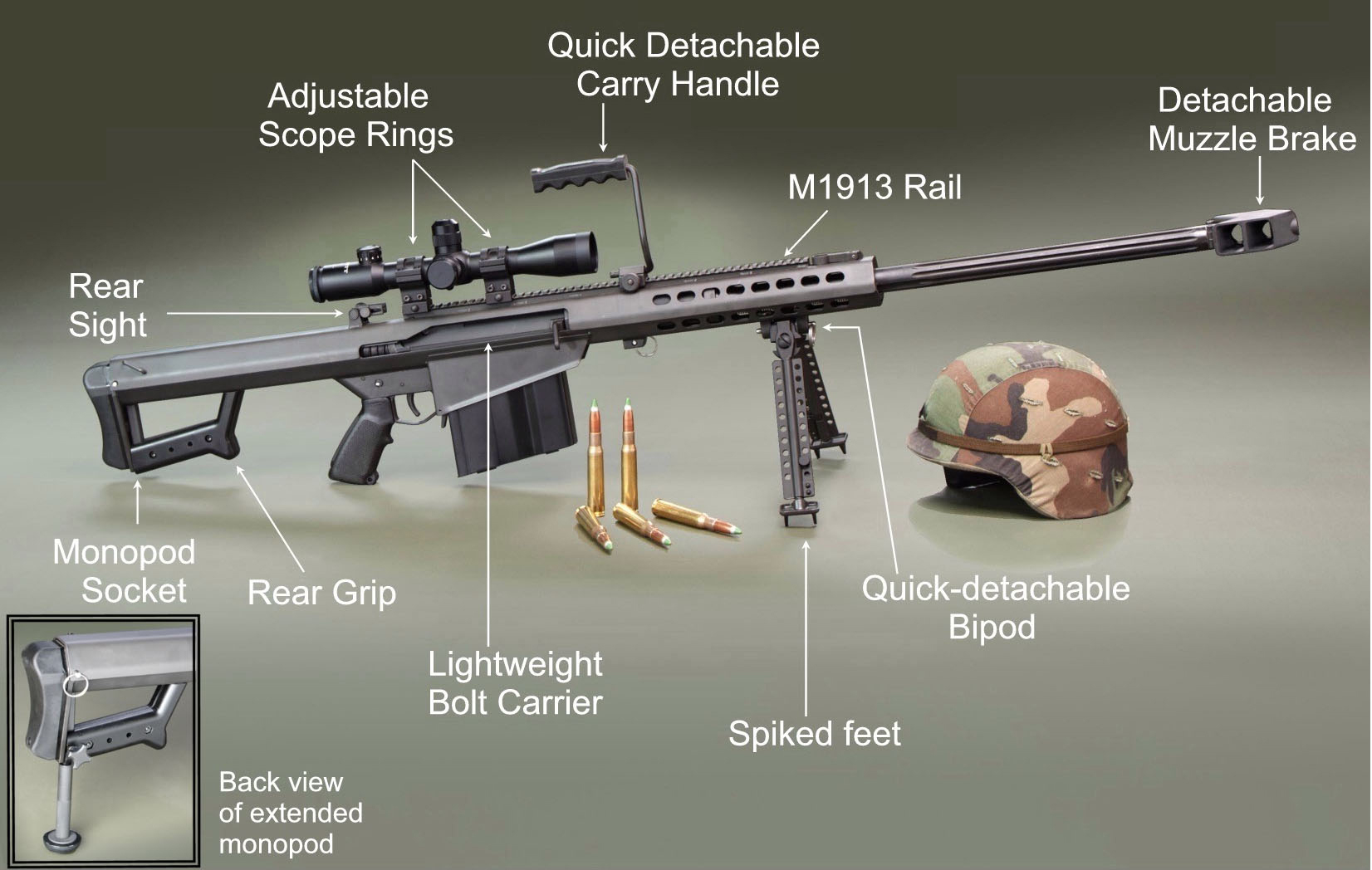 You cannot convince me that Project Gunrunner and Operation Fast & Furious weren't crafted by the Obama administration as an excuse to enact more gun control regulations across the board.  CBS had the records to indicate so.
The NRA's Wayne LaPierre nailed the issue when he said:
We wouldn't know about this at all if [Border Patrol Agent Brian Terry] had not been killed and some of the good, honest, decent federal agents down the line had enough of the stench coming out of Washington and started to use the Whistleblower Act to go public and call the Justice Department out on this whole rotten, stinking scheme.
It's clear the Obama administration and Eric Holder had their anti-gun agendas and did their best to stomp the whistleblowers and stifle the investigation.
Otherwise thousands of guns would still be going over the border into the Mexican drug cartels and the President and the Attorney General and the Secretary of State would all be running around going, '90 percent of the guns come from America' in an attempt to seek political advantage and in an attempt to enact more gun control laws on honest American citizens and use this whole issue politically against the Second Amendment of the United States.
Precisely sir.  One of the major reasons I decided to join the NRA recently.  I am tired of Demorats and Leftists trampling on America's foundational documents.
Good to know the fuckups of Obama and Holder are still the gifts that keep on giving.  How many people did that rifle take out at over 1,000 yards?
BZ