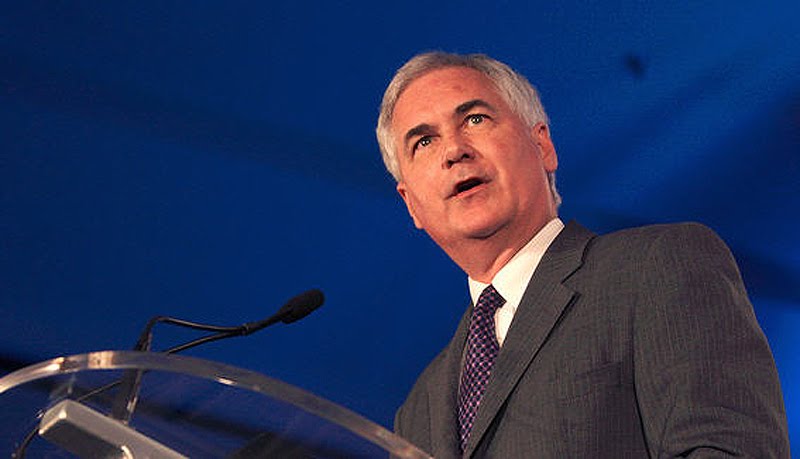 It was discovered yesterday that California taxpayer dollars will be funneled into the pockets of ex-US Attorney General Eric Holder and his firm, Covington & Burling, in order to fight the Trump administration on behalf of the State of California. For background, please see this.
SHR Media, of which I am a part, discussed the issue Wednesday night on the Sack Heads Radio show. Before the show, however, I attempted to acquire a response from the California Attorney General's office but was unsuccessful.
I next contacted the office of my former 4th District representative, Tom McClintock, first speaking to Bill George in Rocklin, and followed with an email in order to see if I could solicit Rep McClintock's opinion on the hiring of former AG Eric Holder.
Representative McClintock was kind enough to respond the very next day, and had this to say:
1.     This is a huge vote of no confidence in Xavier Becerra, who as incoming Attorney General would otherwise be responsible for representing the state government's perspective in the courts.  Implicitly, legislative leaders are saying they don't trust Becerra's competence and need to bring in outside counsel.  I don't disagree with them in this assessment.  Normally, the Attorney General would decide whether he needed additional legal counsel for a specific case – it looks like legislative leaders have made this decision for him.
2.     Since the administration has not taken office and therefore has not yet taken any official actions, it is hard to see specifically what Holder et al are being hired to contest.  Placing them on general retainer once again voices no confidence in Becerra and, given the partisan political connections involved, has the appearance of a political payoff.  Holder is also a curious choice as the only Attorney General to be held in contempt of Congress.
3.     An essential component of federalism is the ability of a state to assert its constitutional powers and prerogatives and to challenge federal authority through our legal system.  If they have no confidence in Becerra, they have every reason to hire outside counsel and every right to challenge federal actions.  Although I obviously strongly disagree with them on policy, I think state legal challenges to federal action are healthy.  This is certainly preferable to recent Democratic attempts to nullify federal law by refusing to obey or enforce it.   Democrats started the discredited and defeated doctrine of nullification in the antebellum era and have revived it with "sanctuary" and non-enforcement policies in recent years.   
I wholeheartedly concur with Rep McClintock's assessment of incoming AG Becerra. It's, to me, something of a resounding slap in the face. Particularly in light, as Rep McClintock aptly points out, of the fact that Holder was held in contempt of Congress in 2012.
This is, essentially, the State of California posturing for the Leftists within and without; chest-puffing if you will. Holder's retainer comes directly out of the budgets of the Senate and Assembly. Will Holder's consultancy extend beyond the "initial" three months? Quite possibly.
Thanks kindly to Tom McClintock and Bill George for assisting me in the matter and their rapid response.
BZ