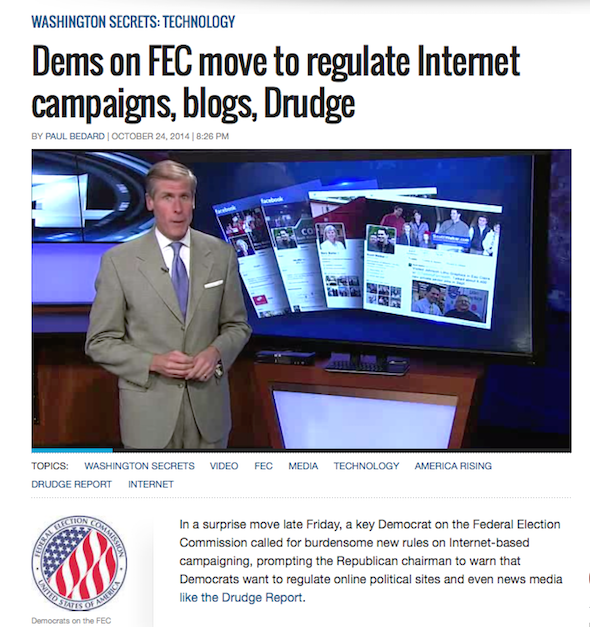 Leftists and the Deep State can't wait to continue pushing for the diminishment and possible erasure of your First Amendment rights.
The FEC has been after the Drudge Report for years. So has the FCC. This, on its face, is a ridiculous goal. Matt Drudge hasn't actually written anything for years; his site is nothing more than a laughingly-simplistic point on the internet that does nothing more than aggregate stories from around the globe.
That's right. All the Drudge Report does is re-package stories written entirely from external sources. His source material is frequently the New York Times, the Boston Globe, the Los Angeles Times, the Washington Post, Reuters, the AP, Slate, the Huffington Post, NPR, The Guardian — all bastions of Left-leaning journalism.
No matter; never allow facts, history, logic, rationality, proportion or common sense get in the way of a good fucked-up Leftist inclination, decision or bill. Not surprisingly, it's a push from the FEC once again.
From the WashingtonExaminer.com:
Drudge, Facebook, NYT readers could face libel suits for sharing 'fake news'

by Paul Bedard

Political content on the internet, paid or not, should face substantial federal regulation to eliminate undefined "disinformation," and users of platforms and news feeds, from Facebook, to Twitter, to the Drudge Report and even New York Times, could be punished for sharing "fake news" from those sites, the former Democratic chair of the FEC is urging.

In a broad proposal that adds threatening libel suits to regulatory plans already pushed by Democrats on the Federal Election Commission, ex-chair Ann Ravel believes that there is support for expanded regulation in the wake of reports foreign governments spent $100,000 on 2016 political ads on Facebook.
At whom, potentially, is this proposal aimed? Correct: you and me. People interested in politics and have sites on the internet as well as a social media presence. People who conduct internet radio shows. Like me. That's next. Make no mistake.
She would include "fake news," not just paid ads, to be regulated, though it's never defined other than the Democrat's description of "disinformation." And anybody who shares or retweets it could face a libel suit.
Friends, this is a page ripped from the former Soviet Union. Your gulag awaits you!
She would also use regulation to "improve voter competence," according to the new proposal titled Fool Me Once: The Case for Government Regulation of 'Fake News.' Ravel, who now lectures at Berkeley Law, still has allies on the FEC who support internet regulation.
Berkeley, of course — the locus of free speech in America.
The proposal immediately came under fire from from the Republican FEC commissioner who for years has been warning of the left's effort to regulate political talk they don't like, especially on conservative newsfeeds like Drudge.

Lee Goodman told Secrets, "Ann's proposal is full blown regulation of all political content, even discussion of issues, posted at any time, for free or for a fee, on any online platform, from Facebook to the NewYorkTimes.com."

He was especially critical of the undefined nature of "disinformation" to be regulated and the first-ever call for libel suits to snuff out talk Ravel doesn't like.
And just whom determines "disinformation"? Kompromat or disinformatzia, tovarisch? A panel of Conservatives or a panel of Leftists? Correct. Leftists. Conservatives won't be allowed within ten miles of a determination.
In their proposal, the trio wrote, "after a social media user clicks 'share' on a disputed item (if the platforms do not remove them and only label them as disputed), government can require that the user be reminded of the definition of libel against a public figure. Libel of public figures requires 'actual malice,' defined as knowledge of falsity or reckless disregard for the truth. Sharing an item that has been flagged as untrue might trigger liability under libel laws."
We already have Speech Crimes in LeftistLand. There may be ClickCrimes. MindCrimes are, of course, next.
Here is the full Ravel article for reference.
Then there is this from YahooNews.com, with John McCain in apparent agreement.
U.S. bill to regulate internet ads gains bipartisan support with McCain

by David Ingram

(Reuters) – U.S. legislation that would impose new disclosure requirements on political ads that run on Facebook and other websites received support on Wednesday from Senator John McCain, giving a bipartisan boost to a bill already popular among Democrats.

McCain, a longtime supporter of regulating campaign finances, and two Democratic senators, Amy Klobuchar and Mark Warner, plan to introduce the legislation on Thursday, according to a statement from their offices on Wednesday.
Good old John McCain. You can generally count on him to put his thumb in the eyes of freedom of speech any more. Or anything that he perceives President Trump might possibly support.
Online political ads are much more loosely regulated in the United States than political ads on television, radio and satellite services.

The lack of regulation was highlighted last month when Facebook Inc, Alphabet Inc's Google and Twitter Inc said that they had found election-related ad buys on their services made by people in Russia in the run-up to last year's U.S. presidential election. Non-Americans are generally not allowed to spend money to influence U.S. elections.
How about, instead of law after law, we just ask the social media to be more wary? Anyone think of that?
Speaking of Loving John, here is a bit of witty repartee between McCain and Fox's Peter Doocey.
The question by Doocy was "has your relationship with the president frayed to the point where you're not going to support anything that he comes to you and asks support for?"
McCain replies: "why would you ask anything that stupid? Why would you ask something that dumb? Huh? My job as a United States senator, as a senator from Arizona which I was just re-elected to, you mean that I'm somehow going to behave in a way that I'm going to block everything because of some personal disagreement? That's a dumb question."
Let's see, John. Would that possibly be because you are in fact so vehemently opposed to most anything that President Trump has proposed, that you've worked hand-in-hand with the Demorats to slaughter the repeal of the ACA much less any replacement — you know, the very thing you ran on for eight years — as well as the slaughter of tax cuts? With regularity and consistency? John? Perhaps those things?
And John, while we're at it, have you forgotten what you said in Philadelphia this Monday, October 16th?
PHILADELPHIA — An emotional Sen. John McCain on Monday leveled a blistering attack on what he called the "half-baked, spurious nationalism" that seems to have inspired President Trump's administration to retreat from the world stage.

In a speech to accept the National Constitution Center's Liberty Medal, McCain, R-Ariz., emphasized that the United States is "a land made of ideals, not blood and soil," a rebuke to the Nazi slogan about bloodlines and territory chanted in August by White supremacists demonstrating in Charlottesville, Va.

An at-times raspy-sounding McCain drew applause and cheers at the Philadelphia event when he said:

"To fear the world we have organized and led for three-quarters of a century, to abandon the ideals we have advanced around the globe, to refuse the obligations of international leadership and our duty to remain 'the last, best hope of earth' for the sake of some half-baked, spurious nationalism cooked up by people who would rather find scapegoats than solve problems is as unpatriotic as an attachment to any other tired dogma of the past that Americans consigned to the ash heap of history."
A reminder:
I value two things primarily: honesty and clarity. So let's be clear: the only reason the FEC or the FCC wish to limit and regulate speech under the guise of "fairness" or "equanimity" is to limit the speech of only one side: the conservative side. To limit the dissemination of information which thusly informs voters and allows Conservatives to acquire facts, data and particulars on political issues.
Because, after all, everything is political now.
Finally: where are the Republicans on this? Why no public GOP umbrage over the issue? Statements? Decisions to oppose? Republicans taking a stand against this?
Another reason Conservative trust in the GOP has almost vanished. Another reason that Republican fundraising is down this quarter. Consequences for inaction? Gridlock? Failure to keep election promises? Failure to coalesce and utilize power the GOP possesses presently?
Not difficult to figure out.
BZ
P.S.
Great article on the Fairness Doctrine from 1993 is here.