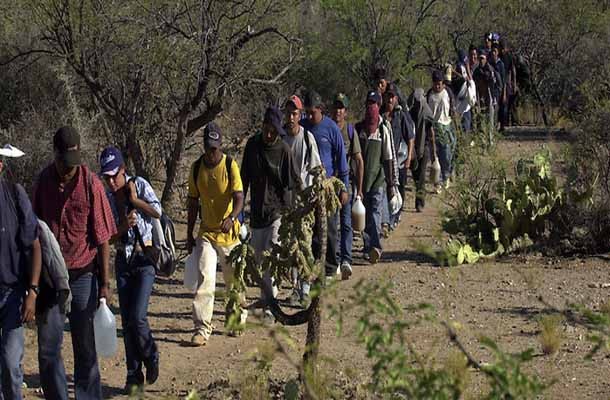 It is a man-made disaster from Mr Obama, pure and simple.
From WND.com:
'We are not gullible enough to believe thousands came without aid and assistance'
by Bob Unruh
An organization of former Border Patrol agents Wednesday charged that the federal government, under the administration of President Obama, is deliberately arranging for a flood of immigrant children to arrive in America for political purposes.
"This is not a humanitarian crisis. It is a predictable, orchestrated and contrived assault on the compassionate side of Americans by her political leaders that knowingly puts minor illegal alien children at risk for purely political purposes," said the statement released by the National Association of Former Border Patrol Officers.
"Certainly, we are not gullible enough to believe that thousands of unaccompanied minor Central American children came to America without the encouragement, aid and assistance of the United States government," the officers said.
"Anyone that has taken two six- to seven-year-old children to an amusement park can only imagine the problems associated with bringing thousands of unaccompanied children that age up through Mexico and into the United States."
Allow me to interject at this point:
News stories have indicated that women, children and others have come up from Honduras, Guatemala, El Salvador and Nicaragua.  That means one very specific thing: Mexico is allowing those persons through their country, in order to cross the northern border.
A federal judge even concluded the White House "has simply chosen not to enforce … border security laws."
FoxNews.com reported this week Arizona Gov. Jan Brewer calls the situation a "creation" of the federal government, and Sen. Jeff Sessions, R-Ala., assigned blame for the "calamity" to Obama.
Fox News reported it had obtained a memo from an official with Customs and Border Protection who said the current policies are serving as an incentive for illegal aliens to sneak into the U.S.
Vice President Joe Biden said this week at a manufacturer's conference that the US needs a "constant, unrelenting stream" of new immigrants to buttress the national economy.
I would add: no, not quite.  I would also add: let's take care of our own people first, before we bring in others.  Let's take care of those individuals who were born here.  Let's educate them and train them.
Because the people who are flooding into the United States via our southern border are ill-educated, sometime ill in health, and the first to sign up for more federal and state Free Cheese — at the insistence of the federal government.
Specifically to the point:
The former Border Patrol agents said the campaign is a "political deception," and the responsibility rests with the political leaders who support "a path to citizenship, regularization or any other form of amnesty for illegal aliens before providing for full protections for national security (jobs and economy) and public safety (the right of the people to be secure in their property and person)."
The officers argue that the non-enforcement of immigration laws is "the next step in becoming a failed state."
And so, that is very true.  A failed nation-state.
The Augusta Chronicle writes today:
As one Guatemalan detainee told The Christian Science Monitor: "They're saying that women and children are allowed to stay."
The Obama administration certainly isn't doing anything to dispel that notion.
It set up housing for detainees at a San Antonio Air Force base and a Ventura, Calif., Navy base. They can't handle the sheer numbers, so a processing center has been set up in Nogales, Ariz., which also can't handle the sheer numbers. The center already is running out of supplies. Another planeload of about 130 illegals was dumped in El Paso, Texas, for processing and care. Fort Sill, Okla., is being prepared for still more illegals.
And President Obama is asking Congress for $1.4 billion of your money to pay for all of that.
Even more outrageous: The administration said Friday that it was starting a program issuing $2 million in grants to fund about 100 lawyers and paralegals to represent immigrant children facing deportation.
The White House not only is refusing to turn these kids away, it's fighting like mad to keep them here.
Read that very important series of paragraphs again, if you will.  Digest it a bit.  This is a very purposeful and man-made "crisis."
We don't need more low- or no-skilled workers with poor education.  We need persons who are vocationally trained and highly educated.  We don't need more burger flippers and weed-pullers; we need those whose educated and clear brains can create the next generation of technological improvements.
The massive and current flood of children and women through our porous borders, gathered and then purposely-released by the USBP into border state population centers at the direction of federal management via DC and the Spite House — in the very dead of a blazing hot summer — is the Cloward-Pivening of our social fabric.  It is designed to crash the system so that the system can be rebuilt under a more Socialist bent.  As advocated by Richard Cloward, Frances Fox Piven, William Ayers, and Saul Alinsky.
This is purposeful, it is willful, it is artificially created, it is heinous, it is despicable, and it stems directly from the Oval Office of the Spite House.
It is a man-made disaster of huge proportions, pure and simple.
As Obama clearly knows, having been schooled at the feet of Alinsky, Ayers, Cloward and Piven: no nation can survive absent true sovereignty.
BZ