Let's put things in context, first, shall we?
Raffi Williams is the son of former NPR Left-leaning host and writer Juan Williams.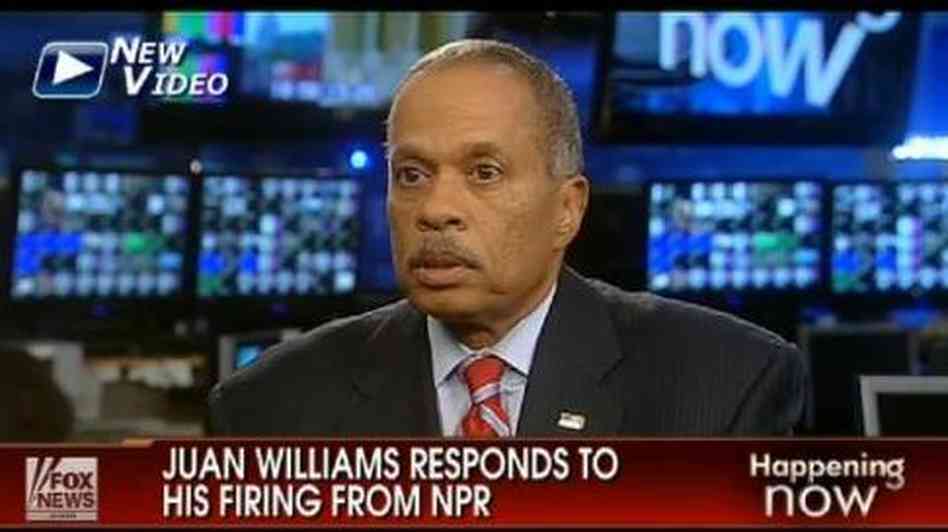 Here is Juan Williams, above:  Juan Williams is black.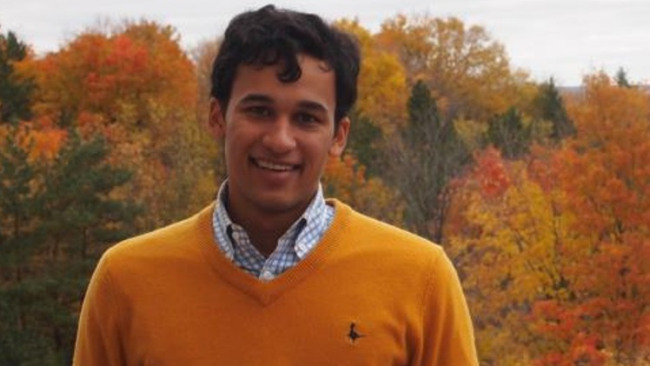 Here is his son, Raffi Williams, above:  Raffi Williams is black.
Just why would female Ebony magazine editor Jamilah Lemieux "step in it" last week, pray tell?
From Twitchy.com:
After being rudely treated by Ebony editor Jamilah Lemieux, RNC staffer Raffi Williams stuck up for himself and other minority conservatives. Well, Lemieux's supporters evidently do think black conservatives have a place in society — as long as that place is isolated and soundproof.
But first, Jamilah clearly indicated she isn't interested in listening to anyone: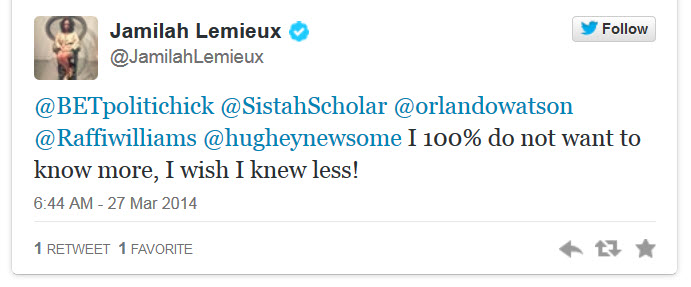 But the "best" worst part?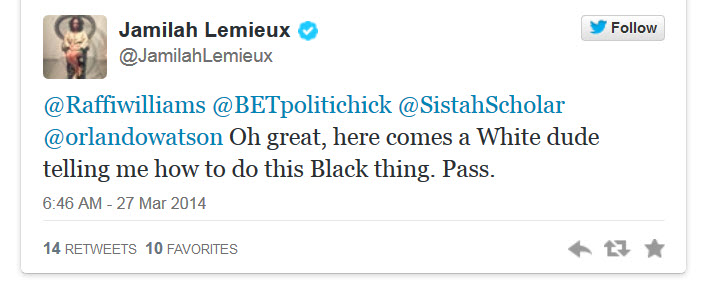 There you go.  An uninformed black chick calling a black guy white.  Because she's ignorant and now has her racist tendencies outed.  She sees race where the issue of melanin doesn't exist.
This occurred on Twitter.  Ben Carson and Armstrong Williams will be publishing a new magazine for Conservatives and Ebony trashed it.  Raffi Williams supported the attempt.  The editor weighed in and, amongst other things, called Raffi white.  But white or black isn't right or wrong, it's a matter of diversity of viewpoints.
"Oh great, here comes a White dude telling me how to do this Black thing.  Pass."
Once again, Leftists proving that they are serial racists and serial crushers of actual diverse melanin and diverse critical thinking.  Raffi Williams is now a "race traitor."
Ever wonder why this country cannot seem to get past its race issues?  Plain and simple, it's because a number of specifically-delineated black racists cannot and will not allow America to do so; it would diminish both their power and their cash.  Ebony editor Jamilah Lemieux has had her Race Card already outed and is now categorized with the Race and Poverty Pimpish likes of Al Sharpton, Jesse Jackson, Louis Farrakhan, et al — just like the DHS employee who advocated "killing a lot of whites" and, incredibly, a 2013 poll that dared to show more Americans view blacks as racist than whites or Hispanics.
Finally, I say this: reverse the roles and realize how long the flames of the incident would have been continually fanned by Leftists in the DEM (Defeatist, Elitist Media) and AMM (American Media Maggots).
The Left simply wants to shut down thinking that is not completely congruent with their own, plain and simple.  If you are black, you can only think one way.  If white, another.  How foolish and shallow is that?
BZ