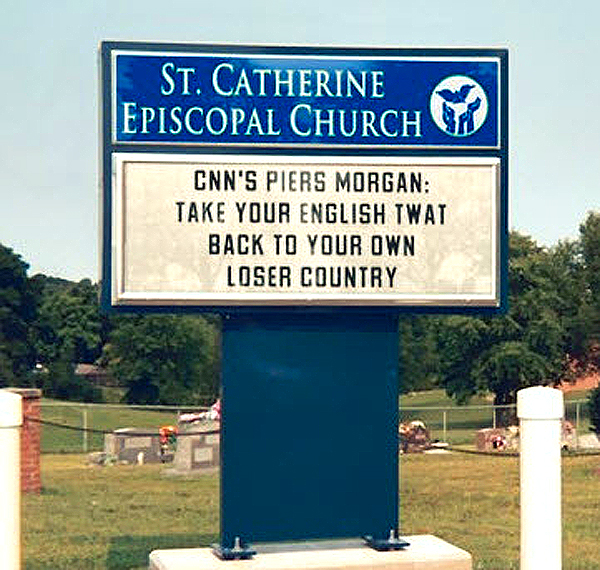 From the NYTimes.com:
Piers Morgan and CNN Plan End to His Prime-Time Show
by David Carr, The Media Equation
There have been times when the CNN host Piers Morgan didn't seem to like America very much — and American audiences have been more than willing to return the favor. Three years after taking over for Larry King, Mr. Morgan has seen the ratings for "Piers Morgan Live" hit some new lows, drawing a fraction of viewers compared with competitors at Fox News and MSNBC.
It's been an unhappy collision between a British television personality who refuses to assimilate — the only football he cares about is round and his lectures on guns were rife with contempt — and a CNN audience that is intrinsically provincial. After all, the people who tune into a cable news network are, by their nature, deeply interested in America.
Perhaps a brief interjection: actual listening Americans deplored being lectured-to by a stunningly ineffectual media cunt who wouldn't know how to defend himself in a game of tag.  Because, after all, that United Kingdom — they're certainly the epitome of national power and stolid sovereignty, are they not?
Yes.  They are not.
"Look, I am a British guy debating American cultural issues, including guns, which has been very polarizing, and there is no doubt that there are many in the audience who are tired of me banging on about it," he said. "That's run its course and Jeff and I have been talking for some time about different ways of using me."
Yes, I know, it's that pesky Second Amendment we stupid Yankees seem to revere.  Clinging to our "small town" guns and religion.  But isn't it odd that you shepherd's-pie-eating Brits seem to surround yourselves with more and more guns held by government officials than at any other point in your history?  And still you're losing your culture and your significance and your own sovereignty day by bleeding day?
Perhaps a bit of accuracy is called for:
Mr. Morgan's approach to gun regulation was more akin to King George III, peering down his nose at the unruly colonies and wondering how to bring the savages to heel. He might have wanted to recall that part of the reason the right to bear arms is codified in the Constitution is that Britain was trying to disarm the citizenry at the time.
Damn Mr Carr for ripping a sheet from the play-book of Captain Obvious.
I say: send Mr Morgan, the quintessential loser British twat, back to the UK where he can take up the cause of Muslims and those who wish to destroy the United Kingdom and other oppressive Western civilizations.  And enjoy, Mr Morgan, your prognosticated Orwellian 1984 at least a few more years before we Yanks will.
Firearms-free, of course.  Because average UK citizens cannot and never will be trusted with "bang-sticks" in their possession.  An actual Webley in the hand of Piers Morgan himself?  Think of the children!
A bit of sarcasm there, eh wot?
BZ
P.S.
I wonder from where the origins of the words Prole and Serf and Groundling source?  Perhaps you can tell me, Mr Morgan?
P.P.S.
Oh.  That's right.  From British books and plays and history.  Imagine that.