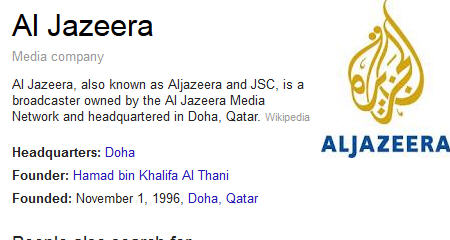 It's a lie, at least on Dish Network, because it portrays itself, still to this day, as CURNT on channel 215.
And not as the Islamist al Jazeera Network.  Its network website is here.
The Dish Network LIES.  And I believe I am being quite kind.
They do not portray al Jazeera as its true status and with an insight to its history.
The point of the al Jazeera network is to, first, normalize its presence.  This will take years.
But, trust me, Islam thinks in terms of not just months or years, but decades.
First, al Jazeera will attempt to become known as simply "another news source."
Then it will attempt to be known as the news source.
Then it will introduce the norming of Islamism.
You just wait.
BZ