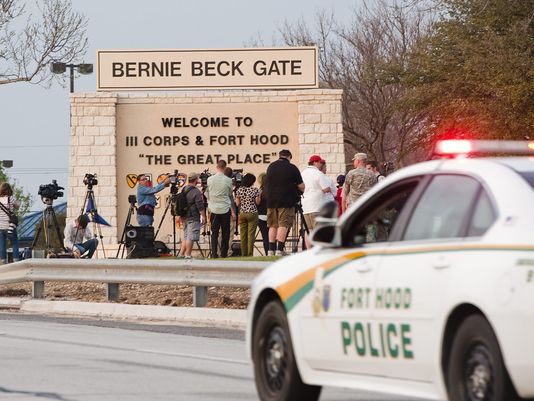 The DEM/AMM went crazy over the Wednesday shootings that occurred at Ft Hood in Texas, where (as of this writing) four persons have been confirmed dead, including the shooter — initially identified as 34-year-old Specialist Ivan Lopez.
In an effort to "outdo" each other, the multiple and various news agencies and networks provided drooling and infantile "non-updates" for hours and hours because — in 2009 — Major Nidal Hassan conducted his Muslim Evil there.  The Evil that the US Army KNEW about but purposely chose to IGNORE.  Because those in the upper echelons of US Army power were clear and obvious COWARDS.
Let me go out on a limb here: the shootings by Ivan Lopez were not involved with terrorism.  They were the acts of an actual criminal.  Criminals that people think don't exist on military bases.  These two incidents are, in my opinion, completely UNrelated.  Lopez died by his own hand, because he was, at his base, a coward.
Ignorant people believe that military bases are inviolate.  They, like school campuses, somehow acquire an industrial KINGS-X that places them outside the sphere of violent reality.
And so BZ steps in, early, to shatter your kind thoughts of my writings.
The persons who died at the hands of a gutter criminal at Ft Hood are no more sanctified or hallowed than the four persons who died on Wednesday, in my county, at the hands of so-called "common criminals" who were seeking to exploit and overthrow their victims.
Death is death and crime is crime and, in truth, one death is not "more important" than another — unless you are a politically-motivated Leftist with some type of political agenda.
Let me be blunt: the US military is absolutely perfidious with a massive host of gangbangers from geographical ranges across the nation.  Each military service hosts a minimum of one to multiple units whose job is to identify and then nullify the effect of gangs upon various military sections.
Cops and soldiers, you would think, are somehow held above and aside from base forms of emotional motivations except that — yes — there is only one gene pool from which to dip.
The gene pool of Humans.  Who are flawed and emotional and violent and influenced but upon any number of negative or positive factors in their lives.
So school campuses are somehow inviolate because "students" walk there?  And military bases are somehow inviolate because "soldiers" walk there?  Many schools, these days, have greater security than the bulk of our military bases.
And so, with that, I am done with "categorizing" the "priority" of "important deaths" in our nation.  I am sure that those killed at the hand of Ivan Lopez were good and true Americans.  But they are no more worthy of deification than those persons who were killed in my county or your county or your city or your state the same day.
I've been involved in crime for 40+ years.  Lopez didn't exhibit signs of "terrorism."  He was nothing more than an abject criminal.
And criminal activity occurs on military bases and in schools and in churches and in apartments and in government buildings and — of course — at the White House and in the US Capitol building.
BZ