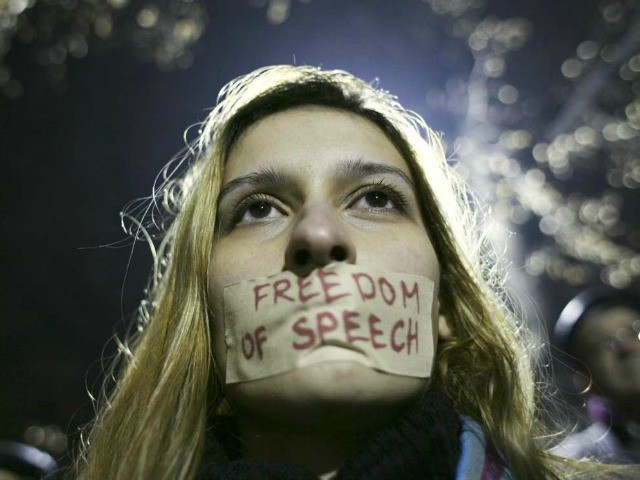 And not a shock considering the history of Leftists insisting upon control — death-grip control — of speech across the globe.
Europe first.
From Bloomberg.com::
Tech Giants Vow to Tackle Online Hate Speech Within 24 Hours

by Stephanie Bodoni

U.S. Internet giants Facebook Inc., Twitter Inc., Google and Microsoft Corp. pledged to tackle online hate speech in less than 24 hours as part of a joint commitment with the European Union to combat the use of social media by terrorists.

Beyond national laws that criminalize hate speech, there is a need to ensure such activity by Internet users is "expeditiously reviewed by online intermediaries and social media platforms, upon receipt of a valid notification, in an appropriate time-frame," the companies and the European Commission said in a joint statement on Tuesday.
But what is "hate speech"?  And who makes that determination?
As an American, I understand that Europe has no real First Amendment as do we.  There is no history, in Europe, of valuing true free speech.  As is commonly said in America, however, the First Amendment exists not for everyday or pablum-oriented speech, but challenging speech.
The code of conduct arrives as Europe comes to terms with the bloody attacks in Paris and Brussels by Islamic State, which has used the Web and social media to spread its message of hate against its enemies. The companies said it remains a "challenge" to strike the right balance between freedom of expression and hate speech in the self-generated content on online platforms.

"We remain committed to letting the Tweets flow," said Twitter's head of public policy for Europe, Karen White, in the statement. "However, there is a clear distinction between freedom of expression and conduct that incites violence and hate."
But it looks like, when you get down to it, the objection by these large techies isn't necessarily terrorism as in the standard definition of the word — specifically as with regard to the Brussels attacks.  Perhaps that was the original intent a month or so ago.
Read this, from the AP.org on the same topic:
"The internet is a place for free speech, not hate speech," said Vera Jourova, the EU commissioner responsible for justice, consumers and gender equality. She added that the code of conduct, which will be regularly reviewed in terms of its scope and its impact, will ensure that public incitement to violence to hatred has "no place online."

The firms themselves say there's no conflict between their mission statements to promote the freedom of expression and clamping down on hate speech.
But again, WHO determines the definition of "hate speech"?  We already know that Facebook has been caught short-shrifting and minimizing stories involving conservative issues of import.  We already know that the IRS targeted conservative groups.  We already know that every newsroom in the US is 85% + Leftist.  We already know that Google, Facebook and Twitter are run by Leftists, and that Google, Facebook and Twitter have suspended the accounts of conservative persons for no stated specific reason whatsoever whilst simultaneously allowing the same behavior to occur on behalf of Leftists for Leftist causes.  Facts in evidence.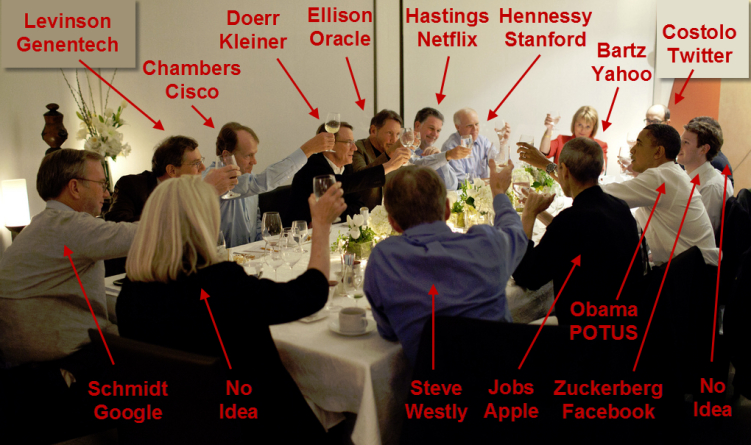 We already know that Obama and DC don't hate all capitalists.  They love Leftist tech capitalists.  Just look above.
Now?  It would seem to me that the definition of "hate speech" is expanding.
What is "hate speech"?  Is it, "Allahu akhbar, slay all the infidels and behead the nonbelievers, run their parts through a wood chipper and set that liquid on fire"?
Is it "kill all the Jews, may their corrupt Zionist bodies be blown to bits and their children slaughtered in their beds with the sharpest of machetes"?
Or is it when BZ writes that "black lives don't matter"?
Is it when BZ takes umbrage with the word marriage meaning one man and one man, one woman and one woman — even though BZ couldn't care less that two gays or lesbians enjoy a "civil union" and should be afforded precisely the same benefits as one man and one woman?  That he just despises the meanings of words being hijacked?
Is it when BZ writes the word "trannies"?
Is it when BZ says that Leftists are every bit as hypocritical as everyone else and frequently more so, or that most Leftists have no concept of reality, or that Obama is one of the most dangerous persons to the United States ever installed in the White House?  Or that the electorate is increasingly brain dead for Free Cheese?
Is it when BZ writes emphatically that illegal Mexicans should not be allowed into the United States?
Is it when BZ writes that "Islam is as Islam does"?
I'm certain by now you see where I'm going with this.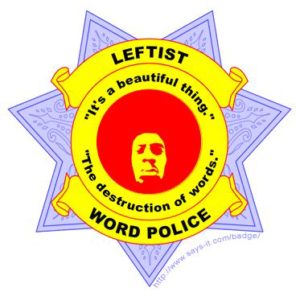 The Dream Police are here.  So sayeth Cheap Trick.  The Word Police are setting up shop and already have a logo.  The Thought Police are deciding what color uniform to purchase.
Yes, ladies and gentlemen, the Thought Police.  You realize, of course, that technology is already being developed in order to truly read your thoughts?  For shame, if you think I'm writing out my ass.  Click the links here and here.
So I ask again:
Just what is "hate speech"?
Who gets to decide?
"It's a beautiful thing, the destruction of words." 
Eric Arthur Blair is shaking his head and saying "I told you so."
BZ