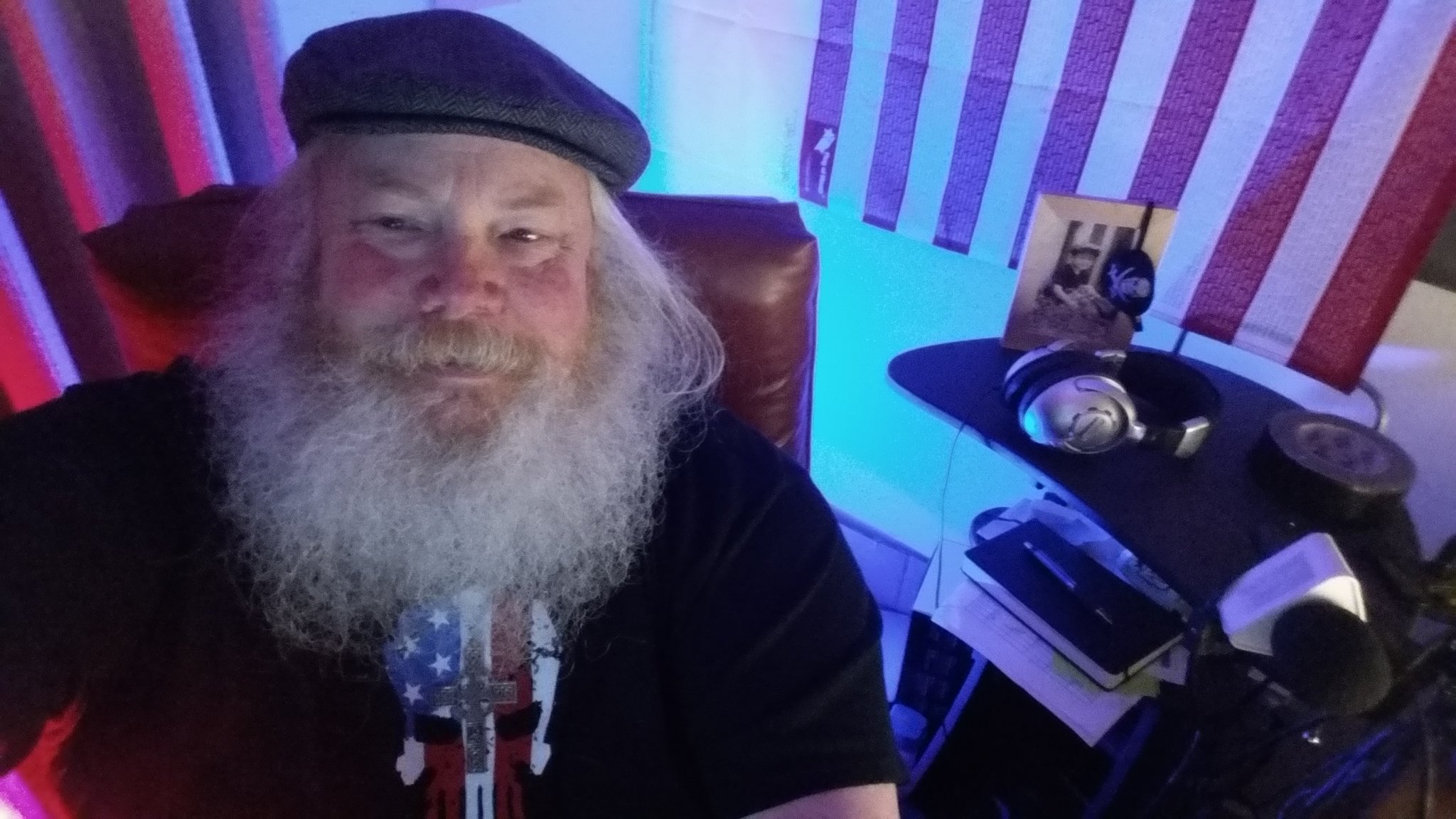 Featuring Right thinking from a left brain, doing the job the American Media Maggots won't, embracing ubiquitous, sagacious perspicacity and broadcasting behind enemy lines in Occupied Fornicalia from the veritable Belly of the Beast, the Bill Mill in Sacramento, Fornicalia, I continue to proffer my thanks to the SHR Media Network for allowing me to utilize their studio and hijack their air twice weekly, Tuesdays and Thursdays, thanks to my shameless contract, as well as appear on the Sack Heads Radio Show each Wednesday evening.
Today was the 76th anniversary of the attack on Pearl Harbor and I honored the occasion with the playing of this speech by FDR.
The cadre of Pearl Harbor survivors is but a handful since they're in their 90s. Over 2,300 Americans were killed on December 7th. Nearly half of those were on the battleship USS Arizona that morning and found themselves entombed within its cold recesses. One survivor is 104 years old.
My first guest was writer, journalist and radio show host Tami Jackson, a force unto herself in every way imaginable. I asked Tami to discuss her series of articles entitled "47 Bodies Left In the Wake of Hillary Clinton."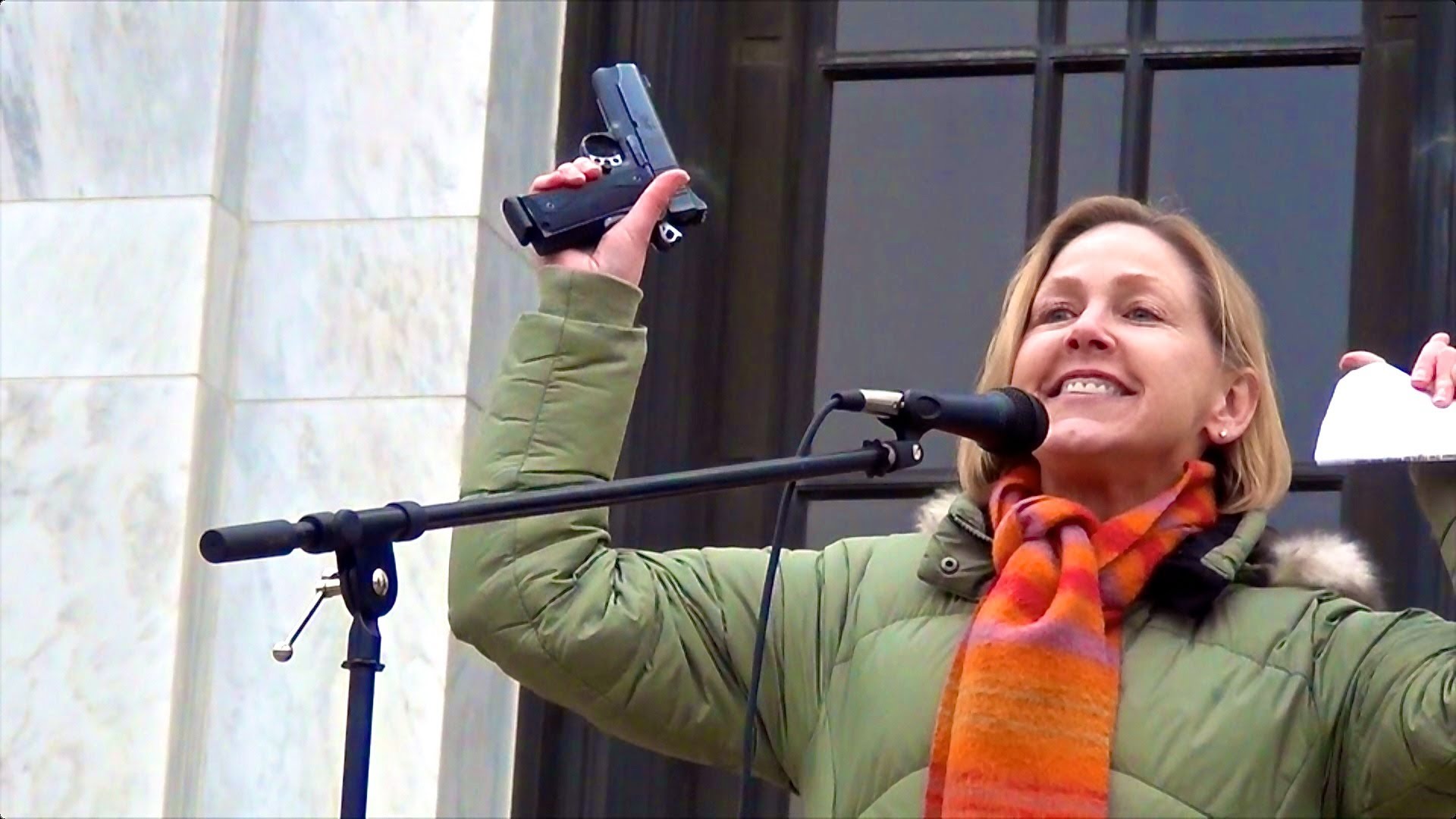 The effusive, ebullient and courageous Tami Jackson, hoisting a Colt 1911 in Condition One, on the steps of the Salem capital building, Oregon.
The topics covered in the Saloon included:
Happy Stories and good times: Taco Bell employee raises cash for critically-injured Missouri law enforcement officer,

Ryan O'Connor

;
Tami and I talked about the phrase "Merry Christmas" and its meaning now;
The difference in taxes and what businesses had to cope with under Obama;
The difference in the GDP and what a difference a year makes under Trump;
The Senate repealed ObamaKare under the new tax bill;
I introduced Tami Jay and the myriad of points where she can be contacted;
@TamiJ, executive editor of

Barbwire.com

; her

radio show is on 405 Media

;
Tami Jackson's central article "47 Bodies Left in the Wake of Hillary Clinton" can be found

here on BarbWire.com

;
Comcast has sacked Jersey Joe;
Wisconsin Governor Scott Walker plans to drug test food stamp users;
Thank President Trump for Neil Gorsuch;
Trump "travel ban" reinstituted via SCOTUS;
Michael Slager found guilty of killing Walter Scott;

excellent verdict

;
Next week is Author Week:

Matthew Betley

and

Terrence McCauley

;
Senior DOJ official demoted: Bruce G. Ohr.
If you care to listen to the show in Spreaker, please click on the yellow start button at the upper left.
Listen to "BZ's Berserk Bobcat Saloon Radio Show, Thursday, December 7th, 1941" on Spreaker.
If you care to watch the show on YouTube, please click on the red start button. Fear not, it's actually the Berserk Bobcat Saloon and not Jersey Joe's show.
Please join me, the Bloviating Zeppelin (on Twitter @BZep, Facebook as the Bloviating Zeppelin and on Gab.ai @BZep), every Tuesday and Thursday night on the SHR Media Network from 11 PM to 1 AM Eastern and 8 PM to 10 PM Pacific, at the Berserk Bobcat Saloon — where the speech is free but the drinks are not.
As ever, thank you so kindly for listening, commenting, and interacting in the chat room or listening later via podcast.

Thank you one and all for listening, watching and supporting the SHR Media Network: "Conservative Media Done Right."
BZ