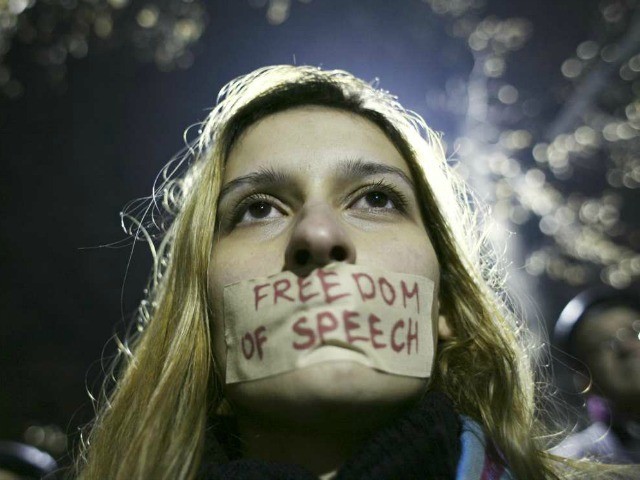 Ah yes, Leftists soon to get what they want, the censorship of those who oppose their policies?
As per normal it isn't Republicans or Conservatives or those on the right who want to remove your freedoms and specifically your First Amendment freedoms, it is those who profess to be the most embracing and the most understanding and tolerant who wish to remove your freedoms: the Demorats and Leftists and so-called Progressives.
From the WashingtonExaminer.com:
Drudge, Fox News could be censored under new federal rules, experts warn

by Rudy Takala

A Washington, D.C., appeals court is set to hear arguments later this year on new net neutrality rules, which critics say could lead to government regulators censoring websites such as the Drudge Report and Fox News.

In its February vote on net neutrality, the Federal Communications Commission stated that broadband providers do not have a right to free speech. "Broadband providers are conduits, not speakers … the rules we adopt today are tailored to the important government interest in maintaining an open Internet as a platform for expression," the majority held in its 3-2 vote.

The rules, which went into effect in June, require that broadband providers — such as Verizon or Comcast — offer access to all legal online content. It did not place such a requirement on "edge providers," such as Netflix and Google. The FCC defines edge providers as "any individual or entity that provides any content, application, or service over the Internet, and any individual or entity that provides a device used for accessing any content, application, or service over the Internet."
No right to free speech?
Writing in separate briefs, former FCC Commissioner Harold Furchtgott-Roth and the Center for Boundless Innovation in Technology argues that the rules violate the First Amendment right of Internet providers to display the speech they choose.

"If rules such as these are not reviewed under the most rigorous scrutiny possible, government favoritism and censorship masquerading as 'neutrality' will soon cascade to other forms of mass communication," the center argues.

"If the court upholds the FCC's rules, the agency's authority over the Internet would extend from one end to the other," Fred Campbell, president of the Center for Boundless Innovation in Technology, told the Washington Examiner. "Because the same theories the FCC relied on to impose its new regulations on Internet service providers are also applicable to companies like Apple and Netflix, the FCC could extend its regulatory reach much further in the future."
Could that "reach" mean me?  And you?  Our opinions on social media?  Any bit of written expression that involves an opinion or even a viewpoint?
More pointedly, our political opinions?  Opinions that could contradict those of the regime in power, as Mr Obama or others of power in DC?
Specifically, Campbell said, the FCC will likely try to control political speech.

"This possibility raises the risk that Congress or the FCC could impose restrictions on Internet video and other services that have traditionally been imposed on over the air broadcasting and cable television, including the fairness doctrine that once put the government in charge of determining whether broadcasters were fairly representing both sides of an issue," he explained.

FCC Commissioner Ajit Pai, who voted against the net neutrality rules, has said such restrictions may be coming if net neutrality is allowed to stand, warning in March that online political content like the Drudge Report could face greater regulation.
Why is it, however, that only Drudge and Fox News should be targeted?  Is it because the "rest" of the news agencies are so terribly unbiased — such as NBC, CBS, ABC and CNN?  It is no shock that there is much Left-wing bias in the newsrooms of what most would term the "mainstream media."  Bernard Goldberg knew this years ago.  There are very few Republicans and right-wingers in MSM newsrooms.
Further, clearly the ignorant don't know that Drudge doesn't write news; the DrudgeReport is nothing more than a news aggregator.  It collects and collates news from sources around the globe, then slugs stories with a headline that catches.
Is this really the United States of America, when something like this could actually happen?
BZ