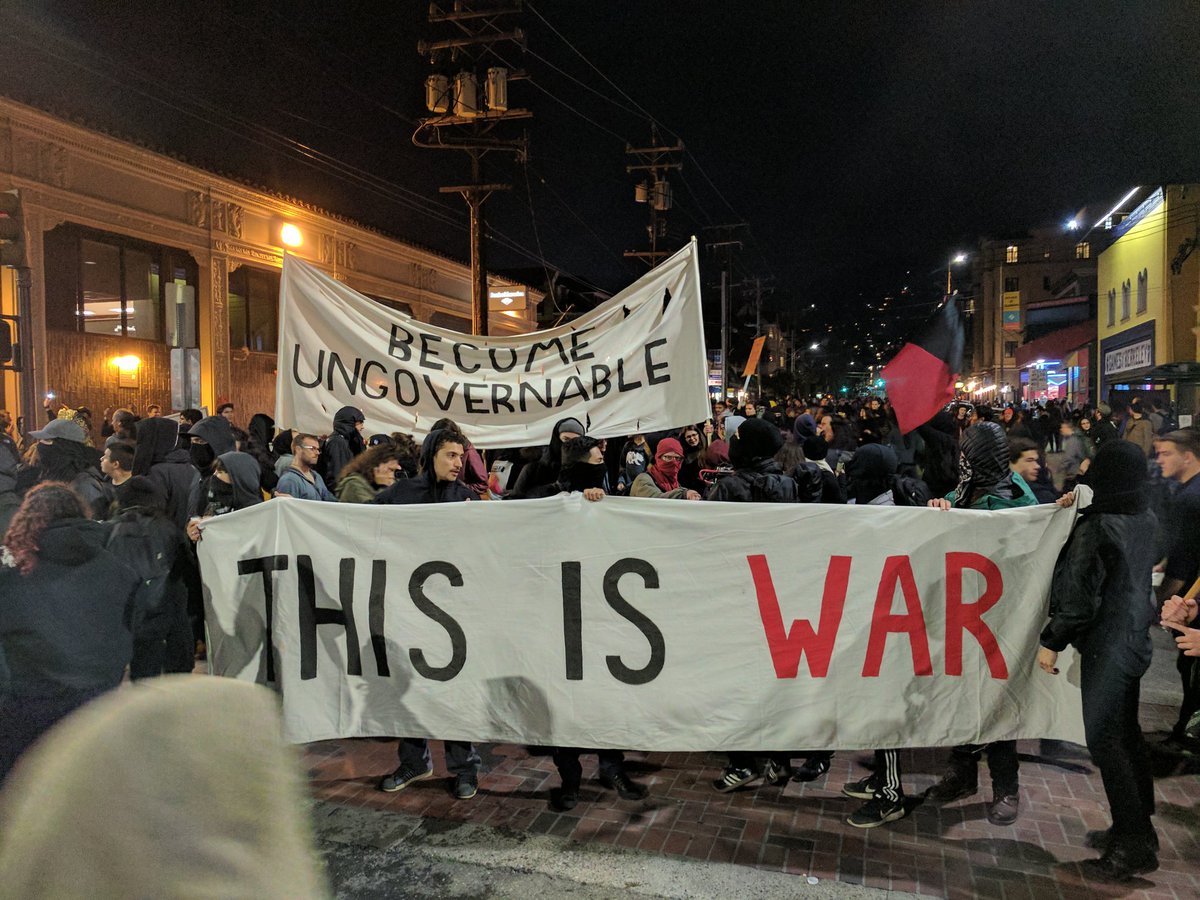 And I've had enough.
I am particularly disgusted by the continuing insertion of police departments as obstructionists to our civil rights, namely our First Amendment rights of free speech and peaceful protest. Note: peaceful protest.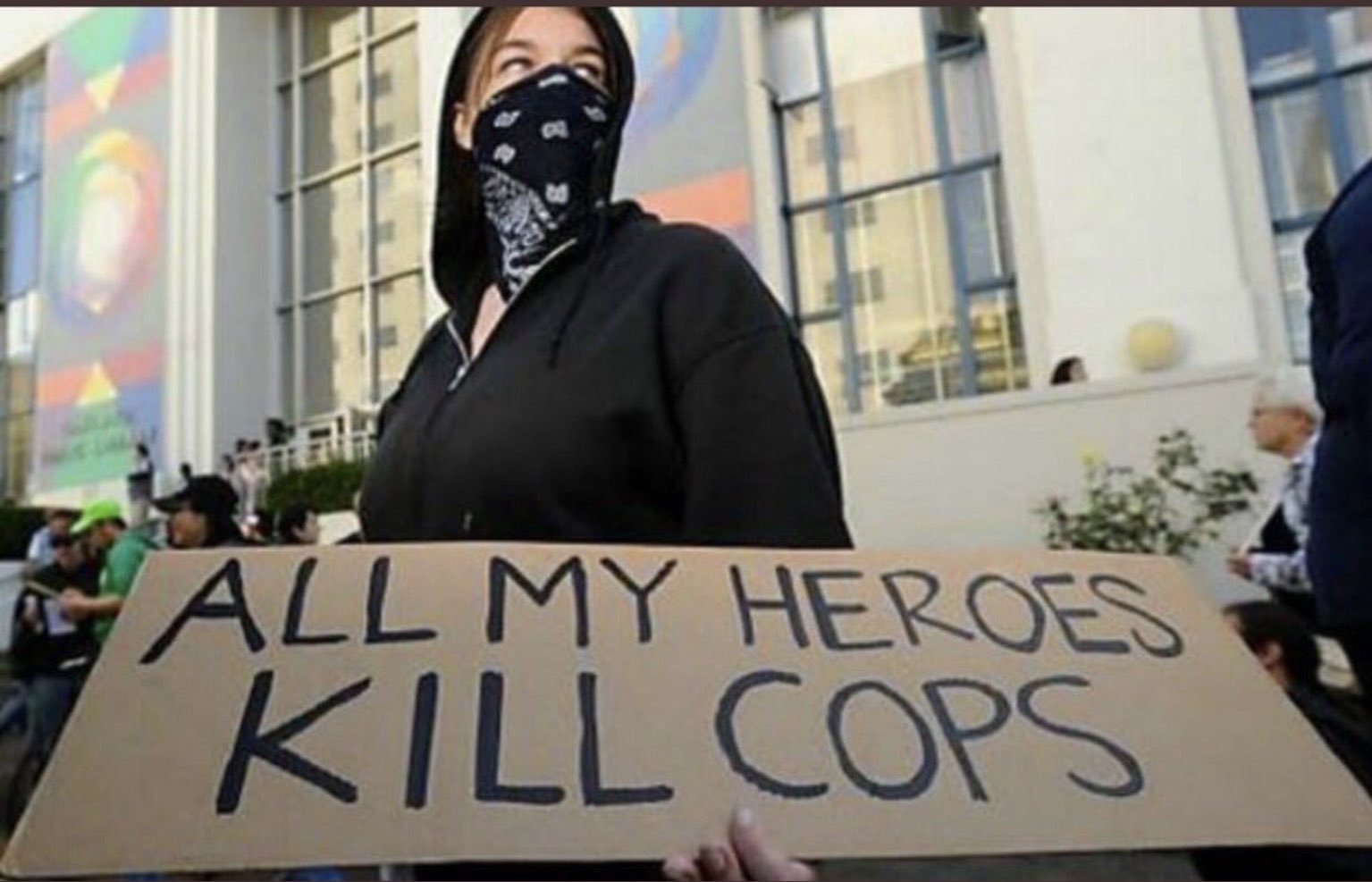 You police departments, police administrators and local bureaucrats who enable Antifa, never forget this Antifa phrase. They mean it quite seriously.
Let's not forget that Leftists and Antifa despise you and oppose law enforcement. When you stand back you are at cross-purposes with yourselves and the oaths you took to protect life and property.
"There is a war on cops. It's very real and it's very dangerous. Why is the left not exposing THAT hate speech?" pic.twitter.com/LracNMGysD

— Kevin W. (@kwilli1046) August 28, 2017
Let's also not forget that SCOTUS recently ruled on free speech and so-called "hate speech."  As I wrote on July 13th.
SCOTUS ruling on the First Amendment
The US Supreme just recently released a terribly important opinion on a First Amendment case,
One that will and has upset and pissed off Leftists nationally and globally.
From the WashingtonPost.com:
Supreme Court unanimously reaffirms: There is no 'hate speech' exception to the First Amendment

by Eugene Volokh

From today's opinion by Justice Samuel Alito (for four justices) in Matal v. Tam, the "Slants" case:
[The idea that the government may restrict] speech expressing ideas that offend … strikes at the heart of the First Amendment. Speech that demeans on the basis of race, ethnicity, gender, religion, age, disability, or any other similar ground is hateful; but the proudest boast of our free speech jurisprudence is that we protect the freedom to express "the thought that we hate."
Justice Anthony Kennedy wrote separately, also for four justices, but on this point the opinions agreed:
A law found to discriminate based on viewpoint is an "egregious form of content discrimination," which is "presumptively unconstitutional." … A law that can be directed against speech found offensive to some portion of the public can be turned against minority and dissenting views to the detriment of all. The First Amendment does not entrust that power to the government's benevolence. Instead, our reliance must be on the substantial safeguards of free and open discussion in a democratic society.
This flies directly in the fact of what Leftists, Demorats, the American Media Maggots, globalists and even a few Republicans are saying: there is "hate speech" and it is a crime.
False. So sayeth the US Supreme Court.
Leftists, however, predicate their bleats about so-called "hate speech" but upon feelings and emotions, not upon facts or reality. I wrote this back on July 31st.
Leftists: speech is brutality
As long as it fails to correspond to their version and values attached to speech. Any speech. All speech.
And to think we once had a First Amendment.
Stop. Did you realize that the United States is the only major Western country that does not have an official and onerous "hate speech" criminal law on its books?
In my mind, that bespeaks much more about all of those other countries than it does about the United States.
But isn't some speech the equivalent of brutality? Can't much of speech be the equivalent of brutality? Let's consult a Leftist psychology professor.
When Is Speech Violence?

by Lisa Feldmann Barrett

Imagine that a bully threatens to punch you in the face. A week later, he walks up to you and breaks your nose with his fist. Which is more harmful: the punch or the threat?

The answer might seem obvious: Physical violence is physically damaging; verbal statements aren't. "Sticks and stones can break my bones, but words will never hurt me."

But scientifically speaking, it's not that simple. Words can have a powerful effect on your nervous system. Certain types of adversity, even those involving no physical contact, can make you sick, alter your brain — even kill neurons — and shorten your life.
Wait. So can eggs. Cow farts. A blue ringed octopus. Loose lug nuts. The cargo door from a 747. A bee. Bad spinach.
If words can cause stress, and if prolonged stress can cause physical harm, then it seems that speech — at least certain types of speech — can be a form of violence. 
You might even say that, in the eyes of Leftists, Demorats, Antifa, anarchists, the next sentence encapsulates it all, fervently embossed and endorsed by Howard Dean.
The idea of freedom of speech does not mean a blanket permission to say anything anybody thinks.

This is nothing more than one of the most brain-dead statements ever made. The writer and its jejune sympathizers fail to properly load the difference between the words "speech" and "action" into their fetid and fissured brain housing groups.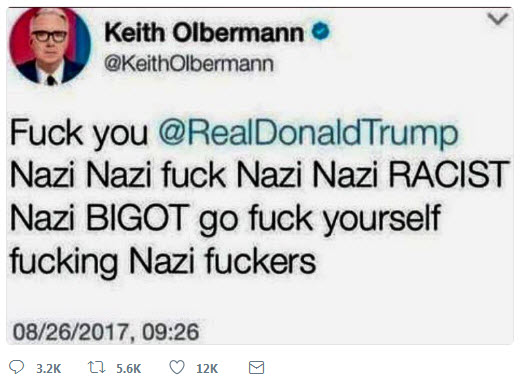 This is free speech and I support Olbermann's right to write it. He utilized expletives. But he did not advocate outright violence as in today's vernacular. Olbermann is insane, yes, but he has the same rights as Nazis to disagree with issues.
Leftists now believe that they can no longer even be "questioned" and, if they are, that in and of itself constitutes "hate speech."
Free-speech protections — not only but especially in universities, which aim to educate students in how to belong to various communities — should not mean that someone's humanity, or their right to participate in political speech as political agents, can be freely attacked, demeaned or questioned.
With that as background, the City of San Francisco decided to outright cancel this past Saturday's (August 26th) rally organized by Patriot Prayer, a group typified by most all the American Media Maggots as Nazi-like in nature and purely evil in intent. The AMM quantified it is a "controversial free speech rally."
Stop. You see? Free speech is now labeled "controversial."
Stop. What is the group "Patriot Prayer" anyway? Leftist-oriented Wikipedia writes:
Patriot Prayer is an American conservative advocacy group whose stated aim is to support free speech and the First Amendment of the U.S. Constitution.[1] The group is known for organizing rallies and protests in predominately liberal areas. Some of the rallies have drawn controversy due to the attendance of white nationalists, though the group's founder Joey Gibson has disavowed them and denounced racism.[2]
Stop. Wait. Let's list the numerous ways this group is inherently evil, yes?
Anything conservative is evil;
Anything or anyone advocating conservatism is evil;
Supporting free speech is evil;
Supporting the First Amendment is evil;
Supporting the US Constitution is evil;
Organizing rallies and protests in predominantly liberal areas is evil;
Joey Gibson is evil for disavowing white nationalists and denouncing racism.
You see? Rampant and unmitigated evil which must be immediately shut down.
Immediately immediately immediately!
And shut down it was.
Aided and abetted by the Berkeley Police Department. From Breitbart.com:
Berkeley Police Allowed Antifa to Jump Barricades, Assault Demonstrators

by Joel B. Pollak

Berkeley police deliberately allowed masked "Antifa" anarchists to jump a barricade and attack a demonstration by a peaceful right-wing group on Sunday, leading to five assaults, including on Patriot Prayer group leader Joey Gibson.

The counter-demonstration had reportedly been "largely peaceful" until that point.

The police later defended their decision by arguing that keeping the anarchists out would have led to greater violence. There was "no need for a confrontation over a grass patch," Berkeley police chief Andrew Greenwood said, according to the San Jose Mercury News.
Note how Leftist Chief Greenwood inartfully and clumsily crafted his biased response in terms of "keeping the anarchists (he admits that's what they are and their nature) out would have led to greater violence," thusly "over a grass patch."
This is called a cowardly excuse for not doing his job. By the way, what is the City of Berkeley paying this chief to execute their city council's non-interventionist policy and that of its Antifa-embracing Mayor Arreguin? Right. $210,000. Not including benefits.
Check this:
Berkeley Mayor Is Member of Antifa Facebook Group that Organized Riots

by Tom Ciccotta

Berkeley Mayor Jesse Arreguin is a member of the anti-fascist Facebook group, By Any Means Necessary, which orchestrated the riots that occurred ahead of a scheduled lecture by Milo Yiannopoulos.
Facts in evidence. Please read my quite in-depth post about the corruption of the Berkeley Police Department here.
I continue.
The original "No to Marxism" protest had been denied a permit by the city, but a small group of protesters showed up anyway, as did 2,000 "largely peaceful" counter-demonstrators, the Mercury News reported. SFGate.com reported that there were 400 police on hand to prevent violence.
But wait. There's more.
But (Berkeley Police) stepped aside, the Mercury News reported, when over 100 masked anarchists "busted through police lines, avoiding security checks by officers to take away possible weapons."

The result was several severe beatings of those who had gathered to protest against Marxism. Thirteen of the anarchists were arrested, the Chronicle reported.
Again, how many times do I have to point this out? In my opinion, I would submit that the City of Berkeley, Mayor Arreguin, the city council and Chief Andrew Greenwood are all complicit in a conspiracy, 182 PC, to allow lawful citizens of the State of California and the United States to become injured by indifference, and to allow private and public property to be damaged and destroyed, having received their marching orders not to interfere if the forces of Antifa were having their way.
I would submit that these forces possess a history sufficient to instigate both a federal RICO investigation of the entire Bay Area bureaucracy, and a 42 USC § 1983 "deprivation of civil rights" action.
Every person who, under color of any statute, ordinance, regulation, custom, or usage, of any State or Territory or the District of Columbia, subjects, or causes to be subjected, any citizen of the United States or other person within the jurisdiction thereof to the deprivation of any rights, privileges, or immunities secured by the Constitution and laws, shall be liable to the party injured in an action at law, suit in equity, or other proper proceeding for redress, except that in any action brought against a judicial officer for an act or omission taken in such officer's judicial capacity, injunctive relief shall not be granted unless a declaratory decree was violated or declaratory relief was unavailable. For the purposes of this section, any Act of Congress applicable exclusively to the District of Columbia shall be considered to be a statute of the District of Columbia.
(R.S. § 1979; Pub. L. 96–170, § 1, Dec. 29, 1979, 93 Stat. 1284; Pub. L. 104–317, title III, § 309(c), Oct. 19, 1996, 110 Stat. 3853.)
It's long past time for Leftists to be subject to the same lawful scrutiny others are.
In the meantime, this past weekend was simply another excuse for Antifa anarchist elements to riot, strike, injure and act violently because, after all, at their base they simply enjoy it.
I continue.
But the Mercury News report, citing Berkeley law enforcement authorities directly, made it clear that police knew that "Antifa" intended to cause violence, and allowed it to happen:
Berkeley police chief Andrew Greenwood defended how police handled the protest, saying they made a strategic decision to let the anarchists enter to avoid more violence.

Greenwood said "the potential use of force became very problematic" given the thousands of peaceful protesters in the park. Once anarchists arrived, it was clear there would not be dueling protests between left and right so he ordered his officers out of the park and allowed the anarchists to march in.
He ordered his officers out of the park.
Let that sink in. By the way, for those not yet aware, it's 2017. Not 1923. There is no Beer Hall Putsch. Or is there?
The Associated Press corroborated that report: "Berkeley Police Chief Andrew Greenwood said officers were told not to actively confront the anarchists. He applauded officers' restraint, saying it forestalled greater violence."
I say to the apparently scattered few police officers on the Berkeley Police Department who actually wish to uphold their law enforcement oaths — and there are obviously a shockingly-deficient number of you now — it is long past due time to make a stand. But at some point you must. Do you stay or do you go? Do you fellate the Leftist cock of your local government or do you leave it to do some actual good for a department that will appreciate your talents, your training, your education and your experience?
Because, frankly, Berkeley PD never will.
It is not unlike this:
DISPATCHER: Attention all units, 211 in progress, Bank of America, Main and 51st, two masked males with handguns, units to respond?
UNIT: Paul 17 enroute from Franklin and 17th Ave.
UNIT: Paul 19 enroute from Josiah and Henry.
UNIT: Sam 5 from Henry and Stockton.
CHIEF: Units stand down, reduce code, clear the call. Citizens and suspects could be injured by your response and interference.
No. I am not kidding. This is apparently where we are today in some departments, in some areas, in some municipalities, in some Leftist states.
And the above. Berkeley PD obviously standing and watching. One wants to go, one does not.
I tell a police officer I've been seeing people get beat up all day and they haven't been around. "Okay, and?" he says. pic.twitter.com/OuGEcvvb8R

— Shane Bauer (@shane_bauer) April 15, 2017
"Okay, and?"
Okay and, how about you honor the law enforcement oath you took when your badge was pinned on by your wife, husband, parents, a loved one upon graduation:
"I, ______, do solemnly swear that I will support and defend the Constitution of the United States and the Constitution of the State of California against all enemies, foreign and domestic, that I will bear true faith and allegiance to the Constitution of the United States and Constitution of the State of California, that I take this obligation freely, without any mental reservation or purpose of evasion, and that I will well and faithfully discharge the duties upon which I am about to enter.
It's called an oath. And it is what you swore to uphold.
Not anarchy. Not Antifa. Not chaos. Not insurrection. But calm and order and the rule of law.
Some people got slapped out of Antifa as they deserved.
💥#Antifa Parents Take Notice💥
This is what we call responsibility. It's part of a mysterious art known as parenting.#Berkeley#CVILLE#MAGApic.twitter.com/RzLZnHT6AJ

— MAGA.Wreck'nBall1861 (@avanconia) August 29, 2017
Some people bitched about having violated the law but not yet afforded their rights to incredible luxuries afforded nowhere else on the planet. Note to bitcher: perhaps you should have left your "service dog" at home. But no. You're a "Four-Fer." A black. A female. A Leftist. A recipient of a service dog. All at Taxpayer Expense, yes? Because I'm sure you had the thousands and thousands of dollars required to have your claimed dog trained, did you not? Oh wait. That was on the taxpayer's hook, was it?
Cops arrest anti-racist counter-protester for having a dog. pic.twitter.com/xHRnTic9fP

— Shane Bauer (@shane_bauer) August 27, 2017
But wait. Stop. Bestill my clotted heart. Am I hearing what I think I may be hearing"
But only for a microsecond or three.
Then there were the people who had the temerity and naked audacity to suggest they had a a right to protest non-violently. Note: non-violently.
Let's go to Tucker Carlson.
"Using the police forces for their own political gain."
This literally makes me heartsick. Physically nauseous. But the ultimate realization makes me even more concerned.
You have two legs and at least something of a brain. You can decide to leave the room, turn off the television, stop reading, leave the website, put down the magazine, turn off the iPad, etc. Any number of logical adult decisions can be made. Logical. Adult. Decisions.
You are not a Stegosaurus. It required a semi-brain, and a ganglion of nerves in its hips to make the legs move.
And that's my ultimate point.
Who has control? The receptor of the message? Who is forced to, say: Click on. Click off?
Even Noam Chomsky believes in free speech, and on campuses.
The United States of America is one of the very, very few Western Civilization countries left that does not have a "hate speech" law guaranteeing prosecution of that vastly nebulous phrase.
Be thankful.
Be very, very thankful.
But be very, very mindful.
Moreover: be vigilant. And be prepared to defend your Constitutional rights.
That aspect is looming.
BZ