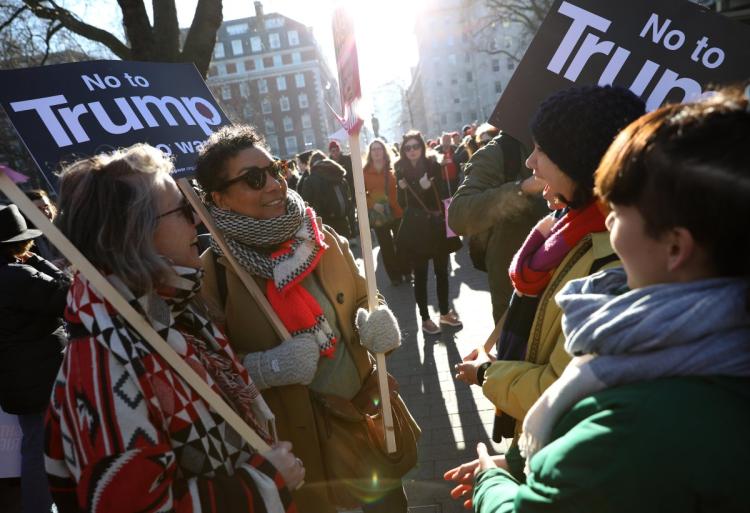 The "Women's March" wasn't that; it was actually an anti-Trump march.
If you can't agree what constitutes "fake news," how can you possibly hope to identify "fake news"?
And trust me, Leftists cannot agree on what is fake news.
First, from the NYTimes.com:
by Asra Q. Nomani

What is the link between one of Hillary Clinton's largest donors and the Women's March? Turns out, it's quite significant

As someone who voted for Trump, I don't feel welcome, nor do many other women who reject the liberal identity-politics that is the core underpinnings of the march, so far, making white women feel unwelcome, nixing women who oppose abortion and hijacking the agenda. 

To understand the march better, I stayed up through the nights this week, studying the funding, politics and talking points of the some 403 groups that are "partners" of the march. Is this a non-partisan "Women's March"?
Ah, I see, things are becoming more clear to me.
By my draft research, which I'm opening up for crowd-sourcing on GoogleDocs, Soros has funded, or has close relationships with, at least 56 of the march's "partners," including "key partners" Planned Parenthood, which opposes Trump's anti-abortion policy, and the National Resource Defense Council, which opposes Trump's environmental policies. The other Soros ties with "Women's March" organizations include the partisan MoveOn.org (which was fiercely pro-Clinton), the National Action Network (which has a former executive director lauded by Obama senior advisor Valerie Jarrett as "a leader of tomorrow" as a march co-chair and another official as "the head of logistics"). Other Soros grantees who are "partners" in the march are the American Civil Liberties Union, Center for Constitutional Rights, Amnesty International and Human Rights Watch. March organizers and the organizations identified here haven't yet returned queries for comment.  
Then, from Politifact.com:
Pants on Fire claim that George Soros money went to Women's March protesters

by Jan Greenburg, January 25th

According to several blog posts, the women's marches around the country did not reflect grassroots concern over the policies of President Donald Trump. Rather, they were the work of the liberal billionaire philanthropist George Soros.

In this fact-check, we focus on whether Soros money went into the pockets of protesters.

There is no evidence that's true.
Politifact attributes the lie to "bloggers." The last time I checked, the New York Times wasn't "some blogger." Politifact's foundational objection is that the author isn't a Lockstep Leftist but a woman who has done her research. Please read her entire article.
Leftists cannot even agree on the facts.
That's no real shock. Facts are challenged every day. Facts should be challenged every day. Hence, individuals themselves can now be, in their own small way, journalists with the video and camera options they have in their phones.
The point is, "fake news" is another meme created by Leftists to benefit Leftists in the face of so many possible sources of news today. The biased American Media Maggots are losing their tenuous grip on what comprises "real news" and, simultaneously, they are literally hemorrhaging cash and readers. They are petrified with fright because they are losing their "gatekeeper" status on the news. That is a loss of money and power.
When the ship is capsizing and you are facing the possibility of drowning, you'll do anything to stay alive.
Lying is the least of it.
BZ