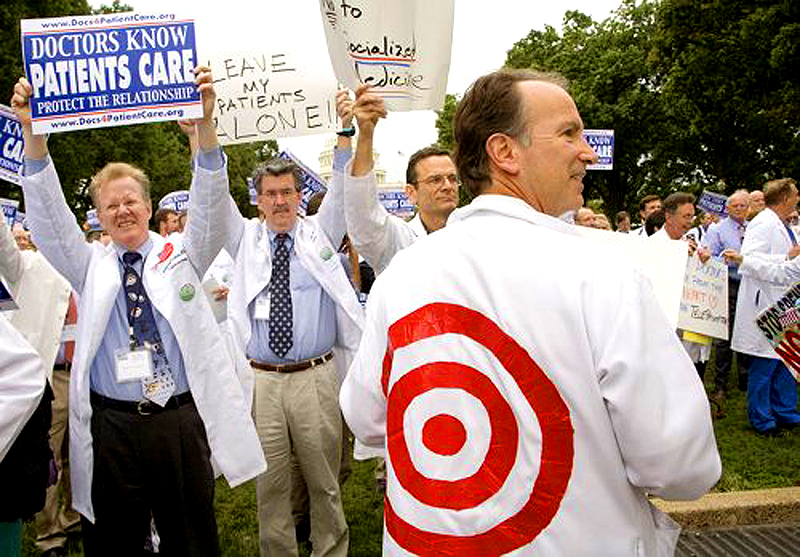 From ZeroHedge.com:
Submitted by Tyler Durden
"We need some recognition that we're doing a service to the community. But we can't do it for free. And we can't do it at a loss. No other business would do that," exclaims the president of the California Medical Association.
As The Washington Examiner reports, independent insurance brokers estimate 70% of California's 104,000 licensed doctors are boycotting the exchange. "The Covered California board says we have plenty of doctors, and they allege they have 85 percent of doctors participating, but they've shown no numbers," and if a large number of doctors either balk at participating in the exchange or retire, the state's medical system could be overwhelmed. "Enrollment doesn't mean access, because there aren't enough doctors to take the low rates of Medicaid," warns one health director. "There aren't enough primary care physicians, period."
An estimated seven out of every 10 physicians in deep-blue California are rebelling against the state's Obamacare health insurance exchange and won't participate, the head of the state's largest medical association said.
"It doesn't surprise me that there's a high rate of nonparticipation," said Dr. Richard Thorp, president of the California Medical Association.
California offers one of the lowest government reimbursement rates in the country — 30 percent lower than federal Medicare payments. And reimbursement rates for some procedures are even lower.
"Some physicians have been put in the network and they were included basically without their permission," Lisa Folberg said. She is a CMA's vice president of medical and regulatory Policy.
"They may be listed as actually participating, but not of their own volition,"
"This is a dirty little secret that is not really talked about as they promote Covered California," Waters said. He called the exchange's doctors list a "shell game" because "the vast majority" of his doctors are not participating
Imagine that.
But, you see, there's a niggling little problem that no one seems to be addressing in the first place, completely absent ObakaKare.
My personal doctor, who is himself 65, said that he is retiring soon, as are a large number of physicians in Fornicalia.  He is retiring because he has become an automaton, he says, and paperwork takes a vast amount of his time.  He no longer cares for the physicians' environment in general, and says that many of his colleagues, some much younger than himself, are "disappointed and disgusted" with the way they are treated by their administrations, by the government, by the press and sometimes by the public — which has come to believe they are overpaid and underworked elitists driving Bentleys and playing golf every day.
There will be, he says, a large sucking sound next year when doctors throughout the nation — who don't have to — opt for either early retirement or a career change.  Or, he says, they'll choose to work strictly for cash in a concierge fashion and totally eschew dealing with insurance.
The second problem regards nursing staff and the lack thereof.  The number of nurses and assistants are dwindling.  That includes the number of nurses who speak English (as opposed to a corrupted form of Engrish).  In the correctional aspect of my own LE department, the nurse who speaks actual decipherable English is the exception and not the rule.  Good luck on your dressing change.
Because of this, it is certain that additional demands will be made on the various classes of nurses/assistants remaining, in order to, necessarily, bypass doctors who no longer exist in sufficient quantity to perform some future tasks.  This is guaranteed.
Now add ObakaKare on top of that hot and frothing mess.
As to Fornicalia's "Covered California," it too is soon to be revealed as one additional hot and frothing mess.  The lies will be exposed like shit in a box from a cat with Parkinsons.
Anyone besides me believe that Governor Brown's current 58% approval rating might be a bit tarnished in the next few weeks?
BZ
P.S.
Also, please check out the comments in the source article.