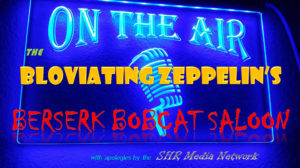 My thanks to the SHR Media Network for allowing me to broadcast in their studio and over their air twice weekly, Tuesdays and Thursdays, as well as appear on the Sack Heads Radio Show™ each Wednesday evening.
Tuesday night at the saloon we discussed:
Is social media failing due to censorship, and why do you need Facebook anyway?
Happy Stories: homeowner's 19-year-old son shoots and kills 3 home invaders;
Russia gave John Podesta $35 million dollars while he advised Obama and Clinton;
Demorats falling apart: DNC fires EVERYONE;
California: let's decriminalize the purposeful transmission of HIV to others;
Ford decides to up reinvestment in 3 Michigan plants by $350 million dollars;
Masshole Demorat warns illegals on social media of upcoming ICE raids;
Demorats delay vote on Judge Neil Gorsuch, Schumer promises a filibuster;
What is the Joe Biden Rule?
California AG charges anti-abortion undercover videographers with 15 felony counts of covertly recording videos, falsifying identities and using a fake research company in order to expose the parting out of the unborn for profit by Planned Parenthood;
Why Leftists and Demorats hate Judge Neil Gorsuch
Trump's budget proposal, reducing the size of government, slashing agencies;
What is the US Debt Clock?
Maintaining our nuclear arsenal;
Demorats lie about the percentile of our budget spent on defense; 35% vs 16%;
Listen to "BZ's Berserk Bobcat Saloon, Tuesday, March 28th, 2017" on Spreaker.
Please join me, the Bloviating Zeppelin (on Twitter @BZep and on Gab.ai @BZep), every Tuesday and Thursday night on the SHR Media Network from 11 PM to 1 AM Eastern and 8 PM to 10 PM Pacific, at the Berserk Bobcat Saloon — where the speech is free but the drinks are not.
Please tune in to "The Aftermath" this Thursday for my interview with acclaimed military and intelligence expert and journalist/author Susan Katz Keating. An exchange you won't want to miss, this will be my naked and sordid attempt to convince her to appear once a week on the show. Susan, I hope you're reading this.
As ever, thank you so kindly for listening, commenting, and interacting in the chat room or listening via podcast. Thanks also to the BBS bouncer Snowball for kicking all the louts out of Mary Brockman's chair at the bar.

Want to listen to all the Berserk Bobcat Saloon archives in podcast? Go here.
BZ