Why?
Because, as some people can't get past their "beer goggles," the Obamas can't get past their race goggles.  They are still aggrieved "African American Hyphenates" who see everything — and I do mean everything — in terms of race.  Which is easily why they are both racists.  And they are racists.  It's all about identity politics and race baiting.
Obama, who signaled for a "post-racial America," has done everything within his means and abilities to ensure it is all but.  Without full information, he has accused law enforcement officers of "acting stupidly."  To even oppose Obama or Eric Holder is racist.  If Obama's approval ratings are down, it's racist.  George Zimmerman, despite Obama and Holder's worst intentions, was found not guilty in the shooting of Trayvon Martin, who became Obama's flesh: "If I had a son, he'd look like Trayvon."  And Zimmerman, an Hispanic, was always quantified by the AMM as "white" in order to gin up more controversy — of great assistance to the Obamas.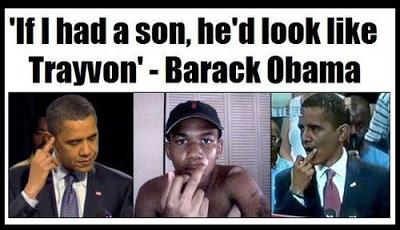 Obama and Holder sent, literally, hundreds of FBI agents to Ferguson to prove that Officer Darren Wilson was a Caucasoid Racist.  They could prove no such thing.

Mr and Mrs Obama attended the church of outright racist Reverend Jeremiah Wright for years without angst.  Only when it became a "political issue" did they kick Wright to the political curb.  They still believe, however, everything he says and has said.
Obama's co-racist lapdog Eric Holder was "Chief among antagonists."
Mr Obama and Poverty/Racial Pimps Sharpton and Jackson saw the fruits of their racial divides paid — ahem — in spades.  Dead cops.  Courtesy of the most transparent administration in the history of America, and courtesy of the "post racial" president.
With an astounding amount of assisted-fellating by the American Media Maggots.
Even today, Monday, Breitbart News indicates:
Cop Killings Nearly Double After Media Launch Hate Campaigns Against Police

by John Nolte

According to the FBI, the number of police officers killed in the line of duty nearly doubled from 27 to 51 between 2013 and 2014. That is nearly one murdered police officer a week during 2014, which was also a little over a year after the mainstream media began its coordinated hate campaigns to demonize America's law enforcement officers.

The FBI report is a terrible and tragic setback for police officers. Losing 27  fellow officers in 2013 was a tragedy. But it was also a 35 year low. Things were unquestionably moving in the right direction. Since 2011, the number of police officers killed in the line of duty had been on the decline.

Suddenly in 2014, everything changed for the worse. The number jumped back up to the highest number since 2011. What also changed for the worse is the mainstream media's obsession with smearing police officers as hyper-militarized racist occupiers on the hunt for black men.
"Finally," Obama is saying behind closed doors to Michelle, "cops and more specifically Caucasoid cops are getting their just desserts."
Yet, Mrs Obama — having attended an Ivy League school and reached the pinnacle of politics in America, her husband sent to two concurrent presidential victories  — believes America is neither good nor color-blind:
Contrast and compare, Michelle vs Denzel.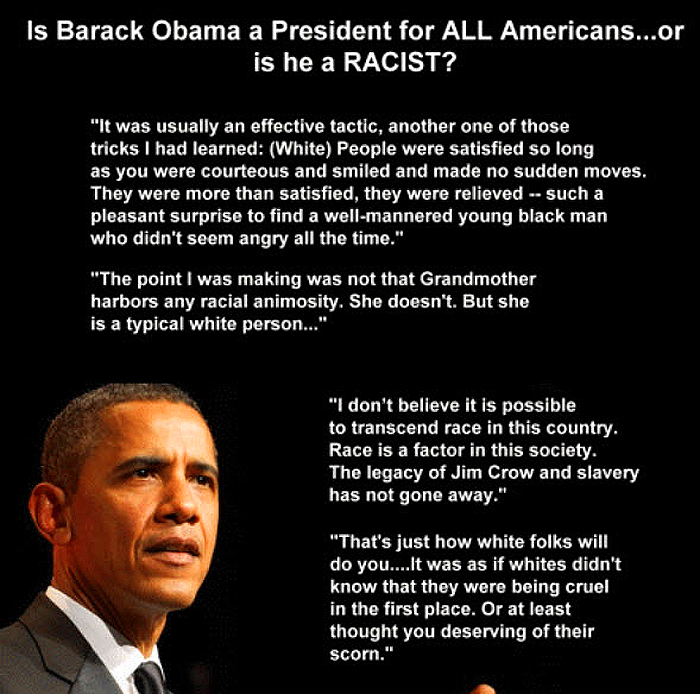 I am tired of blacks playing the "race card" when it is politically expedient.  It is a wolf's cry that diminishes true racism.  Racism that can be bidirectional as well — that too few will call.  But I will.  I am beyond tired of being stereotyped as a racist because I am conveniently a Caucasoid, male, older and worse yet, a cop.  I am tired of being told that only Caucasoids can be racist when, in fact, there are multiple continuing examples of racism by a group of persons whom many believe, by dint of melanin count, cannot be racist.  And that is crap is well.
True equality runs both ways.  And until it does and the bullshit hypocrisy stops, I shall continue to provide pushback when and how I deem fit.
The more you push your racist agenda, Mr and Mrs Obama, the more I push back.
 BZ