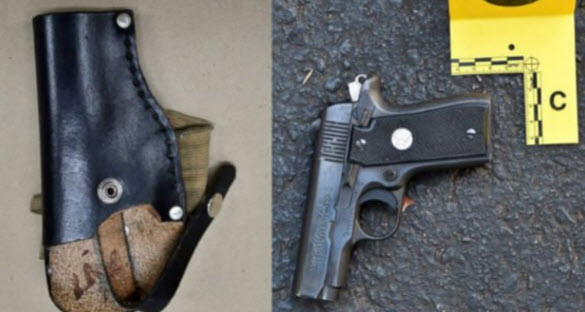 Keith Lamont Scott had a gun, was familiar with it, had prior gun charges. Why do we attribute three full names to mass murderers or killers? John Wayne Gacy? Mark David Chapman?
I wrote originally in this post, "false memes, lies and riots in Charlotte," about the entire BLM "movement" being founded but upon a bitter lie — that is to say, "hands up, don't shoot" with regard to Michael Brown in Ferguson, Missouri. That never happened.
The lie currently being foisted upon the public by the American Media Maggots and the self-interested Leftists involved, in Charlotte, is that Keith Lamont Scott was a completely unarmed man who possessed naught but a book.
That too is incorrect.
In the released videos, why is Lamont's wife, Rakeyia, yelling to him, "Keith, don't do it" numerous times, and why are the police officers yelling at him, many times, "drop the gun"?
What was Keith not supposed to do? I suspect his wife was telling him not to reach for the firearm she knew was in the automobile; not to grab it.
Why?
It appears the wife of Keith Lamont Scott recently filed a restraining order against him and specifically said he was a threat to law enforcement because he carried a 9MM pistol.

From Time Warner Cable New Charlotte reporter Jenna Barnes: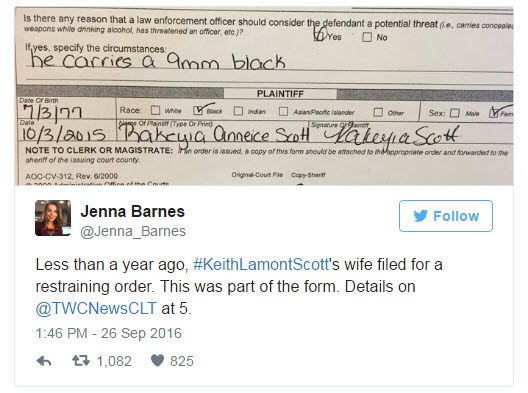 Scott possessed a handgun at the time his wife, Rakeyia Scott, filed the above restraining order on October 3rd of 2015. Immured in print.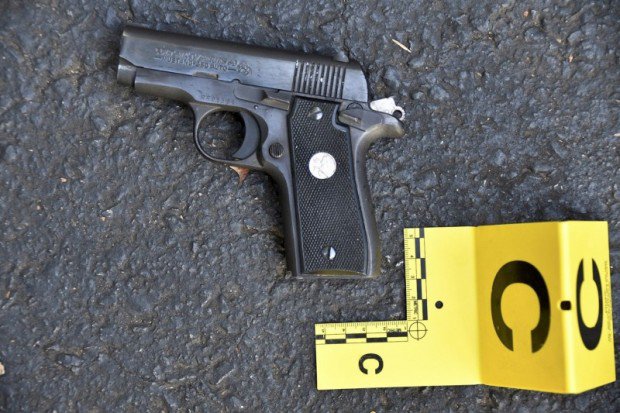 The photograph above, provided by the Charlotte-Mecklenburg Police Department, shows quite a number of vitally important things to those who know something about firearms — which would not include today's PlaySkool T-ball journalistas, Demorats, Leftists and Progressives.
They are absolutely critical elements, to include 1) The single action Colt semi-auto is in what instructors call Condition One. That is to say, ready to fire. 2) The handgun's hammer is back but more importantly, 3) The thumb safety is off, making the handgun more dangerous and prepared to fire, even exceeding Condition One. To me, the pistol appears to be an older Colt Mustang in .380 ACP.
This handgun can kill a law enforcement officer just as dead as one chambered in 9mm. The .380 round is nothing more than 9mm kurz.
Why do you see it here?
Because I AM PUSHBACK
The antidote to the American Media Maggots.
BZ