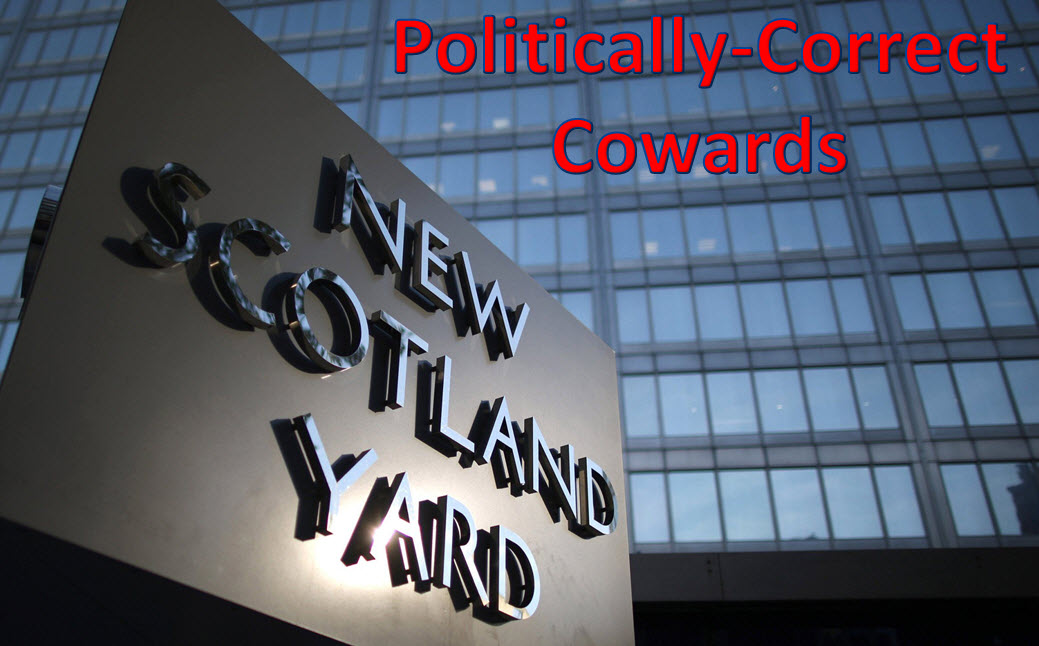 What we suspected all along is revealed: the UK is GOWP-driven, and that failing philosophy now trumps the safety of London residents.
From rt.com:
London police ignore Muslim officers' 'extremist views' for fear of being labeled 'Islamophobic'

A former female Muslim police officer has accused London's Metropolitan police of being more worried about "political correctness" than tackling the extremist views of some Muslim officers because they fear being branded "Islamophobic."

Speaking to the Sunday Times, Javaria Saeed, who worked for the Metropolitan police's counterterrorism department, took exception to comments made by a Muslim constable who said that female genital mutilation was a "clean an honorable practice" that "shouldn't be criminalized."
Does this, dear readers, not sound familiar with regard to the US Army and Major Nidal Hasan? You know, the Muslim who shot and killed 13 persons and injured 32 on November 5th of 2009 at Ft Hood, Texas? This is the same incident that required the passing of six years before Barack Hussein Obama admitted it was an act of terrorism instead of the initial label of "workplace violence" despite the fact that, as Major Hasan shot people, he was simultaneously yelling "allahu akbar." That, for the uninitiated, is commonly called a clue.
The background, however, was such that people knew of his anti-American sentiments, his internet postings, that he had attempted to contact al Qaeda, his emails to Anwar al-Awlaki, the fact that his business cards had "SoA(SWT)" printed on them — Soldier/Servant of Allah, and "subhanahu wa ta'ala" or "Glory to God."
Intriguing insofar as Army chaplains themselves (Hasan was not a chaplain) could not mention God and certainly not on their business cards.
But, because Major Hasan was a Muslim his co-workers and the US Army itself held him at arms length for fear of "Islamophobic" branding. Just as with the neighbors of the Muslim San Bernardino murderers.
The 35-year-old resigned from the capital's police force in March after she became disillusioned by "political correctness," which resulted in a culture of "us and them" to emerge among some Muslim officers who believed themselves to be above the law.

"My experiences were that it was Muslim officers being racist towards my individual views; also in private, holding racist views against white officers, and sexist views against females," she said, speaking to the Sunday Times. "If such views were held and expressed by white officers, they would be fired."

Saeed was a constable in the SO15 counterterrorism division, which was set up to improve relations with the Muslim community. She also alleged that the same officer said that Muslims who had been victims of domestic violence should not go to the police, but, instead, seek resolution through sharia courts.
Islam is a cancer that requires early identification, monitoring and potential eradication. It has proven itself to be totally incongruent and incompatible with Western cultures and values.
Yet because of labeling, "profiling" or branding issues Western nations, governments and agencies quake in fear — though Muslim countries themselves could not care less what Western individuals or nations think.
Once again, the weakness of Western culture exposes its soft underbelly.
Islam laughs at our hamstrung, delicate sensibilities.
BZ