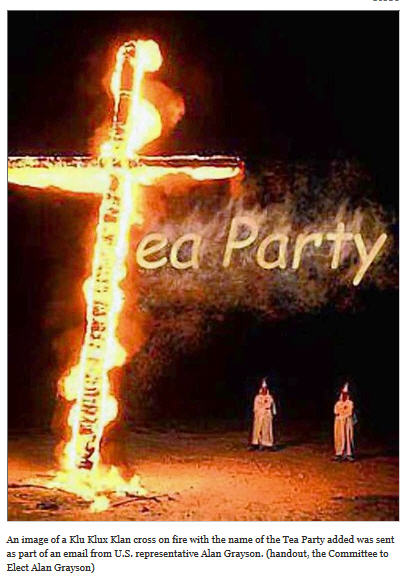 Alan Mark Grayson, the United States Representative for Florida's 9th congressional district and a member of the Democratic Party, is quite a hateful man.

The 55-year-old Grayson, whose wife is named Lolita (apparently a tribute to Nabokov, if you can manage to paste that image into your wheelhouse), has made it clear that the TEA Party equates to the KKK and cross burnings.
From the OrlandoSentinel.com:
Grayson compares Tea Party to KKK
WASHINGTON — U.S. Rep. Alan Grayson is ruffling feathers again — this time with a fundraising appeal that compares the tea-party movement to the Ku Klux Klan.
In a campaign email sent Monday, the Orlando Democrat includes the transcript of an interview he did recently on MSNBC in which Grayson said that the politics of the government shutdown had turned many Americans away from the tea party.
Further:
"At this point, the tea party is no more popular than the Klan," Grayson said.
The email then takes that comparison one step further by including a photograph of a burning cross with Klansmen in the background. The cross then becomes the "T" in the words "Tea Party" transposed over the picture. Below is the caption: "Now you know what the 'T' stands for."
And the understanding and smoothing and licking and grooming of the Leftists goes on and on and on.
Because there is no greater an inclusive group than Leftists nationwide.
BZ