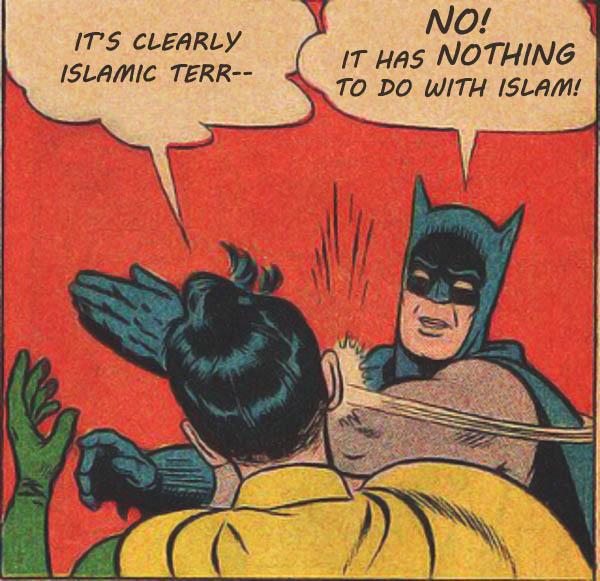 You read that title correctly.
Plus, the US is going to purposely provide amnesty to Syrian "refugees" — but it's only going to be "temporary."
When have you ever known any federal government program to be temporary?
From the WashingtonTimes.com:
DHS grants Syrians temporary amnesty

by Stephen Dinan

Homeland Security granted a new temporary amnesty Monday to more than 8,000 Syrians living in the U.S. right now, saying they can remain for up to 18 months longer no matter what their legal status.

Secretary Jeh Johnson issued "temporary protected status" to Syrians, saying that if they are in the U.S. as of Monday and continue to reside here permanently, they can apply for work permits and other documents to remain and live in the U.S. without fear of being ousted.

His order applies to some 5,800 Syrians who were granted status under a 2012 TPS program, and 2,500 new arrivals who don't have a more permanent status here.

"Syria's lengthy civil conflict has resulted in high levels of food insecurity, limited access to water and medical care, and massive destruction of Syria's infrastructure. Attacks against civilians, the use of chemical weapons and irregular warfare tactics, as well as forced conscription and use of child soldiers have intensified the humanitarian crisis," Mr. Johnson said in announcing the new program.

Those eligible for TPS include any Syrian illegal immigrants who have managed to sneak into or remain in the U.S. beyond their visa expirations over the past four years.
ISIS, of course, remains committed to inserting itself into Syrian "refugees" everywhere in order to inculcate itself into the local populations.  Their motives are not what one would call beneficial to the populations affected.
Perhaps the Obama Administration and good old Jeh (is that pronounced "je"?) Johnson might want to read a bit of their own Leftist American Media Maggot press — such as Newsweek — where it illustrates how and why ISIS infiltrates the Syrian "refugee" masses.
The additional truth you won't read in the AMM is that a full third of Syrian "refugees" are ISIS sympathizers, and 13% support ISIS.
Also squashed by the AMM is the salient fact that, already in the United States, a majority of Muslims — 51% — favor Sharia Law over any other form of law to include state and federal.
51% of U.S. Muslims want Sharia; 60% of young Muslims more loyal to Islam than to U.S.
Let's also read from the UKDailyMail.com:
Merkel on the ropes: Thousands of German protesters take to the streets saying she 'Must Go' and a key coalition ally withdraws support to open-door immigration policy after terror attacks

by James Dunn

Thousands to gather in towns and cities across Germany today at 3pm
They are calling for her resignation over open door immigration policy
Comes after four brutal attacks leaving nearly a dozen dead in one week
Three of the attackers were among 1.1million who entered as refugees 

Merkel's premiership is hanging by a thread today as thousands gathered to call for her resignation while a key political ally dramatically withdrew his support over immigration policy. 

More than 5,000 protested in Berlin and thousands more throughout Germany over the 'open-door' policy that many have blamed for four brutal terrorist attacks that left 13 dead over the last month.

The Chancellor faced a fresh wave of fury after it emerged that two recent terror attacks and a third killing were carried out by men who entered the country as refugees.
The UK's Brexit was, yes, a statement about economic rules and regulations, but it was also a statement made by the populace that they recognize they have lost control over their sovereignty, their dignity, their destiny, and their culture.  Those who voted for Brexit had had enough of Cameron, Merkel and their ilk, and drew the line at seeing their cities and towns turned from that of UK history and pride to that of Muslim sinkholes.  They were tired of their own culture held beneath that of Islam and the political fear that was concomitant.
Despite these figures and despite the fact that Europe is recoiling and reeling from mass importation of Muslims — and the Brexit — the US continues to learn nothing from recent history much less that of any greater length.
So what does this have to do with the title of my post?  After all, isn't that just a bit cruel and over-the-top?
Not at all, ladies and gentlemen.  I submit that the US has a sufficient problem with the Muslims already extant; witness the recent events in Boston, Orlando, San Bernardino, Chattanooga.  Go here for the rather lengthy list of Muslims killing citizens in the US.
It's no wonder Germans are protesting the Muslim invasion — and make no mistake, it is in fact a Muslim invasion aided and abetted by Germany's Chancellor, Angela Merkel, as she doubles down on stupid and dangerous.  From TheGuardian.com:
Angela Merkel defends Germany's refugee policy after attacks

Angela Merkel has delivered a staunch defence of her open-door policy towards refugees, insisting she feels no guilt over a series of violent attacks in Germany and was right to allow hundreds of thousands of migrants and refugees to arrive last summer.

"A rejection of the humanitarian stance we took could have led to even worse consequences," the German chancellor said, adding that the assailants "wanted to undermine our sense of community, our openness and our willingness to help people in need. We firmly reject this."
You and a few others may reject the limitation of the purposeful importation of more and more Muslim "refugees" into your country there by dint of extension, all of Europe — but there are many who are tired of your willingness to let whatever guilt exists in your steaming brain, Angela Merkel,  There is already a move afoot to impeach Merkel.
What the title of my post means is this: these are the future murderers of American citizens on behalf of and in the name of Islam.
It's clear Obama and Merkel have the same goals in mind — a flooding of their countries with Muslim immigrants — but for different reasons.  And it is only the Atlantic Ocean keeping Mr Obama from completely duplicating the efforts of Merkel here in the United States.  No matter, the outcomes will be identical.  They will both be responsible for the murder of their own sovereign citizens at the hands of Muslims.
I can only think of one word at this point: treasonous.
BZ